Patriots
Matt Groh discussed wide receivers, possible Patriots trades, and his thoughts on mock drafts
Groh was specifically asked about Boston College wide receiver Zay Flowers.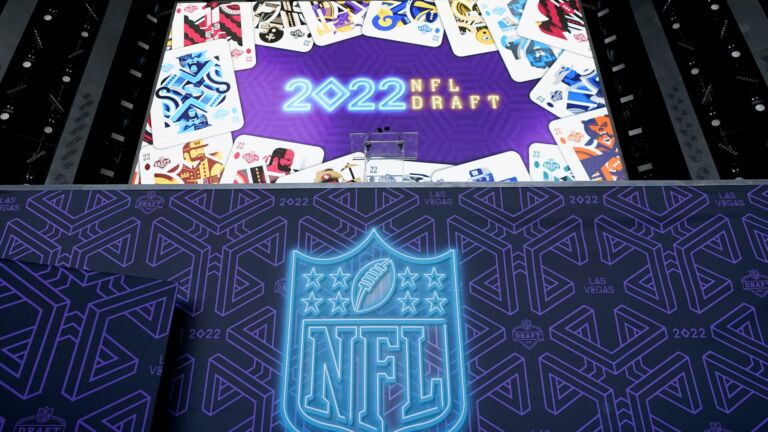 The Celtics defeated the Hawks 119-106 in Game 2 of the Eastern Conference first round playoff series on Tuesday. Jayson Tatum paced Boston with 29 points, 10 rebounds, and six assists.
Game 3 gets underway in Atlanta on Friday at 7 p.m. The Celtics hold a 2-0 series lead.
Also on Tuesday, the Red Sox won a wild 10-inning game over the Twins, 5-4. Chris Sale recorded 11 strikeouts and allowed just one run over six innings in a return to form. Boston scored three times in the bottom of the 10th as Alex Verdugo provided a bizarre but joyous walk-off:
Matt Groh's thoughts on the Patriots' position heading into upcoming draft: Along with Patriots coaches, New England's director of player personnel Matt Grah spoke to reporters on Tuesday.
The Patriots are in the final stages of preparing for next week's NFL Draft. Holding the 14th overall pick, Groh offered some thoughts on where New England stands.
"You're hoping there at 14 you can get a pretty good player," Groh said. "I'd say throughout the first round, there's an old philosophy: You're taking a player in the first round, you're hoping that player is going to come in and make an impact for you."
One position group the Patriots could strengthen is wide receiver, given the departure of Jakobi Meyers in free agency. Boston College's Zay Flowers is seen as a potential mid first-round pick within the Patriots' range.
Groh paid Flowers a few compliments in his analysis, suggesting that he has the versatility to play both inside and outside.
"I think there's a certain type [of receiver] that a lot of the fans have seen around here with those smaller guys getting in and out of their breaks being inside," Groh noted, referencing Flowers's 40-yard dash time. "I think it was 4.42 [seconds] Zay ran at the combine? So we're talking about a pretty fast guy here, too, who can also stretch the field vertically from the outside."
Still, he emphasized that the Patriots could opt for a wide receiver after round one.
"Look, I think if you're looking for a guy, it's not just a first-round guy," Groh explained. "There's a lot of good wide receivers in this draft, and there's a lot of good wide receivers in this league that weren't just first-round picks. So you can find these guys throughout the draft. Obviously, if you're taking one in the first round, you better have some conviction about him."
Several projections have a plethora of wide receiver options available at the 14th pick, though Groh cautioned against making assumptions.
"It only takes one team to say, 'Hey, we need a wide receiver.' And then somebody else says, 'Well, we better go get one, too,'" Groh explained of the possible first-round run at the position. "So there's a little bit of different flavor between guys like Zay to some of the bigger, longer guys. And we've worked really hard to try to get everywhere and get eyes on these guys."
Regarding the continuously updating projections of who teams might pick, Groh said he doesn't put much stock into mock drafts.
"It depends on what the movement in front of us looks like," Groh said of how plans could change on draft night. "But to look at all these mock drafts around now, those get turned upside down really quickly."
While the Patriots in 2023 will have the team's earliest pick since drafting Jerod Mayo 10th overall in 2008, it's a similar scenario to when New England held the 15th pick in 2021 when Mac Jones was selected.
Groh said the team learned from that draft, especially as it relates to possible trades.
"We've got some experience there," he said. "At 14, we have a pretty good idea of what the interest is on coming up or moving back from being there just a couple years ago."
The NFL Draft begins on Thursday, April 27.
Trivia: With his Game 2 performance, Jayson Tatum became the second Celtics player ever to record at least 25 points, 10 rebounds, five assists, and five 3-pointers in a playoff game since what past Boston figure?
(Answer at the bottom.)
Hint: Before being drafted by Boston, he later admitted that he "couldn't stand" the Celtics, having grown up in Inglewood, California.
More from Boston.com:
An emphatic finish: The Celtics capped a Game 2 win with Tatum's thunderous dunk.
Ducks in the outfield: The Red Sox game on Tuesday truly had everything.
On this day: In 2003, the Celtics beat the Pacers 103-100 in Game 1 of the two teams' Eastern Conference first round playoff matchup. Pierce set an NBA record, making all 21 of his free throws as he helped Boston rally from a 16-point third quarter deficit. He finished with 40 points, 11 rebounds, six assists, and four steals. The Celtics would go on to win the series in six games.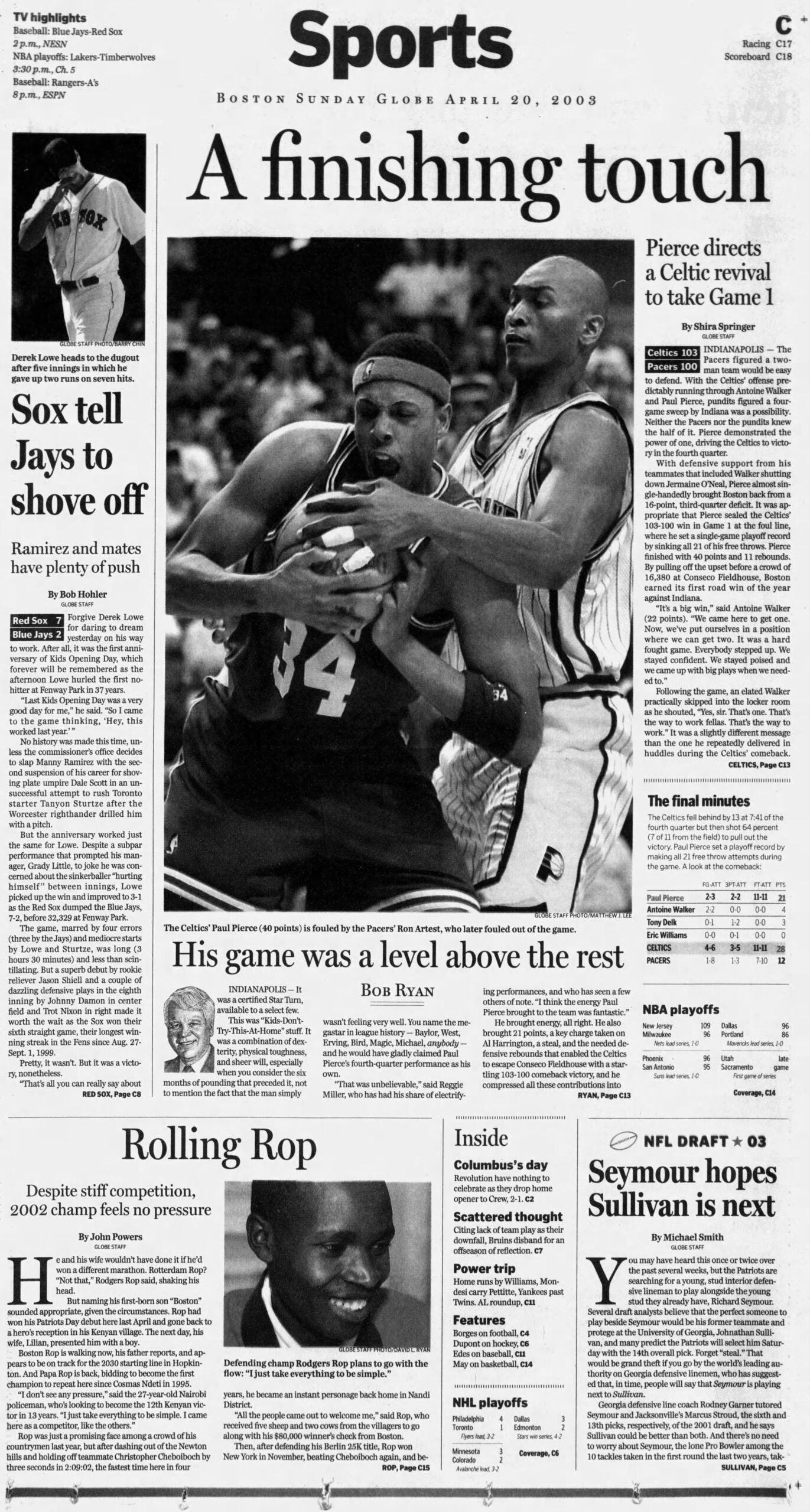 Daily highlight: Malcolm Brogdon nailed a buzzer-beater to end the first quarter in Tuesday's win.
Trivia answer: Paul Pierce
Get the latest Boston sports news
Receive updates on your favorite Boston teams, straight from our newsroom to your inbox.