Patriots
Drew Bledsoe: Mac Jones will never be Lamar Jackson, but he can be a franchise quarterback
The former Patriots quarterback says he believes Mac Jones is the franchise's future at quarterback.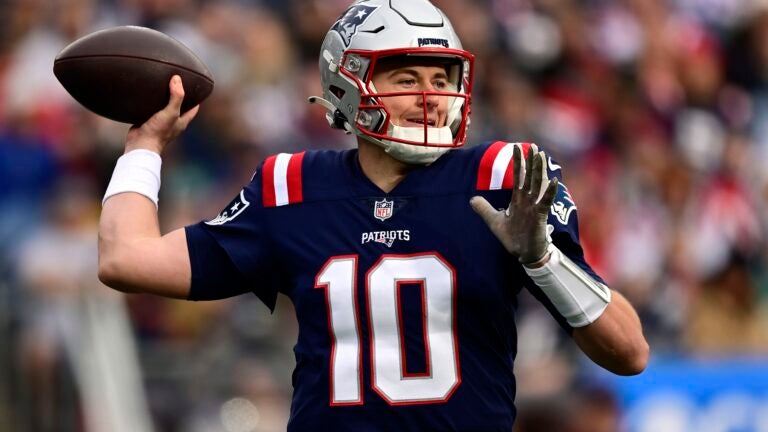 Drew Bledsoe is a Mac Jones believer.
Despite the limitations in Jones's game and a brutal second year in New England, former Patriots No. 1 overall pick Bledsoe still thinks Jones can turn things around and be the quarterback the team envisioned him to be when they spent a first-round pick on him in 2021.
"First of all, he's very well respected in the locker room and the organization," Bledsoe said during an appearance on Off The Pike with Brian Barrett. "Works his butt off. He's not going to overpower anybody. He's not Pat Mahomes. But he can be very, very efficient within the framework of an offense. I think he can be a franchise quarterback. But, they've got to make sure they have the right offense and the right pieces around him in order for that to work."
"He's never going to be Lamar Jackson and go take over a game with his legs or with his arm strength," Bledsoe continued. "But, within the confines of playing the position of quarterback, he can be very, very good at that as long as they put the right pieces around him."
Jones, who made the Pro Bowl as a rookie in 2021, struggled in the first few games last season before an ankle injury shelved him for several weeks.
Backup quarterback Bailey Zappe won both of his starts in Jones's absence and played after Jones was removed from the game against the Bears. The Patriots got steamrolled by the worst team in football in that game, and Jones started for the rest of the season.
But Zappe showed enough promise that Devin McCourty admitted some Patriots players wanted Zappe to start.
According to ESPN's Mike Reiss, the Patriots are aiming to give Jones more support than he had last season but also "like the idea" of Zappe competing with Jones and pushing him to be better.
Bledsoe knows a thing or two about quarterback battles. He recalled meeting with Bill Belichick before Super Bowl XXXVI, when Belichick decided to start Tom Brady instead. It wasn't much of a conversation, Bledsoe said. Belichick just told him he was going with Brady.
Bledsoe said he's looking forward to seeing how the Patriots' offense adapts under new offensive coordinator Bill O'Brien. The four-time Pro Bowler noted that he had eight different offensive coordinators during 14 NFL seasons.
He said replacing Josh McDaniels with Joe Judge and Matt Patricia as offensive play-callers was a surprising move that "didn't make much sense." He said Jones will be in a much better situation with a different setup this year.
"There really is an art to it, and a flow to play-calling that changes and morphs during the game," Bledsoe said. "I just don't know if that's something you can pick up in one year regardless of how smart you are. So that was a surprising decision. I'll be very curious to watch and see how it works with Bill O'Brien this year. I think that's going to be much better for Mac. But, we'll wait and see."
Sign up for Patriots updates🏈
Get breaking news and analysis delivered to your inbox during football season.