Patriots
In 1993, Bill Parcells held the NFL in suspense before picking Drew Bledsoe and reshaping Patriots history
The Patriots' journey from "pro football's Siberia" to a flagship franchise took an early step on April 25, 1993.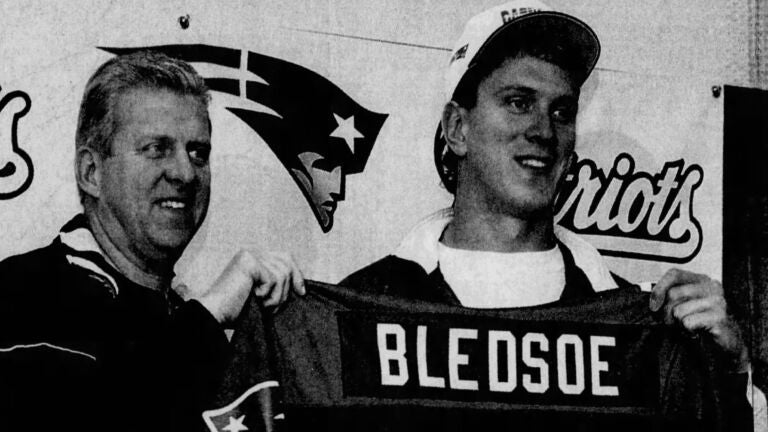 In 1992, the Patriots finished tied for last in the NFL with a 2-14 record. Though it was an atrocious season, it was hardly a surprising development.
Shocking as it might seem when viewed through the prism of New England's future successes, finishing last had become a regular Patriots occurrence.
Going back to 1989, New England tallied an especially ignominious (and league worst) 14-50 record during the four-year stretch leading up to the mess at the end of the '92 season.
"These last few days rank near the top of the epic horror that is Patriot lore," wrote Boston Globe columnist Dan Shaughnessy in Jan. 1993, a day after team CEO Sam Jankovich resigned (itself coming a day after Jankovich fired head coach Dick MacPherson).
Without a coach, an executive, and with lingering uncertainty regarding ownership (James Orthwein was attempting to either move or sell the team), New England bore no resemblance to the organization that would win six Super Bowls.
The one silver lining of the team's league-leading ineptitude was, by NFL rules, possession of the No. 1 pick. And as unlikely as it appeared at the time, the Patriots' eventual route to becoming one of the league's flagship franchises began at the 1993 NFL Draft.
"The draft is obsolete."
The 1993 offseason was a crossroads moment for the Patriots, but also for the NFL as a whole. For the first time, unrestricted free agency was built in to league rules, allowing for an unprecedented level of player movement.
It was an exciting new era, filled with the promise of teams being able to change their fortunes with a few splashy signings (as long as it fit under the new salary cap). The draft was seen by some as a largely diminished event.
"Free agency is the real draft now," wrote columnist Tony Kornheiser in April, 1993.
"The draft is obsolete," Kornheiser opined. "It's a roadside motel. Stop and take a picture, pal, because the wrecker's on its way."
Yet free agency was hardly a solution for the Patriots. Free agents weren't exactly lining up to sign for the league's worst team.
One major factor New England did have in its favor was the new head coach.
Bill Parcells, winner of two Super Bowls with the Giants, had decided to come out of his short-lived two-year retirement to take charge of the Patriots. Hired in January, Parcells was instantly seen as the most legitimate coaching hire in team history.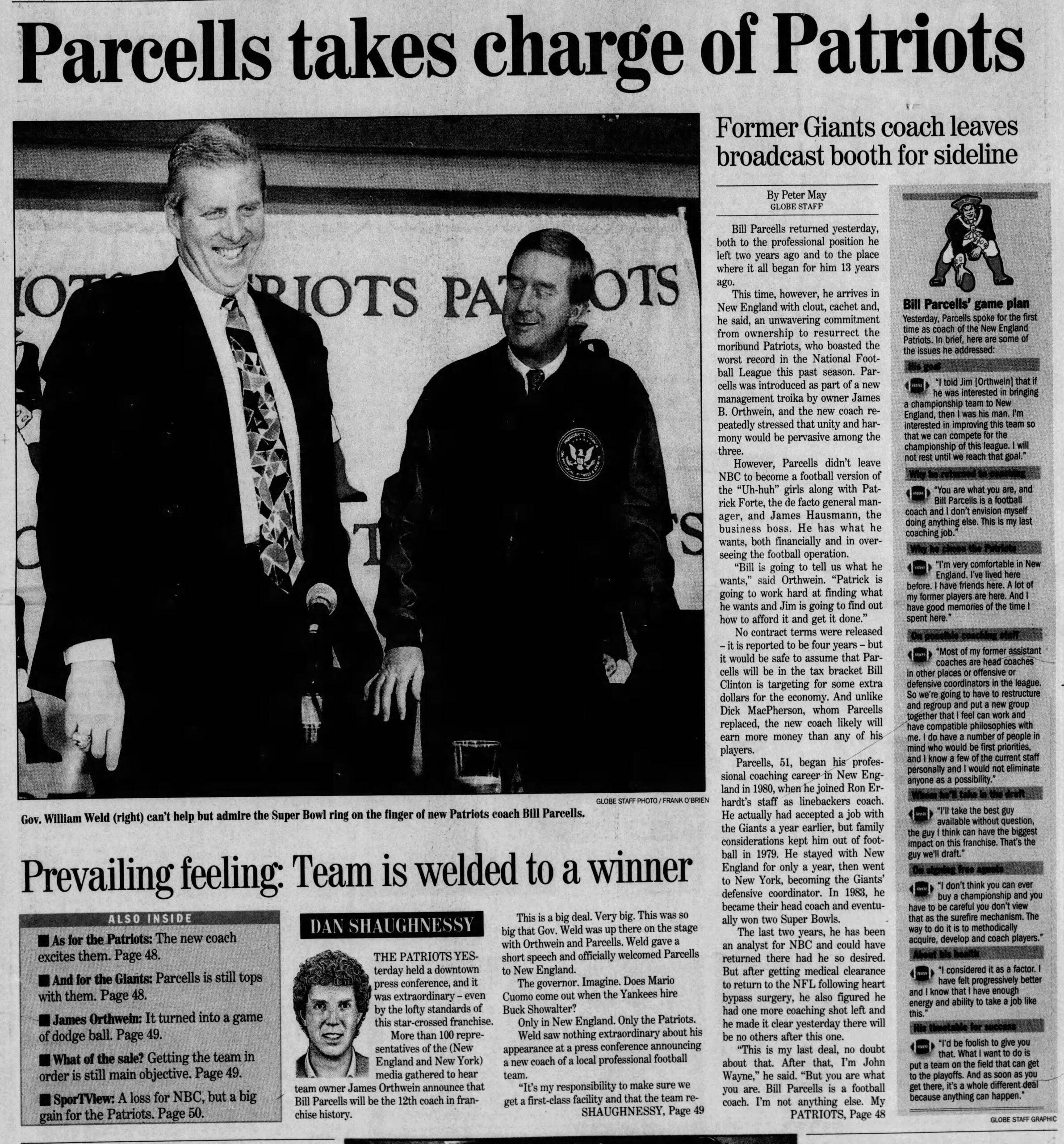 "This may have been the best day in Patriot history," Globe columnist Michael Madden wrote half-jokingly following the introductory press conference. "For once, everything had been done right."
As for who Parcells would select with the No. 1 pick, or what his plan was for much of the team's existing roster, that remained a mystery.
"NFL insiders? They don't have a clue."
By 1993, Leigh Steinberg had established himself as one of the NFL's super-agents. He had represented football's No. 1 overall pick in three of the previous four years, including Troy Aikman in 1989, and Jeff George in 1990.
Heading into the '93 draft, Steinberg had the inside track on signing one of the top quarterback prospects that year: Drew Bledsoe, a junior from Washington State.
His first meeting with the Bledsoe family got off to an unexpected start. Arriving in Washington, he waited for Drew's father, Mac, to pick him up at his hotel.
"So I'm standing out in front. I don't see anybody who vaguely looks like Mr. Bledsoe, but there's a guy over there on a motorcycle with bushy hair," recalled Steinberg in a recent interview. "I thought, well, I'll walk up and ask him. I said, 'Hi, my name's Leigh Steinberg, are you Mac Bledsoe?' He said, 'Yeah, hop on the back.' And so he drives me on a motorcycle to their family home."
Steinberg was considering representing either Bledsoe or the other top quarterback that year, Rick Mirer from Notre Dame. As he met with Bledsoe's family, his decision quickly became an easy one.
"It was an instantaneous values match," said Steinberg. "The father was an educator who cared a lot about the character of his son. He cared about his son being a role model. His mother shared the same values. I thought, 'Aha, this is the perfect fit.'"
As for who would be a fit with the Patriots with the No. 1 pick, New England's new coach kept things as blanketed in secrecy as he could.
"NFL insiders? They don't have a clue," quipped Parcells at a pre-draft press conference. "There's no one who knows. No one. My wife has asked and she doesn't have a clue."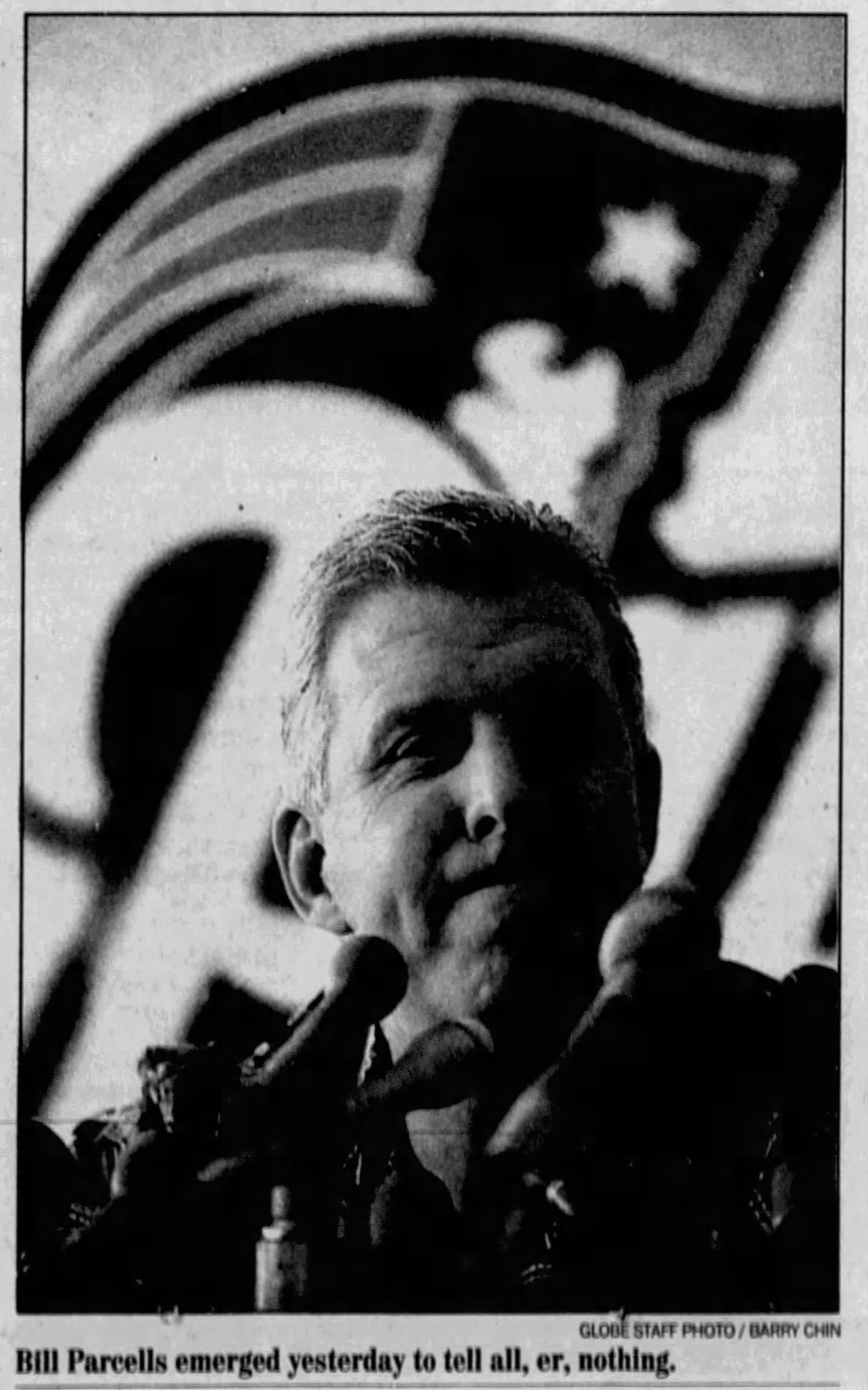 It was a classic soundbite from one of the league's most quotable figures, and it provided the Patriots with a burst of headlines and public interest.
Still, Parcells's secretive tactics weren't designed for publicity (though his mere presence had already caused an increase in season ticket sales). He was leaving the door open for a possible trade.
As Globe reporter Will McDonough would note after the draft, the Patriots were reportedly offered two serious trade proposals. One was from the 49ers, in possession of two first-round picks after trading Joe Montana to the Chiefs. Their offer, per McDonough (as well as Sports Illustrated's Peter King), was all 10 draft choices San Francisco possessed in 1993 in exchange for the Patriots' first and second-round picks.
The other offer came from the Colts, with McDonough elaborating that Indianapolis proposed three separate scenarios, all involving an array of draft picks and players. As tempting as both offers may have been, Parcells balked. It was a sign that he was leaning towards picking a quarterback.
Yet as the fateful day approached, the mystery persisted, even for Bledsoe and Steinberg. Following a productive but noncommittal pre-draft meeting with Patriots leadership in Foxborough, Steinberg recalled the coach's demeanor.
"Parcells was impressive," he said, "but he was cool as a cucumber."
"There has never been so little known the night before."
In the buildup to the 1993 draft, expert predictions centered on Bledsoe and Mirer. ESPN draft expert Mel Kiper Jr. forecasted that New England would opt for Mirer.
"With the No. 1 pick, it looks like the Patriots will select quarterback Rick Mirer of Notre Dame instead of Washington State's Drew Bledsoe," Kiper said in an ESPN segment. "In my opinion this would be a major reach, but Bill Parcells likes Mirer's arm strength and mobility."
It was testament to the veil of secrecy Parcells had cast over of the draft process. But for Bledsoe, the possibility of being picked by the Seahawks at No. 2 overall was far from a disaster.
"Seattle was the hometown team," Bledsoe, a Walla Walla native who had stayed in-state for college, told Jeff Howe of The Athletic in 2018. "I would have been able to stay close to home and have friends and family around. Initially, that seemed appealing to me."
By April 25, the day of the draft, the ongoing mystery of the No. 1 pick had made the Patriots one of the league's more interesting teams.
"There has never been so little known the night before by player personnel, general managers, and coaches as there was for this draft," said ESPN anchor Chris Berman as coverage of the event began.
In the end, having kept everyone — fans, reporters, and other NFL executives — in suspense for months, Parcells didn't waste time once league commissioner Paul Tagliabue formally put New England on the clock. Less than sixty seconds into the allotted 15 minutes the Patriots were given to make the pick, Tagliabue nonchalantly strolled back to the podium.
"The Patriots select Drew Bledsoe, quarterback, Washington State University."
Bledsoe remembered the moment during a 2017 interview with Boston.com.
"[Parcells] always played his cards really close to the vest, so we didn't know right up until they announced the pick that I was going first," he said. "Which was different because in those days if it was fairly cut and dried who was going to be the first pick, a lot of times a contract would already be starting to be negotiated before the draft."
"They started the draft and then right away they announced I was the first pick," Bledsoe added. "I looked over and my dad was trying to take the video camera off his hand and my mom was trying to figure out what just happened. And I couldn't get to her, so I ended up hugging my agent. It was just kind of not how I envisioned it, but it ended up being awfully cool."
"I promise you, I will not throw him to the wolves."
As the top overall pick, Bledsoe would normally have expected to sign a near-record contract, but the newly created NFL salary cap put a damper on expectations.
"The new collective bargaining agreement was put specifically in so that more money would go to proven starters and less money would go to rookies," Steinberg explained. Still, the agent and his team went to work. Their solution would have a long-lasting impact.
"You had to work within the law, but I was not ready to to take a reduction," Steinberg joked. "We came up with a concept called 'voidable years,' which had never been done in a football contract before."
It provided a creative solution, allowing Bledsoe to get paid at a higher rate in his rookie season. Voidable years, as a contractual concept, would become a highly utilized tactic across the league.
Back in New England, reactions from Patriots fans were largely positive. On top of having a proven Super Bowl-winning coach, New England now had a top talent at quarterback. A Boston Globe poll of more than 700 readers following the draft found that 80.5 percent of responders agreed with the pick.
"Who would have thought with the Bruins being swept, the Red Sox going south and the Celtics in transition that the most optimism surrounding any franchise in Boston would be the Patriots?" remarked reader Rich Barron from Natick. "Parcells and Bledsoe — it's a new era, and let's hope that the decade of the '90s is for the Patriots."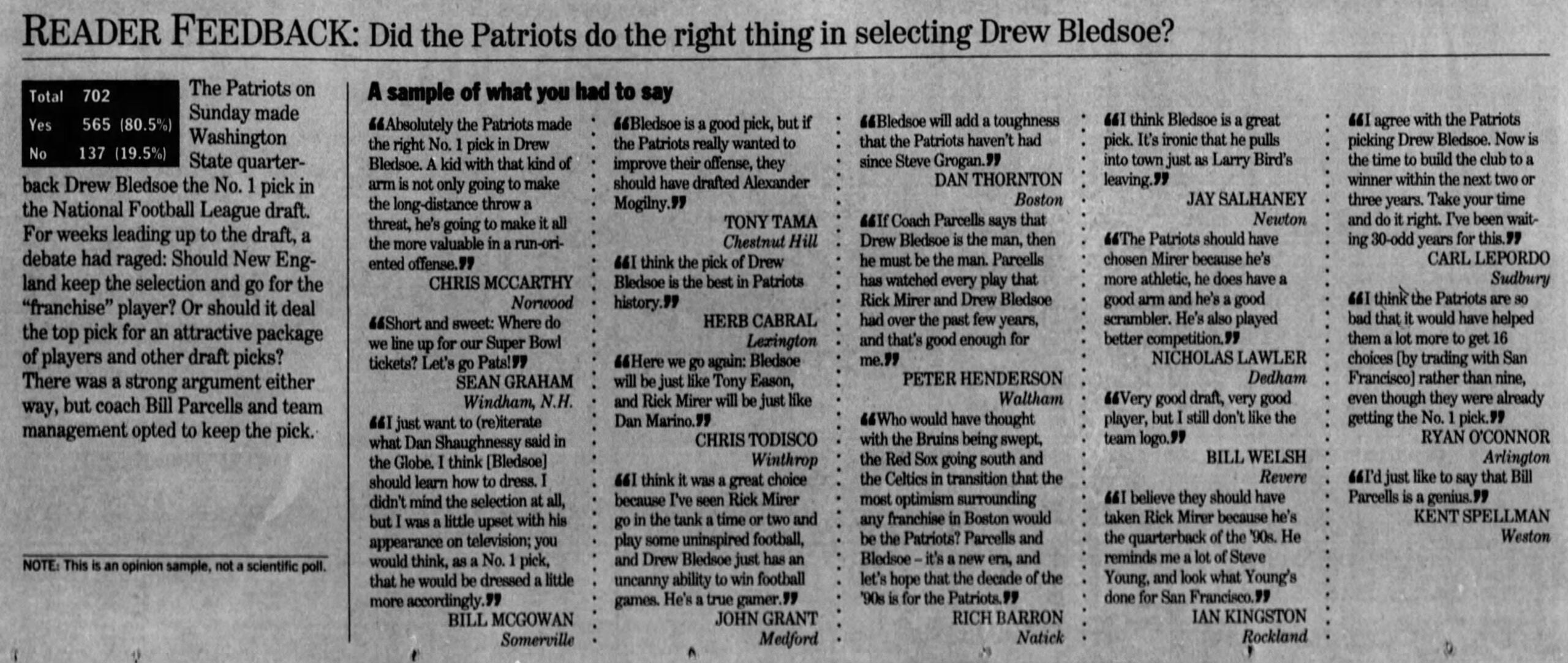 Ultimately, Barron was off by a decade (or two). The Patriots would become the team of the 2000s (and arguably the 2010s) under Bill Belichick and Tom Brady. But in their predecessors, New England found important pieces in the team's journey back towards legitimacy. For a team that had become the league's laughingstock — "pro football's Siberia," as King would write in a 1993 column — adding Parcells and Bledsoe was invaluable.
"I promise you, I will not throw him to the wolves," Parcells told reporters after the draft, though Bledsoe would end up opening the 1993 season as the team's starter. It would be a rough rookie year, as the team trudged to a 5-11 record, though things improved quickly (culminating with the run to Super Bowl XXXI). Parcells, speaking after the fact in 2011, would admit that he had, in fact, done what he said he would not.
"He really was thrown to the wolves a little bit," Parcells acknowledged with an unintentionally humorous nod at his past phrasing. "He survived that and was able to get himself grounded and did a terrific job for New England for a long time."
Sign up for Patriots updates🏈
Get breaking news and analysis delivered to your inbox during football season.