Patriots
From selection order to how to watch, here's your guide to the 2023 NFL Draft
The 2023 NFL Draft kicks off on Thursday with the first round and runs through Saturday.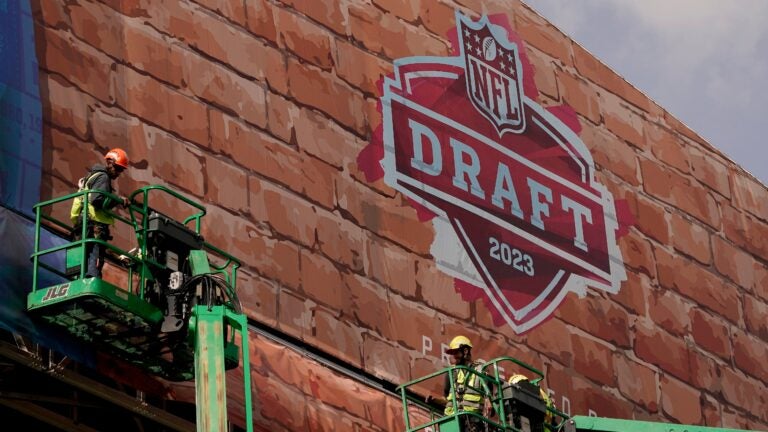 The biggest team-building exercise on the calendar is set for this week, as the 88th annual NFL Draft will kick off Thursday night in Kansas City.
The Chicago Bears traded the top pick to the Carolina Panthers, who are set to chose No. 1 for the first time since they selected Cam Newton in 2011.
New England has 11 picks, including the 14th overall. If the Patriots stick at No. 14, it'll be the fourth-highest selection they've had since coach Bill Belichick took over in 2000. They took Richard Seymour sixth overall in 2001, Ty Warren 13th overall in 2003, and Jerod Mayo 10th overall in 2008.
Here are the details:
The basics
Location: Kansas City's Union Station, near the city's World War I Museum and Memorial.
Thursday, April 27: Round 1, 8 p.m.
Friday, April 28: Rounds 2 and 3, 7 p.m.
Saturday, April 29: Rounds 4 through 7, noon
Television: NFL Network, ESPN, ABC, ESPN Deportes
Radio: Coverage will be provided by SiriusXM NFL Radio (Rounds 1-7), Westwood One Sports (Round 1) and ESPN Radio (Rounds 1-7).
Format and time limits
The draft will consist of seven rounds with a total of 259 selections. In addition, 37 compensatory choices were awarded.
The amount of time a team has to make their choice changes as the draft progresses.
• Round 1: 10 minutes per selection
• Round 2: 7 minutes per selection
• Rounds 3-6: 5 minutes per selection
• Round 7: 4 minutes per selection
First-round order
There are 31 first-round picks this season — Miami was stripped of its first-round choice because of tampering violations involving Tom Brady and Sean Payton.
1. Carolina (From Chicago)
2. Houston
3. Arizona
4. Indianapolis
5. Seattle (From Denver)
6. Detroit (From LA Rams)
7. Las Vegas
8. Atlanta
9. Chicago (From Carolina)
10. Philadelphia (From New Orleans)
11. Tennessee
12. Houston (From Cleveland)
13. Green Bay (From NY Jets)
14. New England
15. NY Jets (From Green Bay)
16. Washington
17. Pittsburgh
18. Detroit
19. Tampa Bay
20. Seattle
21. LA Chargers
22. Baltimore
23. Minnesota
24. Jacksonville
25. NY Giants
26. Dallas
27. Buffalo
28. Cincinnati
29. New Orleans (From San Francisco through Miami, Denver)
30. Philadelphia
31. Kansas City
Of note
• The Las Vegas Raiders are tied with the Houston Texans for the most picks with 12. The Patriots are one of four teams with 11 picks, along with the Green Bay Packers, Los Angeles Rams, and San Francisco 49ers.
• The Miami Dolphins have the fewest draft picks for a second straight year with four. The Denver Broncos, Baltimore Ravens, Minnesota Vikings, and New York Jets are tied for the second-fewest picks at five apiece.
• If a team does not make a pick during its allotted time period, the team "passes" and the pick will defer to the next team. The initial team may then at any point make a pick, regardless of whether or not the subsequent team has made a pick.
• A total of 37 compensatory choices have been awarded to 10 teams. The Patriots have been awarded a total of 48 compensatory selections in the 30 years since the system was adopted prior to the 1994 draft, the fourth-most in the NFL. This year, New England has two compensatory picks.
What to watch for
• Who goes No. 1? Alabama quarterback Bryce Young is the overwhelming favorite to be the first pick at Caesars Sportsbook (-1600), thanks to a career at Alabama that included winning the Heisman Trophy in 2021.
• Looking out for No. 2. While Young is the favorite to be taken first overall, the real drama appears to be who will go second to Houston. Kentucky quarterback Will Levis has seen some momentum as the No. 2 pick. Could the Texans go defense and pick a defensive lineman such as Tyree Wilson or Will Anderson, Jr.? Or would they be inclined to trade down? Houston has been coy about its approach.
• A run on receivers. Four names jump off the board when it comes to first-round possibilities at receiver, including Ohio State's Jaxon Smith-Njigba, TCU's Quentin Johnson, USC's Jordan Addison, and Boston College's Zay Flowers. Flowers would be the first BC WR taken in the first round in school history.
• QB quandary. With Young and Levis a possibility to go 1-2, there are a handful of other intriguing signal callers who remain first-round possibilities. Ohio State's C.J. Stroud, Tennessee's Herndon Hooker, and Florida's Anthony Richardson could all hear their name in the first round Thursday evening.
Patriots' draft selections
Round 1, Pick 14
Round 2, Pick 46
Round 3, Pick 76 (from Carolina)
Round 4, Pick 107 (from Los Angeles Rams)
Round 4, Pick 117
Round 4, Pick 135*
Round 6, Pick 184 (from Las Vegas)
Round 6, Pick 187 (from Carolina)
Round 6, Pick 192
Round 6, Pick 210*
Round 7, Pick 245 (from Buffalo via Atlanta)
*Compensatory pick
Areas of need for the Patriots
Offensive tackle; With injury and personnel losses the last couple of seasons, New England could look to add to its protection plan for quarterback Mac Jones. It's reportedly a tackle-heavy draft, which could set up nicely for the Patriots.
Cornerback: New England found itself occasionally overmatched last season when it came to defending elite receivers like Justin Jefferson and Stefon Diggs. While the Patriots do have some talent at the position (they re-signed veteran Jonathan Jones), an elite cornerback would go a long way toward providing a boost for the New England defense.
Wide receiver: Providing Mac Jones with another option in the passing game could give a jolt to New England's offense. While it's not considered deep class of receiver talent, one name that has been discussed as a possibility is BC's Zay Flowers.
What have the Patriots done at No. 14?
The Patriots have used the 14th overall pick four times in franchise history.
Running back Leonard Russell, 1991: The Arizona State product played three seasons in New England, rushing for 2,437 yards and 13 touchdowns. The 6-foot-2, 240-pounder's best season in Foxborough came in 1993, when he posted the only 1,000-yard season of his career (1,088 yards on 300 carries, to go with 245 receiving yards). He finished his career with stops in Denver, San Diego, and St. Louis.
Defensive back Roland James, 1980: A 6-foot-2, 191-pounder out of Tennessee, James had the best career of any 14th overall selection in franchise history. He played 11 seasons with the Patriots at both corner and safety, and had 29 career interceptions, including a career-high five in 1983. He also worked as a punt returner, averaging 9.5 yards per opportunity.
Linebacker Lee Roy Jordan, 1963: Jordan had a great career, becoming a two-time All-Pro and five-time Pro Bowler. Only thing was, he did it with the Cowboys. The Alabama product was taken by Dallas in the NFL Draft and the Patriots in the AFL Draft, and chose the Cowboys. He played 14 seasons in Dallas, becoming one of the anchors of Tom Landry's defense and winning a Super Bowl along the way.
Halfback Leroy Jackson, 1962: Faced with the prospect of playing for the Patriots in the AFL or the Browns (who took him 11th overall in the NFL Draft), Jackson chose Cleveland. He ended up playing two seasons for Washington, where he had 52 carries for 142 yards.
Leaguewide, there have been some notables taken at No. 14. The 14th selection was used for Pro Football Hall of Famer and former Patriots cornerback Darrelle Revis in 2007 by the Jets. Running back Eddie George is another notable player picked with the 14th pick overall by the Houston Oilers in 1996.
Place your bets
Via BetOnline, here are some of wagers you can make for Thursday's Round 1.
Round 1 trades within the Top 10 (on draft day): Over/Under: 1.5
Round 1 Trades (on draft day): Over/Under: 6
Primary color of tie for No. 1 overall pick?
Blue: -200 (1/2)
Red: +200 (2/1)
Black: +600 (6/1)
Green: +1200 (12/1)
Yellow: +1200 (12/1)
Who will No. 1 overall pick hug first?
Mom: -250 (2/5)
Dad: +150 (3/2)
Agent: +1000 (10/1)
Friend: +1000 (10/1)
Will the No. 1 overall pick cry?
Yes: +700 (7/1)
No: -2000 (1/20)
Sign up for Patriots updates🏈
Get breaking news and analysis delivered to your inbox during football season.