Patriots
Mike Vrabel becomes the latest three-time Super Bowl champion voted into Patriots Hall of Fame
"Mike's leadership and versatility were principal to one of the most successful eras in franchise history."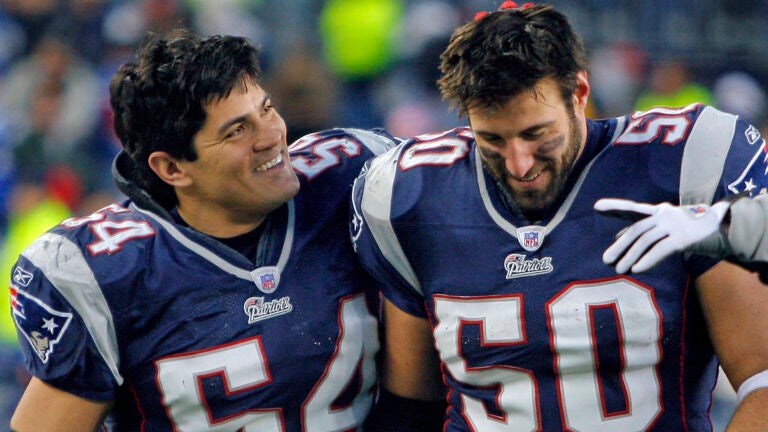 One of the leaders of a stout Patriots defense during their three-title run in the 2000s is finally getting his red jacket at Gillette Stadium.
The Patriots announced on Wednesday afternoon that former linebacker Mike Vrabel will be inducted into the team Hall of Fame following an online fan vote.
Vrabel, the 34th inductee into the Hall of Fame, won the vote over fellow finalists Bill Parcells and Logan Mankins.
Vrabel finally earned his call to the Hall after being a finalist for six consecutive years — a testament to the multiple standout players who stamped their legacy during New England's two-decade dynasty.
With his pending induction, Vrabel will be the eighth three-time Super-Bowl champion to join the Patriots Hall of Fame, following after Troy Brown (2012), Tedy Bruschi (2013), Kevin Faulk (2016), Ty Law (2014), Matt Light (2018), Willie McGinest (2015) and Richard Seymour (2022).
One of the most versatile players in team history, Vrabel was a playmaker in the heart of New England's defense for eight seasons, earning both an All-Pro and Pro-Bowl nod during the 2007 campaign.
During his 125 games in New England, Vrabel recorded 606 combined tackles, 55 tackles for loss, 48.0 sacks, 13 forced fumbles and 11 interceptions.
He also emerged as a dependable red-zone threat for Tom Brady, catching 10 passes for 10 receiving touchdowns between the regular season and the playoffs — including two scores in Super Bowl XXXVIII and XXXIX.
"It's my pleasure to announce Mike Vrabel as this year's selection to the Patriots Hall of Fame," Patriots owner Robert Kraft said in a statement. "Mike's leadership and versatility were principal to one of the most successful eras in franchise history, propelling the Patriots to three Super Bowl titles in four years and establishing multiple NFL records for consecutive-game win streaks. Many Patriots players have made contributions in all three phases of the game, but none more significantly than Mike.
"He was an eight-year starter on defense who also regularly contributed on special teams and is the only player in NFL history to score touchdowns on his first 10 career receptions, including touchdowns in back-to-back Super Bowl victories. He was respected for his football intellect and was destined to become a head coach in this league. I look forward to welcoming him back to New England, where his induction will preserve his legacy as one of the greatest players in franchise history."
Vrabel, the current head coach of the Tennessee Titans, will be inducted alongside former assistant coach Dante Scarnecchia. The longtime Patriots offensive-line coach was named as a contributor to the Patriots Hall of Fame by Kraft last month.
The time and date for the 2023 Patriots Hall of Fame induction ceremony will be announced at a later date.
Sign up for Patriots updates🏈
Get breaking news and analysis delivered to your inbox during football season.