Patriots
Mac Jones' former Alabama teammate shares story about Patriots QB's work ethic in college
"I'm in a suit catching footballs from Mac Jones. Like, what is going on right now?"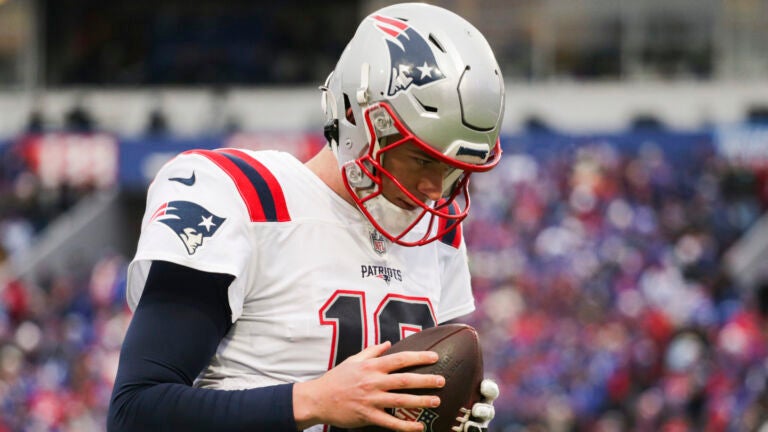 Following a disappointing 2022 season, there are many questions surrounding Mac Jones and his potential as a top-tier quarterback in the NFL.
But the former Alabama QB's work ethic and dedication to his craft have rarely been questioned during his playing career.
Even amid the dysfunction present on the Patriots' coaching staff last season, Jones has reportedly been one of a "handful" of players who have been regulars at the team's facilities this offseason.
Back in 2021, Alabama coach Nick Saban said that Jones' football IQ and prep work made him a perfect fit for a team led by Bill Belichick. Former Patriots defensive captain Devin McCourty has repeatedly given Jones his seal of approval in 2023 and beyond.
And earlier this week, Jones' former teammate at Alabama — wide receiver Mac Hereford — offered another anecdote detailing the signal caller's obsessive focus on football.
During an appearance on The Side Hustle Podcast, Hereford detailed an impromptu throwing session with Jones back in 2019.
Late-night reps at Alabama's Mal M. Moore Training Facility isn't necessarily an outlier for the many future NFL stars who learned under Saban in Tuscaloosa.
But Jones and Hereford's reps came shortly after the Crimson Tide returned from a football banquet. As expected, formal attire was required for the event, meaning that Hereford was ill-prepared for the lengthy on-field workout that Jones was ready to roll out.
"Mac's like, 'Hereford, you wanna catch a couple?'" Hereford recalled. "I'm like, 'Yeah, but I'm not gonna get out of my suit. I'm gonna stay in my suit.' So I'm in my suit from the banquet, Mac goes and changes — he gets in his stuff. He comes out on the field and it starts off like we're just tossing. I'm like, 'Alright, I guess I'll take off the jacket. Getting a little bit hot in here.' I'm in a button-down and some slacks out here in the Mal M. Moore practice facility.
"We keep throwing and then he's like, 'Hey, do you mind jogging this route?' So then I'm jogging this little slant route, catching the ball. I love catching, I'm a field rat, so I love this stuff. But, I'm barefoot. I didn't bring my cleats, so now I've gotten out of my church shoes. I'm barefoot in Mal M. Moore facility, it's like 10:30 at night and we just got back from this thing, and no one else is here. I'm in a suit catching footballs from Mac Jones. Like, what is going on right now?'"
Sure enough, Jones didn't slow things down as his throwing session with Hereford continued.
"We keep doing it until it literally gets down to, I'm like ruining this collared shirt. Take off this — so I'm just in my suit pants," Hereford said. "And I'm like, 'I don't want to rip my suit pants.' I get down to compression shorts and nothing else, running routes in Mal M. Moore Facility, catching balls from Mac Jones. I'm like 'What is going on?' I loved it. I'm pretty sure someone walked in and wondered what the hell is going on here?"
It doesn't seem like Jones' work ethic has waned since making the jump up to the NFL. And with Bill O'Brien now handed the keys to the Patriots offense, it could signal promising returns in 2023 for a quarterback who seems to never turn down more reps out on the gridiron.
Sign up for Patriots updates🏈
Get breaking news and analysis delivered to your inbox during football season.