Patriots
Patriots to reportedly play Saints in Germany during 2023 NFL season
The NFL will release details about 2023 international games on Wednesday.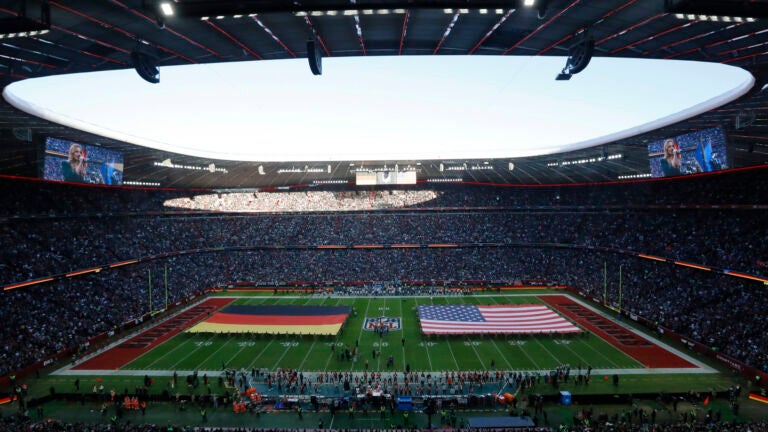 The NFL will not release its full schedule for the upcoming 2023 NFL season until Thursday at 8 p.m.
But based on a series of tweets from ESPN insider (and former Jets GM) Mike Tannenbaum, we might already know who the Patriots will face in an anticipated overseas matchup in Germany later this year.
NBC Sports' Peter King reported back in February that both the Patriots and the Chiefs will each "host" home games in Germany during the 2023 campaign, with Bill Belichick and his team set to play in Frankfurt.
Both New England and Kansas City's expected opponents have not been formally announced.
But during Tannenbaum's Twitter thread, one of the graphic cards read: "The 2023 season will see two regular-season games played in Germany, with Kansas City Chiefs vs. Chicago Bears and New England Patriots vs. New Orleans Saints confirmed, dates to be confirmed later this month."
Tannenbaum's tweets are similar to reports published by German tabloid newspaper Bild in February, stating that the Patriots will play the Saints in Frankfurt in mid-November.
Patriots fans will not have to wait very long for clarity on their team's trek across the Atlantic.
While the NFL will release all of the details of its upcoming schedule on Thursday, the league will release dates and additional information about international games on Wednesday.
Along with expected "home" games for the Patriots and Chiefs in Germany, the Jacksonville Jaguars, Buffalo Bills, and Tennessee Titans will host games in London in 2023.
The NFL is also set to announce details on its inaugural "Black Friday" matchup and other select individual games on Wednesday.
In January, the Patriots announced their full list of opponents for the 2023 season.
HOME
Buffalo Bills
Indianapolis Colts
Washington Commanders
Los Angeles Chargers
Kansas City Chiefs
Miami Dolphins
Philadelphia Eagles
New Orleans Saints
New York Jets
AWAY
Buffalo Bills
Denver Broncos
Dallas Cowboys
Miami Dolphins
New York Giants
New York Jets
Las Vegas Raiders
Pittsburgh Steelers
Newsletter Signup
Stay up to date on all the latest news from Boston.com