Patriots
David Andrews said he's 'excited' for the Patriots' 2023 game in Germany
Andrews also talked about lederhosen (along with Matthew Judon's fashion), former Patriots teammate Sebastian Vollmer, and his expectations for German sausages as a "grill guy."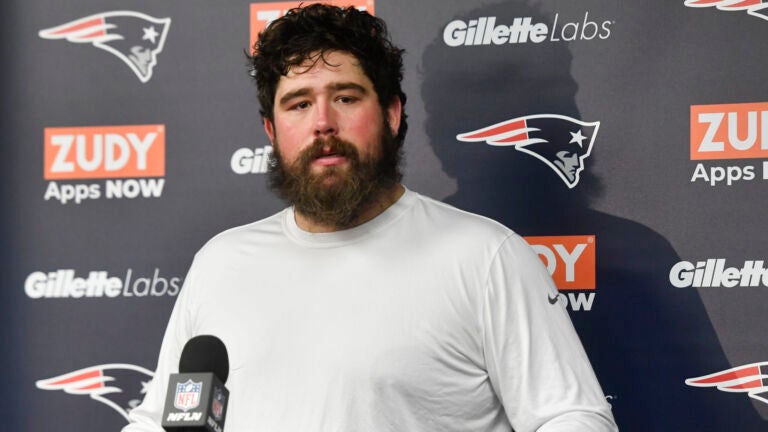 The Patriots' 2023 game in Germany officially has a date (Nov. 12) and an opponent (the Colts). As is to be expected, some of New England's players are already looking forward to it.
"We're super excited," said Patriots center David Andrews during an interview on NFL Networks's "Good Morning Football" following the league's announcement on Wednesday.
"It's a great opportunity to grow the game," Andrews noted.
Some Patriots players, including Andrews, overlapped with former offensive lineman Sebastian Vollmer's time in New England. Vollmer, who was drafted by the Patriots in 2009 and played the entirety of his NFL career there (retiring in 2017), was born in Kaarst, Germany. He's been a proponent of a German-based Patriots game for several years.
"I had the opportunity to play with Sebastian Vollmer my first two years," said Andrews. "He grew up in Germany, he's from there, so I spent a lot of time talking to him about it. He was back here last week, talking to us about Germany.
"They're offering a trip for guys to go over this summer to do some more of the sight-seeing, more of that kind of stuff," added Andrews.
During the interview, former Patriots defensive back Jason McCourty (now a co-host of the show) asked Andrews if he would wear lederhosen while in Germany.
"If they make them in my size, I think I could rock it," he replied. "Don't they wear the little cowboy-ish hats with them sometimes?"
McCourty asked Andrews if he thinks Patriots edge rusher Matthew Judon (who McCourty called "fashionable") would also wear lederhosen.
"I don't know if Judon could pull it off. I think his fashion sense is pretty bad," Andrews joked. "So that's just my personal opinion."
Of course, lederhosen is more traditional clothing in Bavaria, not Hesse (the state in Germany in which Frankfurt is located). Exactly what local fashion customs the Patriots choose to observe will be an entertaining part of the team's trip.
Andrews explained that he's never been to Germany before and is looking forward to it.
One specific thing the New England offensive lineman pointed to was local food.
"I know they make good sausages in Frankfurt," Andrews said. "I consider myself kind of a grill guy, like to throw some meats on the grill. So I'll be the judge of these sausages."
Now 30, Andrews is approaching the spectacle of the internationally-based game with the perspective of an NFL veteran.
"I know last year they said the environment was unreal at the game," Andrews said, referencing the Buccaneers' 2022 win over the Seahawks in Munich. "I think as I've gotten older, you try to appreciate those experiences more and more.
"I didn't get to play in our last international game in Mexico, so this will be a first for me."
Sign up for Patriots updates🏈
Get breaking news and analysis delivered to your inbox during football season.