Patriots
This Patriots legend offered up some advice for Mac Jones ahead of a pivotal season
"Some people are gonna be wanting Zappe to be the starting quarterback. But move forward."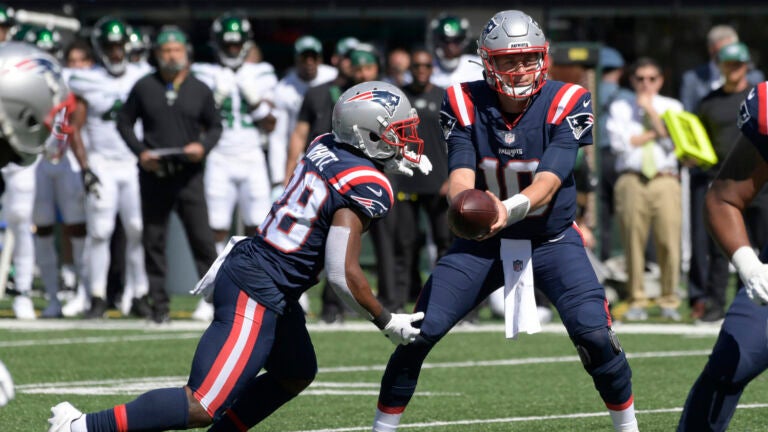 The pressure is on for Mac Jones entering his third season in the NFL.
Coming off an inconsistent campaign under center that was further marred by an ineffective coaching staff, Jones is looking for a clean slate in 2023-24.
But the 24-year-old QB is staring at plenty of adversity heading into training camp.
The arrival of Bill O'Brien as New England's new offensive coordinator should help, as will offseason pickups like JuJu Smith-Schuster and Mike Gesicki. But the onus falls on Jones to execute, especially with Bailey Zappe waiting in the wings.
Count James White as one of the many Patriots legends standing in Jones' corner entering such a consequential campaign.
Speaking on the latest episode of Tom E. Curran's "Patriots Talk" podcast, White offered up his advice for Jones.
"Move forward," White said. "Obviously, everybody's gonna bring up last season and what they saw. Some people are gonna be wanting [Bailey] Zappe to be the starting quarterback. But move forward. Put your blinders on. Come in the same way you did your rookie season — put in the work, earn that trust (from) your teammates once again.
"Everybody in the locker room who's gotten the opportunity to be around him or play with him knows what type of player he can be. I think if he just goes out there and earns the trust of his teammates once again, I think he'll be just fine."
Beyond his play on the gridiron, Jones drew some criticism last season for his various outbursts when things went south for him and his teammates.
"I'm tired of that, honestly. I'm tired of it," Vince Wilfork said of Jones' visible frustration back in December. "You're the leader of this team. You're a quarterback. So you can't be frustrated every single week, every single play."
For White, Jones doesn't need to overthink things when it comes to reforging chemistry with his teammates after a tumultuous season.
"I don't think it's 're-earn the trust' — I think just go out there and show them in a sense," White said. "I think they all trust him, but you've got to go out there and show it in practice and show it week in and week out during the game."
White is not the first former Patriot to vouch for Jones. Back in February, Devin McCourty stressed that the signal caller was due for a bounce-back season in 2023.
"I'm excited for Mac. I think the sky's the limit. I think he's the future of New England," McCourty explained. "Any doubts, I think you're wrong. If you don't think that, he's in that building right now doing different things, working with guys, talking to guys. That's what he wants. He wants to be that quarterback."
Newsletter Signup
Stay up to date on all the latest news from Boston.com
Sign up for Patriots updates🏈
Get breaking news and analysis delivered to your inbox during football season.