Patriots
Matthew Judon calls out Cowboys' Micah Parsons for his 'bandwagon' attire at Celtics game
"This man worse than drake. Bandwagon."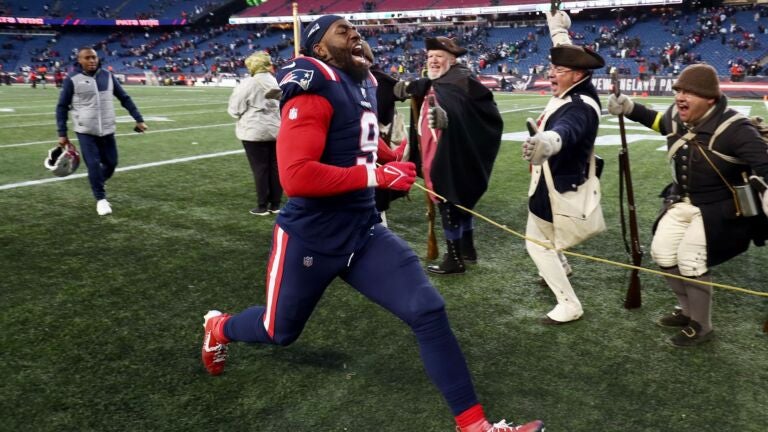 Cowboys star linebacker Micah Parsons raised plenty of eyebrows with his wardrobe while sitting courtside for Game 1 of the Eastern Conference Finals between the Celtics and Heat at TD Garden.
The Pennsylvania product and Penn State alum wore a Tyrese Maxey Sixers jersey at Wells Fargo Center last week during the Eastern Conference Semifinals.
But on Wednesday, he donned a Jayson Tatum jersey while sitting courtside in Boston.
Parsons knew he was due for some ribbing both online and in person for his gameday fit at the Garden.
It didn't take long for Patriots linebacker Matthew Judon to call him out.
After Parsons trolled Patriots fans by trying to link his Celtics jersey to a potential affinity for Foxborough, Judon tweeted, "This man worse than drake. Bandwagon."
Judon is, of course, referencing Drake's extended history of showing up and supporting whatever sporting teams are at the top of their respective leagues.
Even ahead of tip off, Tatum couldn't resist poking fun at Parsons for apparently switching allegiances just days after Boston bounced his hometown team out of the playoffs.
"Last time I seen you, you had a Philly jersey on, bro," Tatum told Parsons, as captured on a Bleacher Report video.
"I was in Philly," Parsons replied.
"So who you rooting for tonight?" Tatum said.
"I'm with you tonight!," Parsons responded.
Judon doubled down on Twitter after Bleacher Report released the video.
"[Tatum's son] Deuce should of beat yo ass fo shaking his pops hand like that," Judon tweeted.
Based on the linebacking duo's interaction on Twitter, it seems like Judon's trash-talking was all in good fun.
If not, both Judon and Parsons can settle their differences out on the gridiron later this year. The Patriots will battle the Cowboys at AT&T Stadium in Week 4 on Oct. 1.
Newsletter Signup
Stay up to date on all the latest news from Boston.com