Patriots
NFL analyst compares Patriots draft pick Kayshon Boutte to All-Pro receiver
Kayshon Boutte was once thought of as a first-round pick after a strong start at LSU.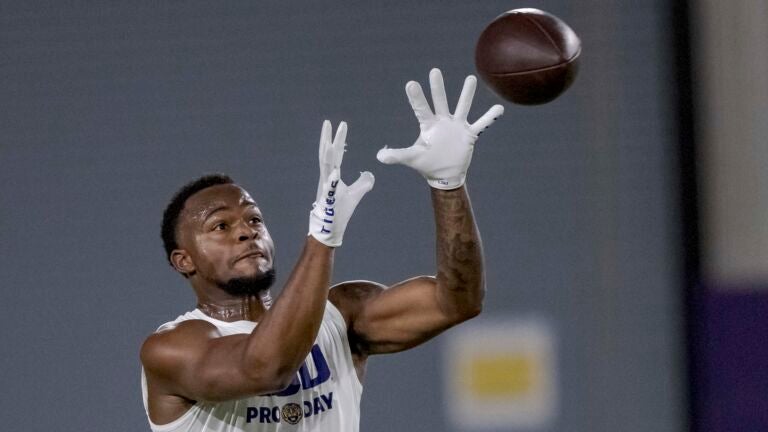 The Patriots might have snagged wide receiver Kayshon Boutte in the sixth round of the 2023 NFL Draft, but the former LSU standout's high ceiling has one NFL analyst comparing him to one of the best wideouts in the game.
During an appearance on the "Inside the Birds" podcast, NFL Films senior producer and ESPN analyst Greg Cosell said that Boutte reminds him of Stefon Diggs, at least in terms of where the current Bills star was when he was taken by the Vikings in the fifth round of the 2015 NFL Draft.
"If he reached his ceiling and can play to [his physical] traits all the time, I thought there's a Stefon Diggs comparison to be made," Cosell said of Boutte. "Keep in mind, Diggs came out of Maryland as a fifth-round pick and the 146th player chosen. That's what I was comparing him to, not Stefon Diggs in the last number of years as arguably a top-five receiver in the NFL.
"No one thought that of Diggs when he was a fifth-round pick and 146th player chosen. Boutte is a fascinating player."
Boutte stands as the top boom-or-bust player taken by New England in the 2023 Draft.
He was once thought of as a potential first-round target, reeling in 45 catches for 735 yards and five touchdowns as a freshman during the 2020 season.
The former Tiger was stellar out of the gate in 2021, recording 38 receptions for 509 yards and nine TDs in just six games before an ankle fracture ended his sophomore campaign.
Since then, Boutte's stock plummeted. During the 2022 season, Boutte finished with 48 receptions for 538 yards and two touchdowns over 11 games. He drew the ire of new LSU coach Brian Kelly during spring practices for his effort and leadership, although Kelly later noted that the wideout carved out a key role in the locker room.
"I think he's feeling comfortable with his role and his leadership role," Kelly said of Boutte, per Isaac Trotter of 247Sports. "We've elevated his leadership role and he's been outstanding. He grabbed me on the sideline and said, 'Coach, don't forget the first things that you have to say when you go in the locker room.' He's even scripting my stuff now. I was like, 'Oh thanks Kayshon. Appreciate it. I couldn't find you the first week. Now you're running the show.'
"That's what I love about him. He's been so engaged, so part of what we're doing. And we're better because of it and you can see when he touches the football he's electric. We're here because our best players are playing their best football."
Still, whether it be that severe ankle injury (which required a second surgery in 2022) or a lackluster showing at the NFL Combine (29" vertical jump, 4.50 40-yard time), questions have lingered about how much potential Boutte has at the next level.
But if the talented receiver can put his injury in the rearview and recoup the explosiveness he showcased from 2020-21, Boutte has the means to become a difference-maker with the Patriots.
Newsletter Signup
Stay up to date on all the latest news from Boston.com