Patriots
Veteran linemen Riley Reiff, Calvin Anderson discuss their decisions to join the Patriots
"I've always heard a lot of good things about this team."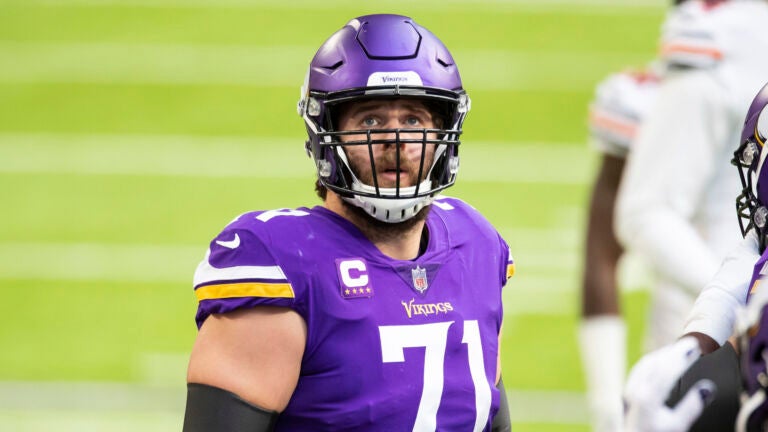 Last week, the Patriots held media availability for two of their veteran additions for the first time.
Offensive linemen Riley Reiff and Calvin Anderson each fielded questions as free agent signings but from two rather different perspectives.
Reiff is a former first-round pick entering his 12th season in the NFL, and the Patriots will be his fifth team. Anderson is a four-year vet who is rejoining the team that signed him as an undrafted free agent in 2019 and cut him that same year.
Anderson was with the team for less than a month during OTA's but he said an impression was left nonetheless.
"There was a very big first impression with the 'do your job' slogan," Anderson said. "That carried through, even though we didn't say those specific words, wherever else I was, the idea of doing your job and how important that was."
While Anderson may have had more hands on experience in New England than Reiff, the latter's Patriots connections run deep.
"My college roommate James Ferentz plays here, and he's one of my best friends," Reiff said. "I've always heard a lot of good things about this team, and I'm just grateful to be here."
Not only did Reiff play with Ferentz at Iowa, he also played for his Father Kirk Ferentz, a longtime friend of Bill Belichick from his days as a Browns coach.
Despite his connection with the Ferentz family though, this is Reiff's first real experience with New England after spending nearly all of his life in the Midwest.
"This is the first time I've been out this way and I love it," Reiff said. "There's great food and great people."
When asked his favorite New England dish so far, Reiff named a familiar favorite "lobster rolls."
Both Reiff and Anderson say they've already gotten along pretty well with their fellow linemen and their coaching staff.
"I love AK so far," Anderson said of Adrian Klemm, the Patriots' new offensive line coach. "You can tell he played, you can tell he understands the positions we're in that we are put in on the field, and I always have an appreciation for guys who have understood first-hand what it's like to be playing. He has a good knowledge of the game. He's one of those guys that can understand how you learn and how all the different guys learn and tailor the teaching to that."
Among the players, Dave Andrews sticks out in particular to Reiff.
"He's hard working, he's leading the group," Reiff said. "It's just fun going to work with him everyday. We have very similar personalities so we talk quite a bit."
Sign up for Patriots updates🏈
Get breaking news and analysis delivered to your inbox during football season.