Patriots
5 things to watch for as Patriots begin OTAs in Foxborough
The Patriots won't open training camp until late July. But OTAs and minicamp offer a glimpse of what's to come.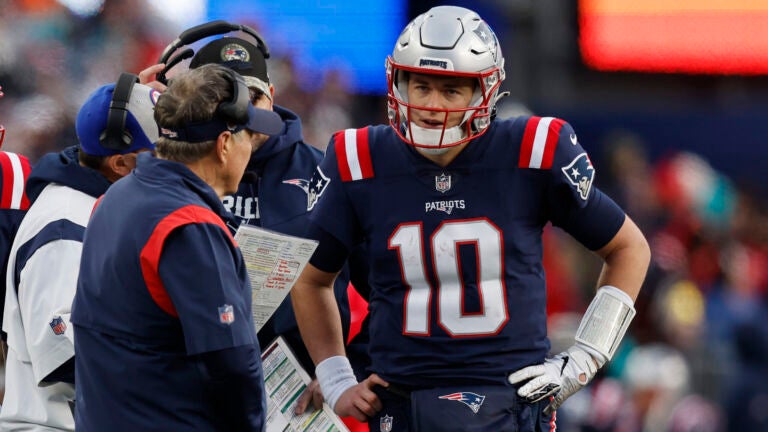 The Patriots have finally returned to the field in Foxborough. Well, in some capacity.
Training camp won't officially commence at Gillette Stadium until late July, but Monday marked the start of organized team activities (OTAs) for the Patriots and every other team across the NFL.
The Patriots will hold 10 OTAs, which are voluntary, non-padded and non-contact practices. Once OTAs wrap, NFL teams will hold a mandatory three-day minicamp before the league takes another extended break.
Even though both OTAs and minicamp are not open to the public, reporters will have access to six of those 13 scheduled practices over the next few weeks. The first media availability will be held on Thursday.
In most circumstances, OTAs and minicamp are often when coaches begin to install the playbook, continue to get younger players acclimated and generally start to lay down the principles that will be further reinforced once training camp officially begins.
Even though roster battles and some of the juicer preseason narratives are unearthed later this summer, the next few weeks will give us our first glimpse at the 2023 Patriots.
Here are five things to watch for over the next couple of weeks:
Where does Mac Jones stand in New England's offensive plans?
It's been an … interesting offseason for Mac Jones, to say the least.
Even though most of the blame for New England's offensive woes last season has been directed toward Matt Patricia, Joe Judge and a dysfunctional Patriots coaching staff, Jones isn't exactly standing on solid footing.
Be it Jones's own lapses in execution, his public outbursts of frustration on the gridiron, and Bill Belichick's vague comments regarding the state of New England's QB depth chart, the third-year signal caller has plenty to prove in 2023.
With Bill O'Brien taking over on offense, Jones should be poised for a bounce-back campaign.
The Alabama product looked like a future star under Josh McDaniels back in 2021. But for Jones to dispel last season's narratives and repel talk of Bailey Zappe earning QB1 reps, No. 10 is going to have to separate himself from the pack during drills and other practices.
How will Bill O'Brien reshape New England's offense?
This might be the most consequential development that will shape just how competitive the Patriots will be in 2023.
Mac Jones might have more to give at the quarterback position. But few players were able to thrive in the discombobulated and rudderless system implemented by Patricia and the Patriots last preseason.
The Patriots should be in much better hands with O'Brien getting the keys to the offense once again. But it will be fascinating to see what schemes and layers the former Texans head coach implements in his second stint in Foxborough.
Again, don't expect to see New England's overhauled offense in sync during these early days of the preseason. But we should begin to pick up on some of O'Brien's plans as the Patriots' offense slowly starts to take shape.
As new wideout JuJu Smith-Schuster noted earlier this month, New England's new playbook is … dense.
If you saw what we study — we should get, like, a college degree for doing that, man," Smith-Schuster joked, adding: "I would say this," he said. "I would say it is a very varied offense. I can say I'm definitely studying more. I'm getting the offense down. The terminology is different than what I've learned in the past. But that just goes to say, these coaches are really, really smart when it comes to football and just knowing the game, knowing defense, terminologies.
"Every day I'm growing here. I think that's what I love about being here. Every day I'm going to keep growing. I feel like I'm back in college or school again. After this, I'm going to go home, put a couple hours in, study, put on some Call of Duty, get back to studying, go to my flashcards — I'm making flashcards. I got a lot of flashcards. It's awesome."
So will it be a carbon copy of the offense implemented by McDaniels during Jones's rookie season? Perhaps O'Brien implements some details he cooked up during his two years as the University of Alabama's OC?
How will Smith-Schuster be utilized? And Mike Gesicki?
It remains to be seen how all the pieces will fall into place.
How will the offensive line shake out?
Much like O'Brien taking over the entire offensive unit, the Patriots' O-line should be in better hands with Adrian Klemm relieving Patricia as the positions coach of that key grouping.
Again, the real roster battles likely won't play out until we get to the end of July and early August. But it will be interesting to see who gets the early edge at the tackle position over these next couple of weeks.
The interior of New England's line should be set with Cole Strange, David Andrews, and Michael Onwenu (who will miss OTAs while recovering from offseason ankle surgery).
But it's a work in progress as far as who shores up the outside.
Even though Trent Brown stands as the obvious candidate to slot back in at left tackle, New England can save $8 million in cap space by cutting him if his performance falls below the team's standards. The veteran needs to deliver with a strong camp to secure his starting spot.
Right tackle seems to be up for grabs, with Riley Reiff, Calvin Anderson and even 2023 fourth-round pick Sidy Sow all vying for those reps.
Who gets featured reps in a crowded secondary?
The Patriots' defensive backfield has plenty of questions surrounding it this preseason. But it also might be the most talented personnel grouping on this roster.
With Devin McCourty calling it a career, the Patriots will need to shift someone over into his spot at safety.
Will it be Jonathan Jones, who went from slot corner to more of an outside option in 2022? Jalen Mills could also make the switch from cornerback to safety if New England needs another body who can cover plenty of ground.
Christian Gonzalez fits the profile as a big-bodied, No. 1 corner who can operate on the boundary if he lives up to his billing as a first-round talent. But will New England throw the former Oregon Duck into the fire right away?
Jack Jones is also another player worth keeping tabs on. The 2022 fourth-round pick flashed at times at a rookie with two picks and one forced fumble, but was suspended by the team at the end of the regular season. The start of OTAs should offer a clean slate for a talented corner like Jones.
What other rookies can stand out?
Gonzalez is the obvious candidate in terms of rookies worth following, but there should be no shortage of other youngsters looking to impress in the early weeks of the preseason.
Keion White has the versatility to line up all over New England's defense, while sixth-round pick Kayshon Boutte might have the highest ceiling of Patriots rookies if he can replicate his early seasons as LSU's No. 1 wideout.
New England's special-teams unit is also due for an overhaul, especially with kicker Chad Ryland and punter Bryce Baringer added to the mix. Sixth-round picks in Demario Douglas and Ameer Speed could also develop into role players on special teams.
Sign up for Patriots updates🏈
Get breaking news and analysis delivered to your inbox during football season.