Patriots
Oregon's head coach has high praise for Patriots' first-round pick Christian Gonzalez
"If you were building a player in Madden, you'd create them very similar to Christian."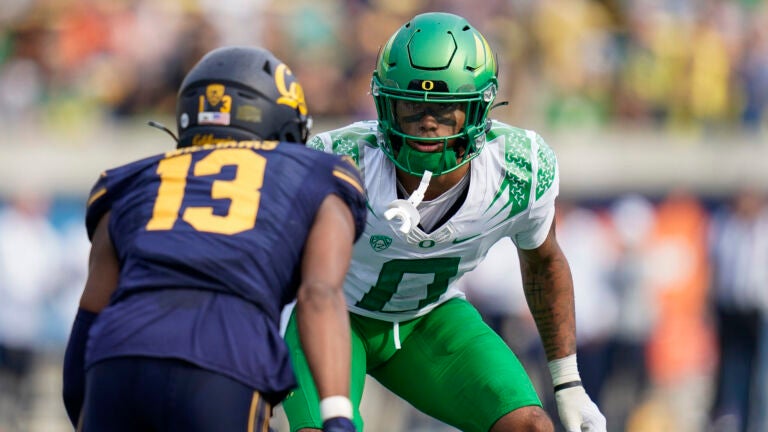 It wasn't a surprise that Christian Gonzalez was taken in the first round of the 2023 NFL Draft.
Beyond his impressive stats with the Ducks last season, the 20-year-old defensive back fits the profile of a No. 1 boundary corner at the next level.
Not only does Gonzalez have the size (6-foot-2) to hang on the outside, he possesses the speed (4.38 40-yard dash) and athleticism (41.5 inch vertical jump) to keep up with fleet-footed NFL wideouts.
Put it all together, and Oregon head coach Dan Lanning believes that the Patriots scooped up a rare talent with their first pick in last month's draft.
"If you were building a player in Madden, you'd create them very similar to Christian, especially for the corner position," Lanning told Phil Perry of NBC Sports Boston during the Next Pats podcast. "He's got length, he's got size, he's got speed. He carries that size very effortlessly and he can obviously run.
"Those are skill sets you look for in a DB. He's got great ball skills. I honestly believe he could play wideout. He could be a returner as well, if somebody needed that. We didn't ask him to do that, but we probably should have at times. But he has all the skill sets. So, if you're designing a player, you design them within the mold of Christian."
Gonzalez, who recorded 50 tackles and four interceptions last season at Oregon, could be placed at the top of New England's depth chart if he impresses during training camp.
With the Patriots set to match up against a number of talented QBs like Aaron Rodgers, Josh Allen, Justin Herbert, Jalen Hurts, Patrick Mahomes, and many others in 2023, Bill Belichick might need to call on Gonzalez early and often in his rookie campaign.
Lanning doesn't believe that those daunting responsibilities and high expectations will weigh on a poised prospect like Gonzalez.
"Maybe more importantly in my mind is you have the mindset," Lanning said. "The last play never affects the next play. He's able to hit the flush button really easily. His demeanor, he's very calculated. Some people might take it as a lack of passion. That's not the case at all.
"The guy's extremely passionate, but he's very focused and he's able to play within the moment. So, I think the Patriots are getting a really good one. I've had a lot of really good DBs, and he ranks up there as high as any."
Sign up for Patriots updates🏈
Get breaking news and analysis delivered to your inbox during football season.