Patriots
Bill Belichick discussed Patriots' OTA rule violation, Joe Judge, and the NFL's kickoff change
Belichick made a joke when asked how the lost OTA sessions affected the Patriots.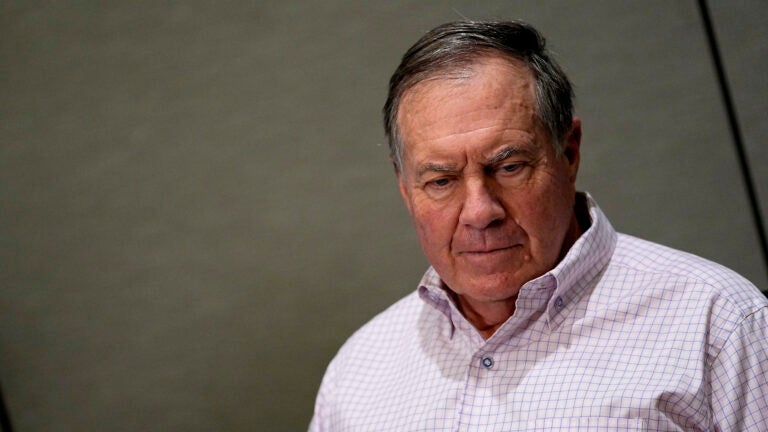 Though the Patriots' 2023 season is still months away, Bill Belichick already had plenty of questions to answer during his Wednesday press conference.
The Patriots' coach spoke to reporters for the first time since the NFL Draft, covering a range of topics that included the recent organized team activities (OTA) rule violations as well as the expected role of assistant coaches. The list of questions eventually broached the subject of free agent wide receiver DeAndre Hopkins, and whether or not New England had any interest in signing him.
"I'm not going to comment on players that aren't on this team," Belichick quickly replied.
On other subjects, he was more definitive (if not loquacious).
The Patriots were recently docked multiple OTA practice sessions for violating NFL rules. Specifically, Patriots assistant coach Joe Judge reportedly held meetings with special teams players that exceeded the four-hour limit imposed by league OTA rules.
Asked about the matter, Belichick took a predictably future-focused approach.
"We had a situation with some scheduling in Phase 2, but we got that worked out," he noted, referencing the second part of the league's OTA schedule.
"It's in the past, we've moved on," Belichick added. When asked follow-up questions, he repeatedly said that he's "looking forward to getting out on the field today."
Towards the end of the press conference, he took ultimate responsibility for the violations.
"I'm responsible for it. So that's it."
As for what effect losing the OTA practices meant for the Patriots, Belichick offered some humor.
"[We] got a long weekend."
Regarding Judge, Belichick expressed faith in the former Giants head coach (who returned to the Patriots in 2022), but didn't specify what his role might be.
"He'll do whatever I ask him to do," Belichick said of Judge. "That might change from time to time. He'll be involved in a lot of things."
Noting that the Patriots would reveal the specific coaching positions and staff labels "soon," he reminded reporters of Judge's versatility as a coach.
"Joe's great. Smart guy, got a lot of experience," said Belichick. "He'll do whatever we need him to do, and he can do a lot."
Another topic of discussion was the NFL's recent decision to launch a one-year trial of a new kickoff rule.
Though it wasn't passed unanimously (the Patriots were one team that voted against it), the new rule will allow teams to get the ball at the 25-yard line on a kickoff if the returner calls for a fair catch anywhere at or behind the line.
"We'll see about all that," Belichick responded. "I know Coach [John] Harbaugh is pretty involved in that, [and] Coach [Andy] Reid. I think they've voiced some comments on that. I probably agree with things they said."
Sign up for Patriots updates🏈
Get breaking news and analysis delivered to your inbox during football season.