Patriots
Mac Jones says he's ready for a fresh start and to 'earn the respect of everyone in this building again'
"Sometimes the most confident people come from a year where they might not have been their best."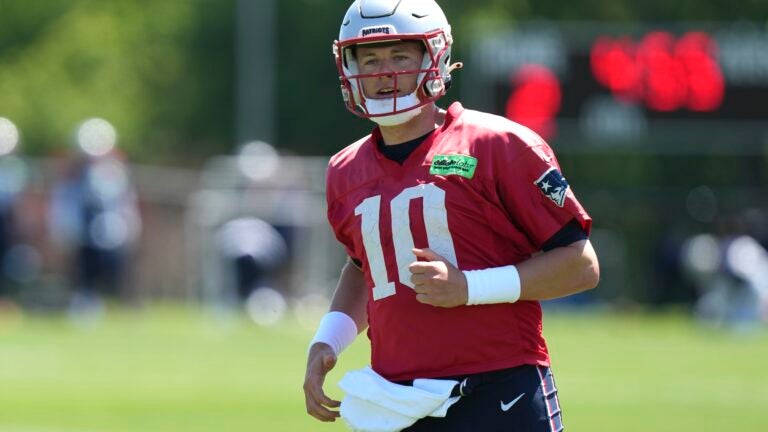 Last season was a rough one for Mac Jones and the Patriots offense.
But that's in the past now. With new offensive coordinator Bill O'Brien lined up and another year of experience under his belt, Jones struck an optimistic tone during New England's OTA session on Wednesday.
"It's been really good. It's been normal," Jones said. "I think everything he's done so far has been really good. Communication is the most important part, and trust. I think it all starts with that with a new coach. He's done a great job controlling the room and I feel like everyone is on the same page."
Jones said he's been working hard to repair some of the trust and respect that was fractured last season under Joe Judge and Matt Patricia.
"I think everyone is entitled to their opinion," Jones said. "But all I can do, like I said earlier, is that I'm going to run my race. Hopefully everyone will run right behind me and we'll be able to push this thing along and learn from everything. I'm doing everything I can to earn the respect of everyone in this building again and from there, go out and win some games."
Jones, who is entering his third season with the Patriots, said he's been following a "college-like" offseason training regimen with less vacation time.
"That's really going to help in the future," Jones said. "Try to do that every year. It's really just identifying what you can get better at. Confidence comes from years of practice, doing well, and also not doing well. Sometimes the most confident people come from a year where they might not have been their best. I feel like that's where I'm at."
Jones said one of the lessons he took from last year is that greatness can be formed through the negative times, as well as the positive.
"I think some of the learning experiences I had last year really helped," Jones said. "There's a lot of things that I can do better. I know that, as a person. As a player there's things I can grow upon. But really it's about this year. We've got new faces in the room. It's all about earning the respect of everybody in the room every day.
"So, I'm starting fresh just like everybody else is. I'm going to run my own race and look up at the end and see where I'm at."
Sign up for Patriots updates🏈
Get breaking news and analysis delivered to your inbox during football season.