Patriots
Could Tom Brady play in 2023? This NFL Hall of Famer 'wouldn't rule anything out'
"Those things kind of just happen out of nowhere. You don't really predict them or plan for them."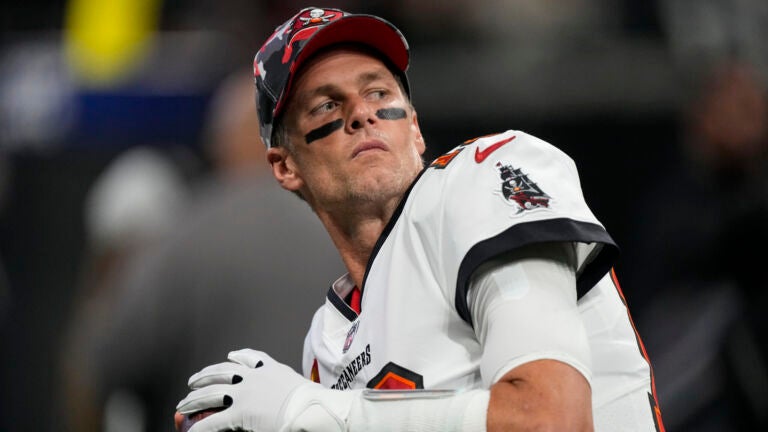 Tom Brady is reportedly joining the Raiders' organization as a minority shareholder this season.
But could the legendary quarterback actually help Vegas out on the field?
Despite Brady's repeated dismissals of reports about yet another comeback, the 45-year-old QB's track record, love of the game, and the current roster situation in Las Vegas are raising questions once again.
Even though the Raiders signed Jimmy Garoppolo to a contract this offseason, the oft-injured signal caller reportedly had foot surgery after inking his deal back in March.
So could Brady step in if Garoppolo remains sidelined?
NFL Hall of Famer and ESPN announcer Troy Aikman didn't want to commit one way or another about Brady's next steps.
"I don't want to speak for Tom. I wouldn't rule anything out," Aikman told TMZ Sports. "He obviously has a relationship with the head coach, he knows the offense, he'll keep himself in great shape. I'm a big Jimmy Garoppolo fan, so I'm really pulling for him. But I would bet that nothing's off the table as far as what may occur during the season or what Tom's role may be.
"I think he's done playing, but you never know. Those things kind of just happen out of nowhere. You don't really predict them or plan for them. I'm sure he doesn't want to talk about those things, but we can."
Until Garoppolo actually plays this season, the Brady unretirement rumors will likely continue to linger throughout the offseason.
Pro Football Talk's Mike Florio noted over the weekend that Garoppolo's contract with the Raiders includes a clause that lets the team essentially void the deal if he can't pass a physical.
On Wednesday morning, Rob Gronkowski said that Brady's reported links to the Raiders don't mean that he'll make the jump from the owner's box to the field.
"This is the craziest thing I'm hearing all month so far in the month of May, and I've heard some crazy things," Gronkowski said on the "Up & Adams" show on FanDuel TV, adding: "I think [Brady] could play all the way until the age of 50 years old, just from what I've seen, just being around him so long. So, it's always going to be a story, no doubt about that.
"But, if Jimmy [Garoppolo] just does what he needs to do in the rehab process, he's going to pass that physical in the end. And then it's going to be no story at all, and he's going to be the quarterback of the Raiders."
Newsletter Signup
Stay up to date on all the latest news from Boston.com