Patriots
Tom Brady is weary of 'crazy expectations' for his 15-year-old son who plays QB
Tom Brady's son, Jack, is following in his footsteps.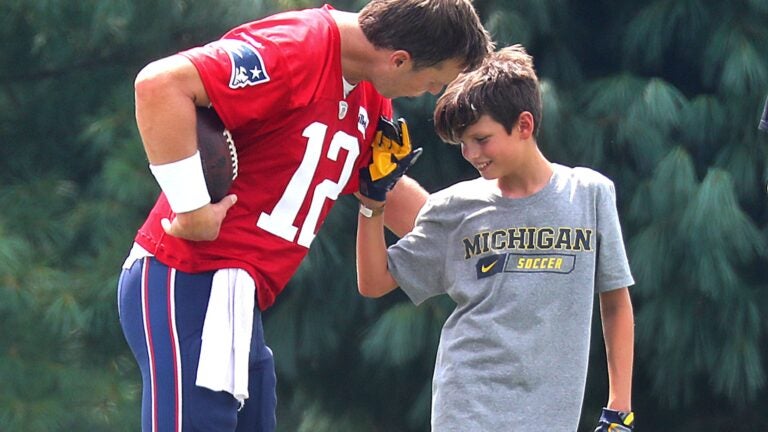 Now that he's retired, Tom Brady is looking forward to spending more time supporting his children's dreams, he said during a recent interview on ESPN's Sportscenter.
Brady's 15-year-old son Jack plays quarterback and wants to play football for Michigan like his dad, according to Vanity Fair.
While he supports his son's football journey, the longtime Patriots quarterback is already weary of the lofty expectations that come with being the son of one of the NFL's all-time greats.
"I hope he finds the things in his life that allow him to get up every day and be internally motivated to work hard at something he loves to do," Brady said. "A lot of it with football I wouldn't even choose for him to do that because there are too many crazy expectations people will put on him. Most of them, probably are very unfair, actually."
Brady said the support from his parents, who attended his games and brought him to camps long before he made the NFL, helped him fall in love with the sport. He said he felt lucky to have such support and hopes to provide the same for his son, no matter what path he chooses.
"I think that's what we as parents should do, we should support our children's dreams whatever they may be," Brady said. "It doesn't need to be sports, it could be whatever, it could be performing arts, it could be music, it could be science, it could be law, it could be medicine. I think that's part of a parent, supporting your kid's dreams, and now that I've got more time on my hands I'm very much looking forward to doing that as well."
Last fall, Brady told E! News that watching Jack develop as a quarterback is one of the highlights of his life. He said he doesn't give an [expletive] how well his son performs, and is mainly concerned with him having fun. Watching his son brings back memories from his time in high school, he said.
"He's a grinder, and he's a very good athlete—great hand-eye coordination," Brady said. "He actually moves better than I did at his age. Like I said though, the point of sports to me, certainly in high school age, is to just enjoy it and do it with your friends and it'll get more serious as you get older."
Sign up for Patriots updates🏈
Get breaking news and analysis delivered to your inbox during football season.