Patriots
Bill Belichick is reportedly 'delegating' all of Patriots' offensive duties to Bill O'Brien
O'Brien's return to Foxboro should provide a steadying presence to the Patriots' offense in 2023.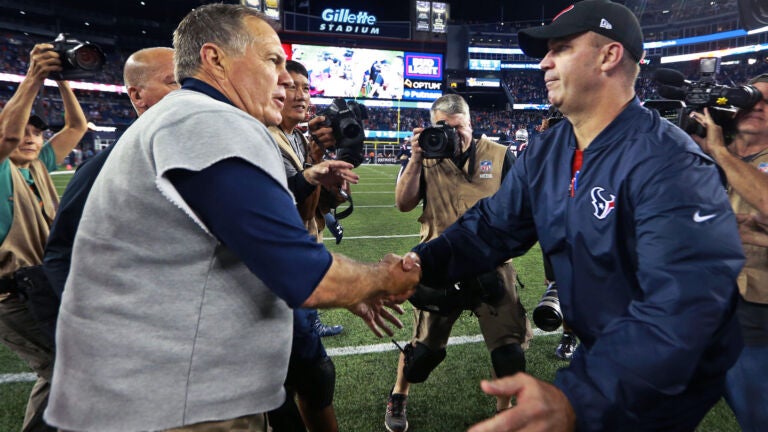 After a dysfunctional 2022 season where a Matt Patricia-led offense created headaches for both Bill Belichick and his players, things seem to be returning to normal on New England's coaching staff.
After playing an active role in the Patriots' offensive schemes last year, Belichick is reportedly taking a much more hands-off approach now that Bill O'Brien has taken the reins as the team's offensive coordinator.
According to Albert Breer of Sports Illustrated, Belichick's dynamic with O'Brien is similar to the relationship he had with Josh McDaniels for many years.
With a steady hand steering the ship on offense, Belichick can now divert his attention to other areas of the roster in 2023 and beyond.
"As for any lingering issues between [Mac] Jones and Belichick, it was far harder to ascertain whether the needle's moved much on that relationship at all," Breer wrote. "There was no come-to-Jesus meeting at the end of the last season on how everything came undone, and my understanding is Jones has spent his time with O'Brien, with Belichick mostly delegating all things offense to his new/old coordinator, in a siloed-off model that feels, to those there, much more like how things were when Josh McDaniels was around a couple of years ago."
O'Brien's return to Foxboro should present a steadying presence to an area of the roster that was often in disarray last fall. O'Brien's familiarity with both McDaniels' offensive gameplan and the University of Alabama's playbook should help Jones after a lackluster sophomore campaign in the NFL ranks.
It's tough to make any sweeping statements on the state of New England's offense in the first week of June. But Jones offered up a positive endorsement of O'Brien during his first media availability at the team's OTA sessions at Gillette Stadium.
"Everything he's done so far has been really good," Jones said of O'Brien last week. "I think the communication is the most important part, and trust. I think it all starts with that when you're with a new coach, and he's done a great job in controlling the room. I feel like everyone's on the same page. We've just got to continue to do it.
"It's a marathon, not a sprint. We know that, and he's obviously had great experience in the NFL and at Alabama, where I was at, so there's a lot of good stuff that we've talked about. I'm just looking forward to working with him."
Newsletter Signup
Stay up to date on all the latest news from Boston.com