Patriots
What the Patriots said about first-round pick Christian Gonzalez after first open OTA session
Early impressions from Kyle Dugger, Jalen Mills, and Bill Belichick.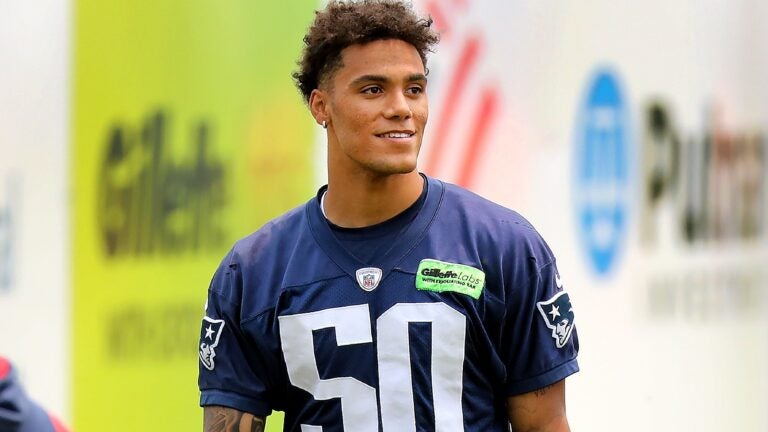 Coming into Foxborough for OTA's as a rookie is kind of like drinking from a fire hose, Patriots coach Bill Belichick said Tuesday.
It's a lot to take in during a short amount of time.
But, it appears first-round pick Christian Gonzalez has hit the ground running, according to comments from several of his teammates.
Patriots safety Kyle Dugger said Gonzalez is a quick learner and a natural athlete.
"It's pretty effortless just the way he does everything," Dugger said. The way he moves in and out of breaks, he runs easy. He just looks very light, very fluid. He's very easy to see."
Gonzalez got some reps at cornerback on the outside during Tuesday's practice. The Patriots missed a number of their top receivers, including DeVante Parker and Juju Smith-Schuster, and the ball wasn't thrown his way much, making his performance relatively tough to evaluate.
"Again, a lot of what we are doing is really teaching," Patriots coach Bill Belichick said before practice. "So, the evaluations will come in training camp when they are able to go out there and compete against each other. He's a smart kid. He's got good skill, and a pretty good level of experience from what he did in college at Colorado and Oregon. He's learning out there every day like they all are."
Outside of practice, Gonzalez impressed Patriots defensive back Jalen Mills with his attentiveness during team meetings.
"Coming to work every day, focusing in meetings, I think that's the biggest thing you want to see with these rookies, man," Mills said, according to NESN. "Are they taking what Coach is saying in the meetings out to the field? As of right now, he's doing that."
Mills described Gonzalez as a "quieter guy," while Dugger highlighted his smarts.
"He's very athletic, and he learns well," Dugger said. "He learns really well. There hasn't been a lot of time, so that's all I can really say, but he learns fast. Very smart."
Newsletter Signup
Stay up to date on all the latest news from Boston.com