Patriots
Devin McCourty explained why he thinks the 2023 Patriots will 'be better than people think'
McCourty also relayed positive reviews he's heard from New England about rookie cornerback Christian Gonzalez.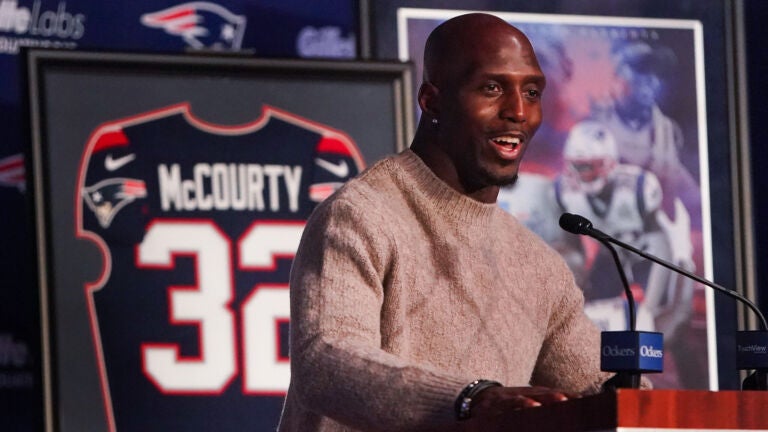 While the odds are against Bill Belichick and the Patriots winning the AFC East in the 2023 season, recently retired safety Devin McCourty isn't quite ready to count out his old coach (and team).
McCourty, 35, called time on his 13-season career in March. As he assesses New England now that he's gone from the team's roster, the three-time Super Bowl champion reminded viewers that Belichick and the Patriots "love being the underdogs" during a Thursday morning appearance on NFL Network's "Good Morning Football."
"I think this team thrives and everybody thrives in that," McCourty said, as transcribed by Mark Daniels of MassLive. "When [Belichick] can create the 'Everybody vs. New England' mentality in the locker room, that's when you usually see this team play their best ball."
Though the season is still months away, early predictions foresee tough times for the Patriots, given the quality (and offseason additions) made by New England's division opponents.
McCourty, in contrast, has confidence that his former teammates will overachieve.
"I think this team is going to be better than people think," McCourty argued. "Bill is focused this year. He's locked in. We're talking about legacy now. He's second all-time in wins. He's not going to talk about it, but why would you not want to be first? You're right there. I think he wants to continue to prove to people, 'I am coach Belichick. I am the Bill Belichick. We will show you what we're made of.'"
For the team to have success, McCourty knows that the defense will have to play well. Despite the fact that he's no longer in the locker room (or in the secondary), he mentioned a high-profile addition in the offseason: First-round draft pick Christian Gonzalez, a highly-touted cornerback from the University of Oregon.
While he tried to downplay the idea of hyping rookies "over guys who have had success in the NFL," McCourty — who was once a first-round pick himself — couldn't hide his excitement.
"I've talked to some of those guys and they're like, 'Man, Gonzalez, he can play,'" McCourty said of the reviews he's heard from New England.
"[Players] were like, 'Man, we'll see how it plays out when we go and play real football, but shorts and a t-shirt with a helmet on, the guy looks great,'" McCourty added. "They love watching him play, love seeing him develop. I think they're excited about that."
The Patriots conclude OTAs on Friday, and begin mandatory mini-camp on June 12.
Sign up for Patriots updates🏈
Get breaking news and analysis delivered to your inbox during football season.