Patriots
What Bailey Zappe said about possibly competing for Patriots' starting QB job, relationship with Mac Jones
"Like Coach Bill said at the beginning of the offseason, everybody's competing for a spot."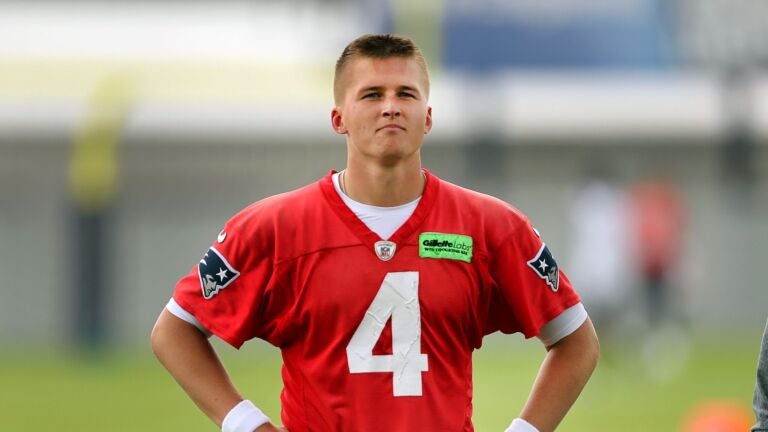 Bill Belichick's non-commital stance when asked if Mac Jones will be the Patriots' starting quarterback in 2023 earlier in the offseason caught the eyes and ears of many, including another New England quarterback.
Patriots quarterback Bailey Zappe cited something his coach said back in March when asked following Friday's OTA practice if he feels he's competing for the starting quarterback job.
"Like Coach Bill said at the beginning of the offseason, everybody's competing for a spot," Zappe said. "So, that's the way I'm approaching it. Like I said earlier, I'm taking every rep like a game rep. So, trying to get better every day."
Zappe's comment Friday mirrors a similar statement he made in April while at a football clinic in Rhode Island when he was asked about the possibility of becoming the Patriots' starting quarterback.
"If my opportunity presents itself, I'm going to take full advantage of it," Zappe told reporters then. "I'm going to do everything I can to help the team win.
"That's really all I can say from that standpoint. That's Coach Belichick's decision, whatever he decides. But if the opportunity presents itself, I'm going to be ready and take advantage of it."
Zappe became a favorite among a good contingent of Patriots fans last season when he filled in for Jones during a four-game stretch in October. He helped them stay in a game against the Packers before winning his first two NFL starts.
In Jones's return from an ankle sprain, Zappe entered the game and led the Patriots to two straight touchdown drives after Jones was benched. Zappe played the remainder of that game, which ended up being a 33-14 loss to the Bears.
That game was also the last time Zappe saw the field for the remainder of the season despite Jones and the Patriots offense's struggles. He threw for 781 yards, five touchdowns, and three interceptions in the four games he played in.
With Zappe performing relatively well in the offense that Jones struggled in, some wondered if there was a chance Zappe, or someone else, would replace Jones at quarterback this offseason.
Belichick didn't immediately throw water onto that idea. When asked if there would be a quarterback competition in the upcoming season while at the owners' meeting in March, Belichick said, "Everybody will get a chance to play."
So far, there doesn't appear to be a major quarterback competition brewing in New England. Jones has taken all the first-team snaps in 11-on-11s during OTAs made available to the media. Belichick also said in a press conference in the middle of the draft that he "absolutely" feels the same way about Jones as he did ahead of the 2022 season, when he notably praised the quarterback.
Even though he's looking to possibly dethrone Jones from his starting job, Zappe said that he holds a good relationship with his fellow quarterback.
"It's been good," Zappe said when asked about his relationship with Jones. "I mean, we're teammates. We're together all day, every day. In the QB room together. You know, over these last two years, I feel like both of us have been able to help each other both get better on and off the field.
"I've learned a lot from him, and hopefully, I'm kind of helping out with him. Trying to help him learn some stuff. But we're teammates, we want what's best for the team — and that's to win."
Sign up for Patriots updates🏈
Get breaking news and analysis delivered to your inbox during football season.