Patriots
NFL insider believes the Patriots are 'willing to spend on some level' in pursuit of DeAndre Hopkins
Hopkins will reportedly visit with the Patriots sometime next week.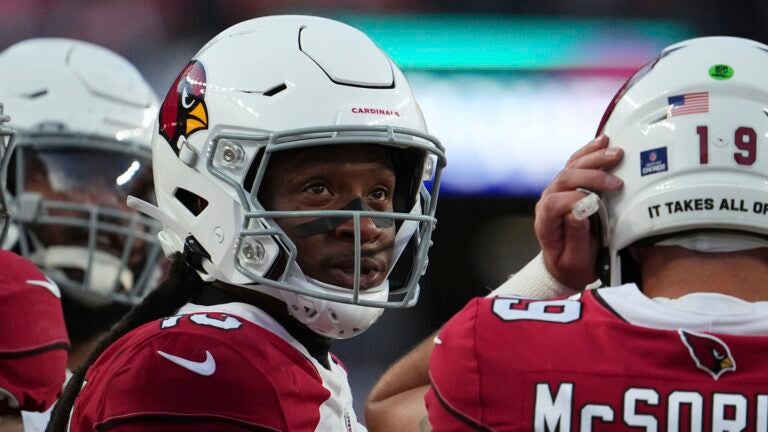 The Patriots' pursuit of DeAndre Hopkins took a big step forward on Friday.
New England scheduled a visit for the All-Pro receiver in Foxborough next week, NFL Network's Ian Rapoport reported. Following his report, Rapoport shared some more details on what Hopkins might think about joining the Patriots.
"This one actually makes a ton of sense for both sides," Rapoport said on NFL Network discussing Hopkins's upcoming visit with the Patriots. "If you're DeAndre Hopkins, you obviously have a ton of respect for Bill Belichick, they have converged over the years on the field and otherwise. Is this a place where he can resurrect his career and show everyone he's not just old and can't get open."
Rapoport also shared some insight that hints at just how serious the Patriots' interest is in Hopkins.
"For the Patriots, it never quite felt to me like they were done in free agency," Rapoport said. "They seem to be willing to spend on some level. They rarely, rarely do free-agent visits. That should show you how serious, at least on it's face, the Patriots are about DeAndre Hopkins."
The money aspect of the Hopkins sweepstakes has become apparent over the last week, with multiple reports suggesting Hopkins is still valuing the worth of his contract above a lot of other things when picking his next home.
"Early in the process, but the two teams DeAndre Hopkins will visit aren't a player away from a Super Bowl," former NFL Network and NBC Sports Boston reporter Mike Giardi wrote in a tweet on Friday. "That speaks to what I reported starting around the draft and in recent weeks, with teams believing he's more about the $$$ than anything else (not that there's anything wrong with that). For both the #Patriots and #Titans, Hopkins would immediately become their best receiver."
If Hopkins decides to go to the highest bidder, the Patriots are in a good spot. They have roughly $13 million in cap space and have avenues to open up more cap space by possibly moving a receiver already on the roster.
The Patriots' $13 million in cap space is also a good amount more than what the Titans have in cap space, which is roughly under $8 million. It's also far more than the Chiefs and Bills, who are both within $2 million of the salary cap. The Chiefs and Bills reportedly spoke with Hopkins about a possible trade before the Cardinals released him in late May.
News of Hopkins's scheduled visit was welcomed with excitement by at least one Patriots player on Friday.
"I'm a fan of D-Hop. It would be cool," receiver Kendrick Bourne said following Friday's OTA practice. "I don't know the gist of what's going on, but he is a great player. Anything that would help us win, I'm with."
It's unclear which day Hopkins's visit with the Patriots will take place, but it will happen after he visits with the Titans on Sunday. The Patriots have mandatory minicamp beginning on Monday and will run through Wednesday.
Sign up for Patriots updates🏈
Get breaking news and analysis delivered to your inbox during football season.