Patriots
Matthew Judon makes another pitch on Twitter to DeAndre Hopkins to join the Patriots ahead of the receiver's visit
Judon has tweeted about Hopkins joining the Patriots at least four times this offseason.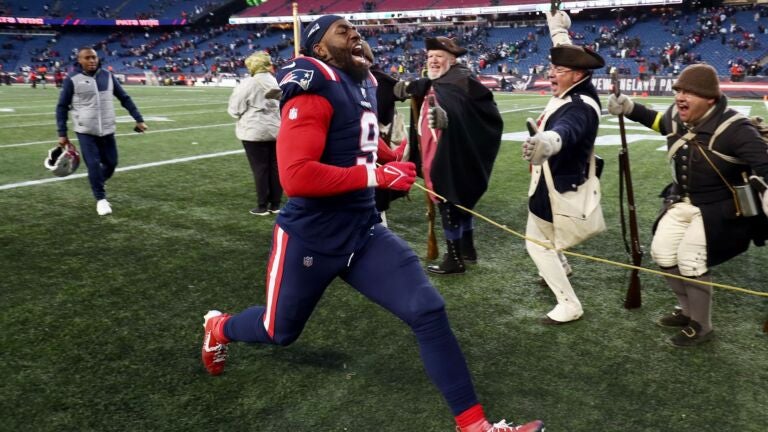 Matthew Judon's recruitment of DeAndre Hopkins to the Patriots continued over the weekend after news broke that the receiver will visit the team this coming week.
Late Saturday night, a Patriots fan on Twitter posted a screenshot of a direct message he left for Hopkins, which read, "I will donate $500 to the charity of your choice if you sign with N.E."
The fan, whose name on Twitter is Mike Brimecombe, mentioned Judon in the tweet with the screenshot, writing to Judon, "I'm trying bro."
Judon saw the tweet and shared his own message.
"I'll match @DeAndreHopkins," Judon wrote in a retweet of Brimecombe's tweet.
Judon's tweet on Saturday night is just one of many tweets he's made about Hopkins so far this offseason. His first tweet about Hopkins may actually be a prediction of something that could happen soon.
"Breaking news @DeAndreHopkins to the patriots 😍😍," Judon wrote in a tweet on March 3.
A couple of weeks later, Judon tried to speak a few moves for the Patriots into existence, with one of them involving Hopkins.
"@bigplay24slay (Darius Slay) to the patriots then @DeAndreHopkins next @obj (Odell Beckham Jr.) what what I tell you," Judon wrote in a tweet on March 15 with a GIF that read "Dear Sweet Baby Jesus, Praying!!!"
Of course, Slay ended up staying in Philadelphia after rumors there were rumors of him being released and Beckham signed a deal with the Ravens.
Judon added another tweet to his chronicles of recruiting Hopkins on April 3. Judon got a little more creative, posting an image of him touching Hopkins's arm during the Patriots' matchup with the Cardinals last season. He also included a gif in the tweet that said, "You may not like it, but accept it."
Judon's recruiting efforts for Hopkins slowed down on Twitter though following that tweet in April. In fact, he mentioned a couple of times that he doesn't tweet at players who are on an active roster, which was the case for Hopkins up until late May.
Following months of tweeting about Hopkins though, Judon will possibly get the chance to make an in-person pitch to the All-Pro receiver when he visits the team this upcoming week. It's unknown which day Hopkins will visit the team, but the Patriots are holding mandatory minicamp Monday, Tuesday, and Wednesday.
Sign up for Patriots updates🏈
Get breaking news and analysis delivered to your inbox during football season.