Patriots
What Mac Jones said about Patriots' reported interest in DeAndre Hopkins
"We have a good group and definitely feel like we just need to keep growing together."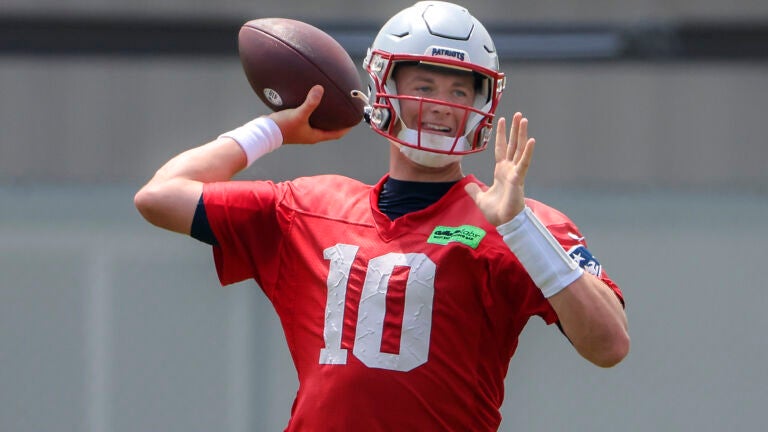 FOXBORO — Bill O'Brien's return as the Patriots' offensive coordinator and a bevy of free-agent additions should help Mac Jones orchestrate a bounce-back third season in the NFL ranks.
But the addition of an All-Pro receiver in DeAndre Hopkins could be the key conduit that sparks a dominant 2023 campaign for Jones.
With Hopkins reportedly set to visit the Patriots in Foxboro at some point this week, Jones was asked about the potential of adding a weapon of Hopkins' caliber ahead of training camp.
Given the free-agent wideout's resume, Jones acknowledged that the 31-year-old Hopkins would offer a significant boost to a Patriots offense looking to right the ship after a dysfunctional 2022 season.
But with little clarity in place as to where the former Texans and Cardinals star will sign this offseason, Jones also offered up support for the current receivers already in place in Foxboro.
"I think that's definitely a hypothetical," Jones said of Hopkins potentially signing in New England. "But I think DeAndre is a great player. I mean, you watch his film from college, all the way through the NFL — he's done a great job. So obviously we'd love to have him. But we do have a great group of guys and we just know that we want to win. And I know that all the guys feel the same way.
"I've been really pleased with the playmakers that we have on our team. Like we've come out here and really bought into the system and that'll really show in training camp and preseason. It's sometimes hard to show that out here, but I've been really pleased with the tight ends, running backs and all the receivers, the young guys, old guys …. We have a good group and definitely feel like we just need to keep growing together and whoever's in that room we're going to try and dominate together."
Hopkins, who was cut by the Cardinals last month, visited the Tennessee Titans on Sunday as he continues to field offers.
Ahead of Monday's minicamp session, Bill Belichick acknowledged that the Patriots have been in contact with Hopkins, although he didn't have concrete details about the logistics of Hopkins' scheduled visit.
"I'm not really a travel agent," Belichick said. "I'm not going to say it's going to happen here, or it's not going to happen.
"There's a lot of other stuff going on that I'm not directly involved in, so I'm not going to say anything and then you turn around and say I misled you in some way because that's not what I'm going to do."
Despite being limited to nine games last season, Hopkins was still effective in Arizona — reeling in 64 catches for 717 yards and three touchdowns.
"I'm a fan of D-Hop. It would be cool," receiver Kendrick Bourne said on Friday about Hopkins' potential arrival. "I don't know the gist of what's going on, but he is a great player. Anything that would help us win, I'm with."
Sign up for Patriots updates🏈
Get breaking news and analysis delivered to your inbox during football season.