Patriots
Former Patriots LB throws cold water on DeAndre Hopkins rumors, suggests team is 'cheaping out'
Ted Johnson said the Patriots could get DeAndre Hopkins right now if they paid him what he wanted.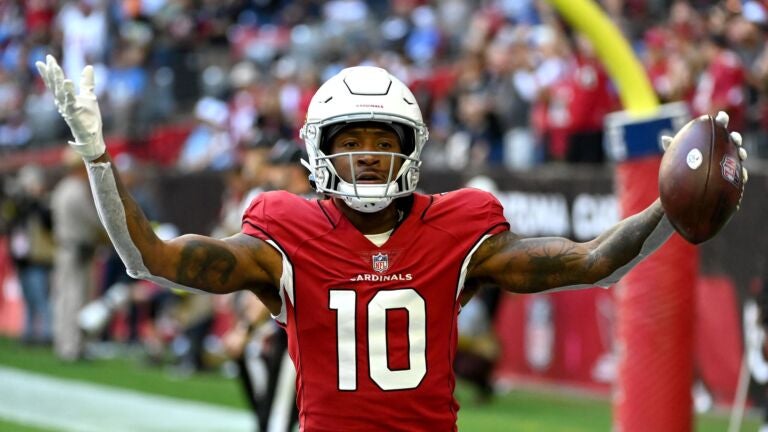 The Patriots are reportedly among the favorites to land DeAndre Hopkins. One report, from ESPN's Sal Paolantonio, called the Patriots the "leaders" in the race to land Hopkins.
But, one former Patriots player is skeptical about Hopkins's desire to play in New England and the Patriots' willingness to pay what it would take to land the five-time Pro Bowl receiver.
Ted Johnson, who played linebacker for the Patriots for nearly a decade, said he can't understand why there are so many talking heads who think the Patriots are going to get Hopkins.
"I think it's pie in the sky, I really do," Johnson said during an appearance on Zolak and Bertrand on 98.5 the Sports Hub. "It's money, and it's hard for people to wrap their arms around this — the idea the Patriots might be cheaping out. I mean, they could get the guy right now if they paid him what he's looking for, which is anywhere in that $10-12 (million), maybe $15 million, at the most, range for at least one year. My feeling is the Patriots have gone way under that."
Adding Hopkins does make sense from a football standpoint. The Patriots could use a go-to No. 1 option for Mac Jones to throw to. When healthy, Hopkins is one of the best receivers in the league.
But, Hopkins has missed 15 out of 34 regular-season games over the past two years due to injuries and a violation of the league's performance-enhancing drug policy. The Patriots have also spent a fair amount on receivers already, adding Juju Smith-Schuster and re-signing DeVante Parker to deals that average north of $10 million per year.
Then, there's the question of whether New England is a desirable destination for Hopkins.
"I don't think he sees this as a viable option," Johnson said. "I don't think people see the Patriots as a win-now team, so I don't think he wants to come here. I think he wants to win. He's been in Houston, he was traded to the Cardinals. He's never been a free agent before, so I think he wanted to enjoy the whole process of being recruited and courted. But I think he wants to play for a team he thinks is a legit contender, and I don't think players view the Patriots as that kind of team."
The Patriots are 25-25 with no playoff wins since Tom Brady left after the 2019 season.
"So ultimately," Johnson said. "At the price in which Bill (Belichick) is — my guess is — offering him makes it kind of silly, I think, to even talk about."
Sign up for Patriots updates🏈
Get breaking news and analysis delivered to your inbox during football season.