Patriots
Tom Brady reflects on relationship with Bill Belichick: 'Couldn't imagine a better teacher'
Tom Brady and Bill Belichick won six Super Bowls together in New England.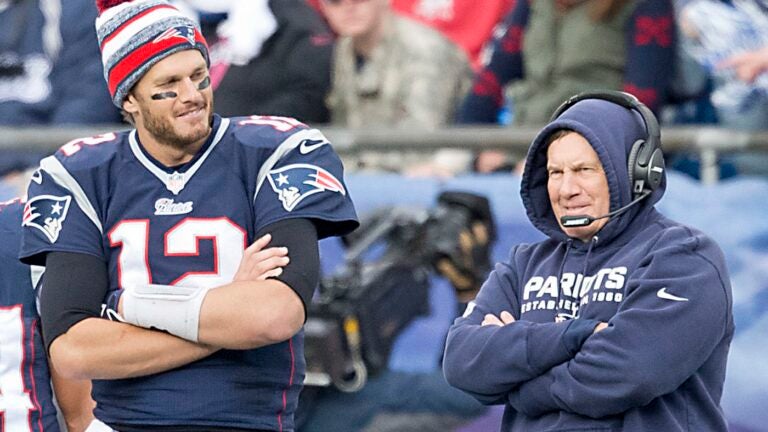 A video clip of an emotional Tom Brady pausing for a moment to compose himself as he reflected on his relationship with Bill Belichick has resurfaced on social media.
"Tom, What did Bill do to bring out the best in you?" asked broadcaster Jim Gray, during a February episode of the "Let's Go!" podcast he co-hosts with Brady and Larry Fitzgerald.
"I think it's more what did he not do, to bring out the best in me," Brady said, fighting back tears.
Brady said he felt fortunate to be coached by Belichick, and the California native joked that he didn't even know where New England was when he first got drafted.
By the end of his tenure with the Patriots, Brady had transformed from backup quarterback to one of the all-time greats. He and Belichick won six Super Bowls together in New England.
The Patriots picked Brady in the sixth round of the 2000 NFL Draft. Belichick was in his first season as New England's head coach at the time.
"We came in together," Brady said. "I always think for so many young players, anybody can get drafted to a place. Who is going to be there to turn you into something? Who is going to develop you? Who is going to take you under their wing? … I had someone that really saw something in me that not a lot of people did."
Brady said he was grateful for Belichick's work ethic, and their weekly meetings together. He said that he couldn't imagine having a better teacher as he learned the game during the early phase of his career.
"I think Coach Belichick and I developed an amazing relationship," Brady said. "Really from the moment I was drafted, but then we really started to spend a lot of time together. He started to really teach me what football was all about. He taught me how to read defenses when I was starting to play, certainly."
"I couldn't imagine a better teacher to say 'Hey, this is how we're going to play quarterback in the NFL.'" Brady said. "And the nuances of the game. And not only that, but his leadership, which is one of his great, great qualities. He showed up with a purpose. We would always joke (about taking) 'no days off'. He meant it."
Belichick appeared on the episode which aired five days after Brady retired. He congratulated Brady and spoke about how he relished the opportunity to coach him.
While Brady left the Patriots towards the end of his career, the pair showed that they still appreciate and have respect for each other.
"The greatest player, the greatest career, just a great, great person. Such an opportunity and an honor for me to coach Tom. I guess it's got to end at some point, but it's the greatest one ever."
Sign up for Patriots updates🏈
Get breaking news and analysis delivered to your inbox during football season.