Patriots
Corey Dillon says he's 'coming for' Patriots, Bengals over Hall-of-Fame snubs
"It's coming. I'm coming for it all. Give it to me while I'm breathing."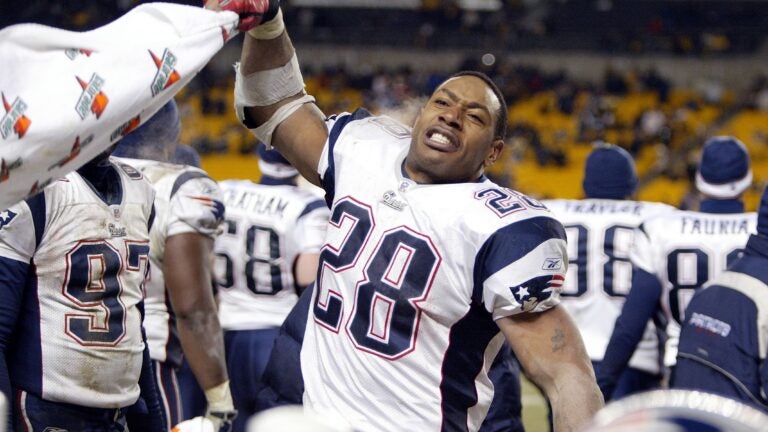 Corey Dillon is upset about several perceived hall-of-fame snubs, primarily dealing with the Cincinnati Bengals, the team he spent the bulk of his decade-long NFL career with.
The four-time Pro Bowl running back is not a member of the Bengals Ring of Honor or the Patriots Hall of Fame.
"I don't pull no punches, and I'm not ducking anybody," Dillon told The Athletic. "I don't have no friends I'm trying to protect, so I can speak freely about whatever I need to speak freely about. It's damn-near criminal, what (Bengals Ring of Honor voters) are pulling off, to be honest with you.
"Did I not play for them?" Dillon continued. "I don't know, bro. I'm curious about that. Because it looks like they are glossing over me. For what reason? Because I left? That's not a good enough reason. You are telling me there's five other guys better than me — at my position?"
The Athletic's Paul Denher Jr. noted there are 10 Super Bowl-era running backs 4.3 yards per carry, 70 yards rushing per game, and 10,000 total rushing yards during their careers.
All but Dillon and longtime Jacksonville Jaguars running back Fred Taylor are in the Pro Football Hall of Fame.
"I want it all. I am coming for it all. You know why? Because I earned it," Dillon said. "I'm not one of these borderline guys sitting on my ass reminiscing, talking about, "Oh, if I had this, shoulda, coulda, woulda." No. I'm justified. Why not? What it does, it breaks down to what I thought initially — which I hope it's not true — I think they are mad at me for being vocal and going on to win a championship. That's the only thing I can think of."
Dillion is also a Super Bowl champion, winning a ring with the Patriots in 2004. He rushed for a career-high 1,635 yards that season with 12 touchdowns.
While he spent just three seasons in New England, he feels that he should be honored by the Patriots too.
"I set out to accomplish what I really wanted to accomplish," Dillon said. "And that was winning that Super Bowl … And don't make this a Cincinnati thing, because I'm about to get on the Pats' ass, too. It's coming. I'm coming for it all. Give it to me while I'm breathing. If anybody wants to disagree, just go look at the [expletive] numbers and have a Coke and smile."
Dillon said he agreed to the interview because he feels like he's been done wrong by the lack of recognition and wants to correct it. He acknowledges that he's had multiple arrests over the years, with charges either dropped or reduced in each case.
But he argues that his hall-of-fame candidacy should be about the numbers.
"Nobody gets this," Dillon said. 'I don't want to get into people's personal business, but there are a lot of Hall of Famers that did far more worse s— than I did. We can cancel out that excuse. There is no excuse for that. On top of that, I thought the game was predicated on numbers. Are people looking at the numbers like, "Nah, nah"? I don't think so."
Sign up for Patriots updates🏈
Get breaking news and analysis delivered to your inbox during football season.