Patriots
ESPN report sheds light on how Robert Kraft got Jay-Z to partner with NFL amid Kaepernick fallout
"The NFL isn't picking up on these social issues," Kraft reportedly told Jay-Z. "We need your help."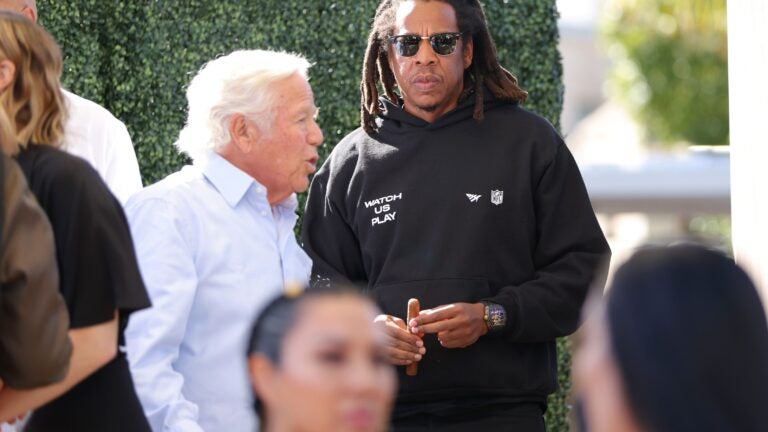 As the NFL's ratings dipped in the aftermath of Colin Kaepernick's decision to silently protest police brutality by kneeling during the national anthem, Robert Kraft and other owners felt that the league needed help from outside the organization, according to a report from ESPN's Seth Wickersham.
So, Kraft reached out to music mogul Jay-Z, telling the Brooklyn-born rapper: "The NFL isn't picking up on these social issues. We need your help."
At the time, Jay-Z had made some pointed comments directed at then-Houston Texans owner Bob McNair, who said the NFL "can't have the inmates running the prison," comparing the players to prisoners.
"Injuring themselves on the field, giving it all they got," Jay-Z said in 2017. "That's how they look at you. That's what they think about you. We've got so much further to go. The truth is we all believe in whatever you believe in, inevitably, God, Allah, which means whatever you believe in, we come from one source. Which means we are all brothers and sisters at the end of the day."
Through Kraft's efforts, Jay-Z and his company Roc Nation got involved with NFL commissioner Rodger Goodell, eventually inking a five year, $25-million deal with the league aimed at revamping the Super Bowl halftime show and amplifying the NFL's social justice agenda, among other things, Wickersham wrote.
By 2019, Jay-Z had told reporters, "I think we've moved past kneeling."
Wickersham reports that top league executives and some owners think that the partnership between Roc Nation and the NFL has worked, citing $250 million raised for various social justice causes, along with improved Super Bowl halftime shows and an improved league image on race since the height of the Kaepernick protests.
But, several more high-profile officer-involved killings, including the murder of George Floyd have taken place since. Kaepernick effectively lost his career, never playing another game in the NFL.
One former NFL executive said that the NFL had eventually become afraid of Roc Nation, saying that the partnership became a "mess." Sources told Wickersham that Roc Nation that they believed Roc Nation "essentially appointed itself as the league's marketing arm."
When tension arose between the sides in 2020, league commissioner Roger Goodell told his staff to work things out with Roc Nation instead of backing them, Wickersham wrote.
Roc Nation CEO Desiree Perez became trusted not only by Goodell, but also former Commanders owner Dan Snyder, Wickersham reports. NFL general counsel said he believed Perez and the law firm representing Snyder were involved in leaking the emails that eventually got then-Raiders coach Jon Gruden fired.
The headline of Wickersham's piece reads: "'He was free and clear': How the leak of Jon Gruden's email led to the fall of Commanders owner Dan Snyder."
Snyder was "all but forced" to sell his franchise earlier this year due to allegations of sexual harassment, among other things, Wickersham writes. Snyder, like Gruden, was the subject of leaks that compromised his position.
Wickersham details how the partnership between the NFL and Roc Nation that Kraft helped initiate has done some measurable good for social justice causes, and the league as a whole.
But he also writes that Perez, one of the key players in the partnership, is accused of helping take down one of the league's most prominent coaches, which eventually led to the sale of a franchise, though she denies the allegations.
Sign up for Patriots updates🏈
Get breaking news and analysis delivered to your inbox during football season.