Patriots
Damien Woody thinks the Patriots not getting DeAndre Hopkins is a 'big miss'
Hopkins is set to join the Titans.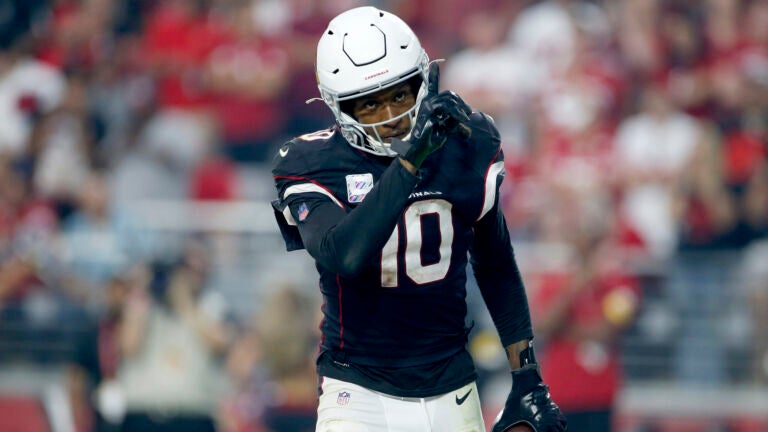 Despite a reported level of "good vibes" between DeAndre Hopkins and the Patriots, the talented wide receiver is set to join the Titans instead.
Hopkins, 31, had visited New England following the Cardinals' decision to release him earlier in the 2023 offseason. Yet while the two sides seem to have discussed terms, no deal was agreed to.
Now, he's reportedly heading to Tennessee, another AFC team in need of wide receiver help. It's an early subplot in the 2023 Patriots season, as Bill Belichick and newly installed offensive coordinator Bill O'Brien build an offense that does not include Hopkins, one of the most prolific players at his position over the last decade.
One former Patriots player thinks it was a mistake not to pursue Hopkins with more zeal.
Damien Woody, an offensive line starter for the Patriots in multiple Super Bowls who is now an ESPN analyst, offered his take during a segment on "Get Up!".
"I think it's a big miss by New England," said Woody, citing the team's apparent lack of talent at receiver.
"As players when we go into meetings on Wednesday, coaches always kind of circle guys like, 'These are the guys we have to game-plan for,'" Woody added. "Who are you doing that [for] in New England at the wide receiver position?Nobody."
Woody credited Belichick for bringing in O'Brien after the one-year experiment in which two former defensive coaches led the offense backfired. Jones, having excelled in his rookie season in 2021 under former assistant Josh McDaniels, did not progress as many expected in 2022.
"This is a critical year to try to rebound as far as your career after the disaster that was last season, and you don't have a bonafide [top wide receiver] on the outside," Woody said of Jones's third year in the NFL.
And aside from higher-level considerations of roster building, Woody focused on Hopkins' football impact, which will now benefit Tennessee instead of New England.
"When you don't have that guy on third down and you've got to have [a completion], that's a big miss."
Sign up for Patriots updates🏈
Get breaking news and analysis delivered to your inbox during football season.