Patriots
Mac Jones received no votes from NFL coaches, executives in ESPN QB poll
Jones was not on last year's list either.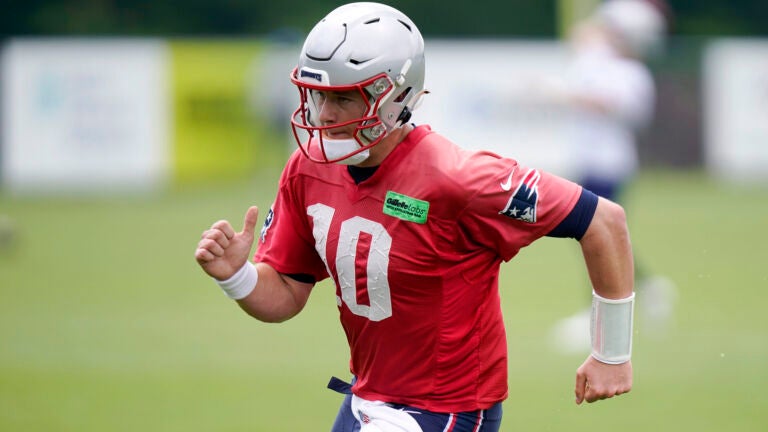 At least the expectations of Mac Jones won't be particularly high this year.
On Monday, ESPN released a poll of coaches, executives, players, and scouts, which measured the temperature of the quarterback position around the NFL. Each respondent was asked to send in the 10 quarterbacks they expect to be the best in the league this year.
After a very difficult year in 2022, the Patriots' 24-year-old quarterback — perhaps unsurprisingly — received no votes. He was not included in the top 10, honorable mention, or among the quarterbacks who received votes.
The top 10 didn't include many surprises — Patrick Mahomes and Joe Burrow were first and second respectively, followed by Josh Allen and Aaron Rodgers. Trevor Lawrence made his first appearance at No. 8, while Matthew Stafford rounded out the top 10. Derek Carr and Tua Tagovailoa were among the players who merited honorable mentions, while players like Geno Smith, Daniel Jones and Justin Fields all received votes.
In total, 19 quarterbacks were named. For the second year in a row, Jones was not one of them.
Jones and the Patriots had a chance to make the playoffs last year, but a 35-23 loss to the Bills doomed them to an early offseason.
"As the quarterback, I put the blame on me," Jones said at the time. "It's my offense, it's my group of guys. And we have to put a better product out there. It starts with me. …
"I learned a lot. I learned more than anything I ever could have imagined in a football season, and just want to be able to build on it."
Last month, Jones told reporters he has been trying to fill his "mental, physical and emotional" buckets up "the right way" this offseason.
"Sometimes the most confident people come from a year where they might not have been their best. I feel like that's where I'm at," Jones said. "Really great people are formed through ups and downs. Some of the learning experiences I had last year will really help. There's a lot of things I can do better as a person, as a player."
Get the latest Boston sports news
Receive updates on your favorite Boston teams, straight from our newsroom to your inbox.