Patriots
'This isn't it': Bill Belichick criticized for not adding DeAndre Hopkins to the Patriots
"At some point, it's about the players, and they don't have a No. 1 wideout."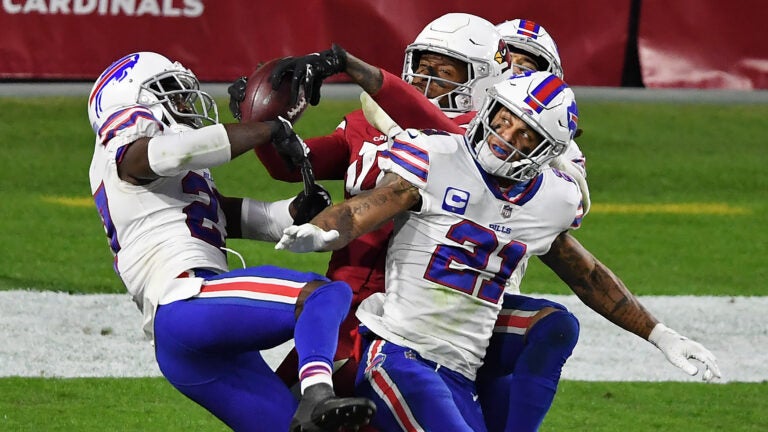 After missing out on signing wide receiver DeAndre Hopkins, Bill Belichick's commitment to supporting quarterback Mac Jones has once again been questioned.
Belichick, who was criticized for replacing Josh McDaniels with Matt Patricia and Joe Judge on the offensive coaching staff in 2022, was called out following the news that Hopkins plans to sign with the Titans.
The 31-year-old Hopkins, who was cut by the Cardinals in May, had "good vibes" with the Patriots, and New England was seen as having a legitimate chance of adding the five-time All-Pro.
Yet the wide receiver now appears set for Tennessee, ending the prospect of a potential game-changing player being inserted into the offense alongside its third-year quarterback.
Jones, who threw just 14 touchdowns in 2022 against 11 interceptions, will also head into the upcoming season without his favorite target over the past two seasons. Jakobi Meyers, who made a combined 150 receptions since Jones arrived in 2021, signed with the Raiders in free agency.
Scanning the scene, NFL analyst Louis Riddick — who played for Belichick as a safety with the Browns — didn't mince words when asked about the Patriots not signing Hopkins during an "NFL Live" episode on Monday.
"This isn't it," Riddick bluntly explained. "This isn't going to get it. They don't have a No. 1 wide receiver on this roster right now, and Bill O'Brien can only do so much. You can only trick people so much. You can only run so much play-action. You can only have so many things from a schematic standpoint that are going to [help] you so much.
"At some point, it's about the players, and they don't have a No. 1 wideout," Riddick added. "They simply don't. For Mac Jones, going into his third season, you're still not going to see the very best of him."
To replace Meyers, Belichick and the Patriots added wide receiver JuJu Smith-Schuster in free agency on a three-year deal.
Smith-Schuster, 26, caught 78 passes in 2022 with the Chiefs, totaling 933 yards and three touchdowns. Riddick questioned his ability to stay on the field.
"JuJu Smith-Schuster, there's a reason why he's not back in Kansas City. I think some of that has to do with whether or not he's going to be someone who can be there for 17 games," said Riddick, "and whether or not he can be a guy that Mac Jones can depend on. That's what, theoretically, DeAndre Hopkins [would've] brought: A guy who's used to being a No. 1, who can take that pressure, who can take that responsibility.
"I like Kendrick Bourne. I like DeVante Parker. I like Tyquan Thornton," Riddick said of the other current Patriots receivers, "but not as a [No. 1 receiver], and they are not going to be able to match the firepower of the other teams in the AFC, let alone their own division."
Riddick empathized with Jones, who may have been given a coaching upgrade, but not one at the wide receiver position.
"So if I'm Mac Jones, I'm going, 'Thanks for Bill O'Brien coming here, at least now I have some semblance of normalcy as far as who's speaking in my ear, but I still don't have the weapons I need,'" Riddick concluded, "and I just think it's not going to end well."
Fellow ESPN analyst Mina Kimes took an interesting line in following up on Riddick's point.
As Kimes has said before, the Patriots defense could be special in 2023, making the failure to help bolster the offense that much more disappointing.
"That is a Super Bowl caliber unit on that side of the ball," Kimes said. "They are going to keep these games close, and it felt like with all the changes we talked about — the addition of Bill O'Brien, Gesicki I thought was a good pickup — if you can just add Hopkins, you can really compete."
Part of the inevitable discussion previewing the AFC East revolves around the improvements made by other teams, especially with the Jets' acquisition of Aaron Rodgers in a trade with the Packers. That, coupled with the Dolphins improving the team's defense (and the Bills retaining much of a roster that has won three straight division titles), will put the Patriots under pressure.
"I think it would've given us a lot of pause when ranking this division all of a sudden given how good the defense is, given the improvements we expect — granted from a low bar — on the offense," Kimes said of the would-be Hopkins signing. "But in not adding him, there's just going to be such much pressure on that defense."
Sign up for Patriots updates🏈
Get breaking news and analysis delivered to your inbox during football season.