Patriots
Patriots rumors: Insider says 'anxious' Robert Kraft has Bill Belichick on the hot seat
"Kraft has pointed out a number of times, 'I'm anxious and I want results,' and he's not getting them."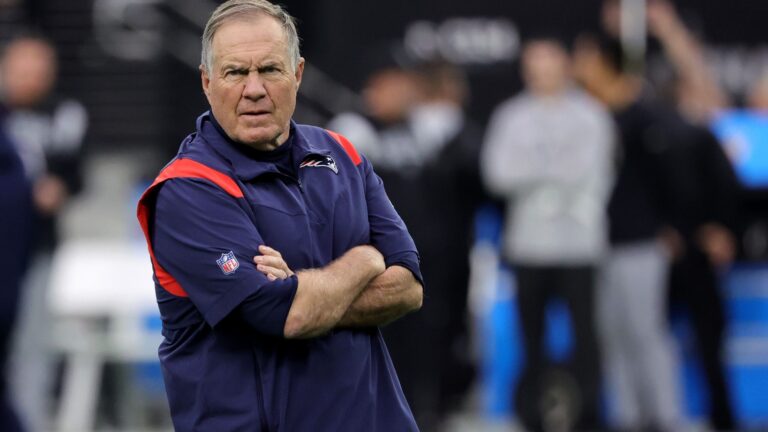 After a report from Ben Volin of The Boston Globe stated that Bill Belichick's friends are "afraid" that he's on the hot seat, Tom E. Curran of NBC Sports Boston said that Belichick has been on the hot seat for years.
"You talk about avoiding the hot seat?" Curran said on the Rich Eisen Show Monday. "Rich, he's on the hot seat and he's been there at different levels of warmth since 2019."
2019, of course, was Tom Brady's final season as a New England Patriot. It was also the last time the Patriots won more than 10 games in a season.
According to Curran, Belichick's hot seat status has to do with the contract negotiations with Brady that year. Tom Brady wanted a 2-year, $50 million guaranteed contract, similar to the one Drew Brees had at the time, Curran said. Brady did not get the deal and left in free agency to join the Tampa Bay Buccanneers.
"Kraft is looking at it as: 'OK, if we're moving on from this guy, I hope we have a good plan," Curran said. "Brady leaves, Belichick somehow convinces Kraft that not spending that money on Tom Brady was a great idea."
Since Brady left, the Patriots have been a pedestrian 25-25 with a combination of Cam Newton, Mac Jones and Bailey Zappe under center.
Curran said Belichick's lack of a succession plan for Brady, the decision to let Joe Judge and Matt Patricia run the offense last year, along with struggles with discipline and situational awareness, are contributing to Belichick's hot seat status.
"Kraft has pointed out a number of times, 'I'm anxious and I want results,' and he's not getting them," Curran said. "I wonder if Belichick had already passed (former Dolphins coach Don) Shula (for most wins all-time by an NFL coach), or even was within hailing distance of Shula, if we would really have this hand-wringing what do we do about Bill conversation."
As the Patriots prepare to compete in a loaded AFC East, the pressure is on Belichick to show improvement.
"Kraft has already started walking back the demand for a playoff win, you can sense it in him saying, 'I expect us to be a good team this year, but our schedule is something else'. Last year, he indicated that it's been three years since we won a playoff game and I expect to win one now. They didn't come close to doing that. …"
"You can't be situationally stupid," Curran said. "You can't have a quarterback who is so disgusted on a regular basis that he's gesturing to the sideline in disgust. You can't seem as if you have no clue. You can't be one of the worst teams in the red zone or on first down. All those things can't happen."
Sign up for Patriots updates🏈
Get breaking news and analysis delivered to your inbox during football season.