Patriots
The Patriots missed out on DeAndre Hopkins for one reason: Bill Belichick chose not to get it done
Bill Belichick has only one person to blame for failing to sign star receiver DeAndre Hopkins: himself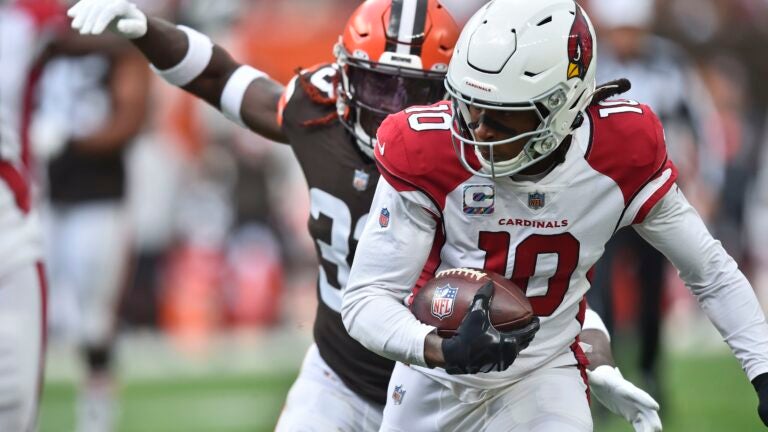 What a bummer.
What a missed opportunity.
What a lousy feeling it is that just about the only person who didn't see DeAndre Hopkins as the ideal fit for the Patriots is the one who could very easily have made it happen.
Hopkins, the 31-year-old, five-time Pro Bowl receiver, will play for the Tennessee Titans rather than the Patriots this season for one reason: Bill Belichick did not offer him enough money.
Such a decision should be inexplicable given the opportunity to add a player of Hopkins's magnitude to an offense that has needed someone like him for at least four years now. Frustratingly, it wasn't surprising at all.
That Hopkins didn't immediately sign with the Patriots after by all accounts a productive two-day visit in June told us all we needed to know: Belichick wanted to slap a The Nice Price sticker on a player whose history suggested that he would sign with the team that offered him the most money. And so the Patriots' unnecessary, counterproductive thriftiness became the Titans' gain.
There's nothing wrong with Belichick's habitual seeking of a bargain, with the greatest example the acquisition of all-timer Randy Moss for a fourth-round pick before the 2007 season. Belichick's discount pickups have benefited the Patriots greatly through the years, at least when Tom Brady was the quarterback.
But some players — particularly ones who fit an obvious need — are worth paying for. Hopkins, who in nine games last season accounted for 717 receiving yards (just 87 fewer than Patriots leading receiver Jakobi Meyers tallied in 14 games), should have been a quintessential example of that.
And it's not as if his price was steep. Extenuating factors limited Hopkins's market, and the Titans ended up getting him for two years and $26 million, with the possibility of another $6 million in incentives. If he produces at his '22 level, that will end up being Tennessee's bargain.
The Patriots, with $17.7 million available in cap space per OverTheCap.com, could easily have made the money work, even if it cut into Belichick's in-season budget to sign six more special teamers.
Yet he chose — chose — not to do it. He chose not to spend a reasonable rate for a player who would have singlehandedly enhanced the talent level of the offense and would have allowed the rest of the Patriots' receivers to slide into more fitting roles, particularly JuJu Smith-Schuster, a quality player miscast as a No. 1 receiver.
Belichick chose not to spend for a player whose mere presence would have eased the burden on third-year quarterback Mac Jones, who, frankly, is owed a mea culpa or two from his coach after being saddled with the inept Matt Patricia as his offensive coordinator last season.
And perhaps this is the most troubling aspect: Belichick chose not to spend for a player who, even if he has lost a half-step or regressed in some way, is a long-established, highly productive star who would have fit perfectly.
I recognize that the financial circumstances were different, but it is nothing less than absurd that Belichick spent $50 million on Jonnu Smith, a tight end who looks the part but can't play it, and another $26 million on Nelson Agholor, a receiver who is best known for his stone hands being acknowledged in a meme, during the free agency period before the 2021 season.
What's that? Yep, that is correct. It's true. Belichick gave Agholor two years and $26 million two years ago. But he wouldn't give Hopkins two years and $26 million now.
In two seasons with the Patriots, Agholor had 68 catches for 835 yards and 5 touchdowns. Hopkins, presuming he remains healthy, will blow past those numbers with the Titans, and he absolutely would have with the Patriots had Belichick done what was necessary to bring him aboard.
Paying Agholor but passing up on Hopkins synopsizes Belichick's puzzling, inconsistent approach to roster-building in recent years. He seems to have a strange aversion to paying high-end talent on offense, as if he still has the greatest quarterback of all time around to smooth over any flaws rather than a young one who requires more support and reinforcements than he has been given.
Belichick should be doing everything he can to ease the degree of difficulty on Jones. Hiring a competent offensive coordinator in Bill O'Brien is the most massive upgrade anywhere in the organization over last year, and maybe Belichick thinks that's enough.
But Jones would benefit greatly by a talent upgrade in the huddle. Smith-Schuster over Meyers is probably a marginal improvement, and Mike Gesicki will help in the red zone, though his overall potential impact is being overrated. Jones must envy quarterbacks who have a bona fide No. 1 receiver to lean on. Hopkins could have been that. Should have been that.
These three uneven post-Brady seasons have, predictably, brought out the Belichick detractors and enviers, those who want to see him get some sort of comeuppance. I am not among them. I believe he's still the best game-day coach in the NFL, and his roster top to bottom — and especially on the defensive side — is in better shape than most in the national media care to notice. The notion of replacing him if this is another mediocre season is foolish.
But he cannot possibly consider this fourth season After Brady as another phase in a rebuild, not with one of the deepest defenses in the league and the contracts for some of his best young players coming up soon. The Patriots need and ought to be good again, now, and I do believe they will be a playoff team this season.
Signing Hopkins would have been such an aid to that cause. It was a golden opportunity lost to counterproductive thriftiness, the kind of bad Belichick decision that has begun to overshadow all of his correct ones through the years.