Patriots
Julian Edelman said the Patriots' practice habits influenced his retirement decision
"I swear if I didn't play in New England I'd still be playing because we practiced so goddamn hard."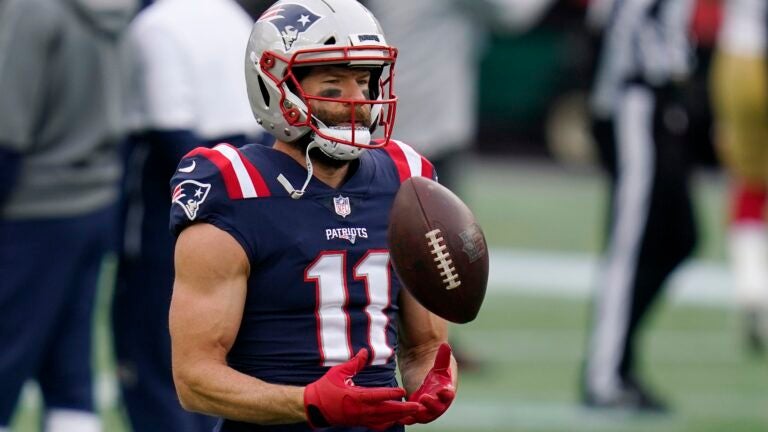 Julian Edelman flirted with the idea of an NFL comeback last year, but it never came to fruition for the 37-year-old receiver.
Edelman retired in 2021. He was limited to six games during an injury-plagued 2020.
Still, he remains convinced that he could have played longer if he spent his career with another team.
"I swear if I didn't play in New England I'd still be playing because we practiced so goddamn hard. That's honestly why I retired," Edelman said during an appearance on Jason and Travis Kelce's podcast "New Heights." "I couldn't practice. I was getting three reps a practice, and then I was getting into the pool because my knee, I was (expletive) up. And you build your confidence through practice. Practice repetition becomes game reality."
But, practice wasn't all bad for Edelman.
The Super Bowl LII MVP explained that he moved to California early in his career to train with Tom Brady in the offseason, detailing the process of how they learned each other's tendencies by spending time together.
Travis Kelce, the eight-time Kansas City Chiefs tight-end, spoke about how important he finds practice to be after hearing Edelman's story.
"You don't get that without reps," Kelce said. "All you young guys out there, I'm huge on finding a way to get out on the practice field no matter how my body feels. I need to feel the defense. I need to feel the timing with the quarterbacks. It doesn't matter if it's a route that I've ran a million times, I know it's going to keep me in sync with it all and keep building in terms of the understanding and the trust and just being comfortable out there."
Edelman said that players build confidence through practice and that younger players needed to hear Kelce's message.
"That's crazy awesome to hear that you love to practice because that's becoming a dying breed. Football is getting sloppy. I don't care what anyone says, football is getting sloppy right now … both your teams have such big head starts on teams because they don't practice and you guys have great leadership clearly where guys want to (expletive) practice. And if you're practicing, and he's practicing, no one else can not practice. That's how you get good."
Sign up for Patriots updates🏈
Get breaking news and analysis delivered to your inbox during football season.