Patriots
How each Patriots rookie fits with the team
A look at a dozen Patriots rookies ahead of training camp.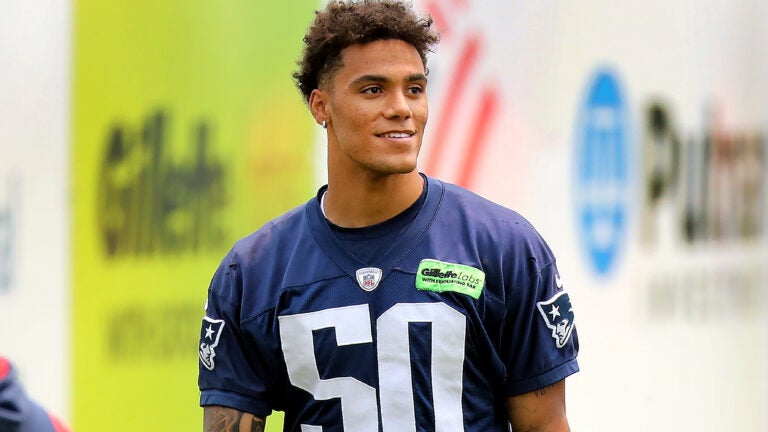 Patriots rookies are expected to report to Foxborough on Friday. While training camp officially begins next week, rookies are allowed to show up a little early.
And there's been a lot of optimism surrounding this rookie class.
First-round pick Christian Gonzalez has been described by teammates as a very smart, athletic player, who makes things look effortless.
Second-round pick Keion White has tons of upside as a pass-rusher, but he is still learning how to play defensive end after beginning his college career as a tight end.
NFL.com draft analyst Daniel Jeremiah named rookie linebacker Marte Mapu his favorite player in the entire draft, calling the third-round pick an "absolute playmaker."
In total, the Patriots have a dozen rookies. Here's how each fits with the team.
Jake Andrews
Position: Center
The fit: Andrews' competition at center is David Andrews, a team captain who will likely retain his starting job this season.
However, David Andrews has missed significant amounts of time in recent years, including the entire 2019 season, five games in 2020, and three games in 2022. He started every game in 2021.
In the event that David Andrews misses more time, Jake Andrews could be one of the names called upon to fill the gap.
Bryce Baringer
Position: Punter
The fit: The Patriots' punting situation was so bad last season that they let Jake Bailey leave in free agency to go to a division rival. Michael Palardy, who backed up Bailey isn't listed on the roster anymore.
Baringer should be able to compete for the starting spot with Corliss Waitman in training camp. The consensus First-Team All-American and Big Ten punter of the year has a "heck of a leg," Michigan State special teams coach Ross Els told Patriots.com.
Isaiah Bolden
Position: Receiver
The fit: Bolden showed promise as a returner at Jackson State, playing under Deion Sanders. He led the NCAA in average yards per kick return in 2021. He's listed as a receiver, but will likely begin his Patriots career far back on the depth chart at that position. The Patriots have Marcus Jones, who emerged as an explosive weapon on offense, defense, and special teams, returning kicks and punts.
Kayshon Boutte
Position: Receiver
The fit: Boutte projects as a slot receiver. He was once a five-star prospect and had a promising start to his career at LSU, but a season-ending ankle injury in 2021 and a less consistent year in 2022 dropped his draft stock. He's listed as a third-stringer at receiver by Patriots.com, and has significant work to do before he's ready for consistent playing time.
DeMario Douglas
Position: Receiver
The fit: Douglas is a speedy receiver who ran a 4.44-second 40-yard dash. At 5-foot-8, 192-pounds he does lack size for the position. Plus, the Patriots invested at the position, re-signing DeVante Parker and adding Juju Smith-Schuster to a receiving core that also has Kendrick Bourne and Tyquan Thornton.
Unless he shows a Marcus Jones-like impact, it's not likely that Douglas will get many snaps at receiver this season.
Christian Gonzalez
Postion: Cornerback
The fit: There's a decent chance that Gonzalez ends up being a Day 1 starter for the Patriots. ESPN projects Gonzalez as the starter on their Patriots depth chart. The Patriots lacked size at cornerback last year, and the 6-foot-2 rookie appears to have the skill set to contribute right away.
As Dane Brugler of The Athletic put it: "He is long and athletic, can run and showed improved ball skills this past season. With his traits, Gonzalez should be an immediate starter as an NFL rookie."
Antonio Mafi
Position: Offensive guard
The fit: It seems like a backup role is more likely for Mafi this season with Strange, Onwenu, and Sow at the guard position. It could be an opportunity to learn and develop for the UCLA product.
Marte Mapu
Position: Linebacker
The fit: The versatile Mapu, who can play linebacker and safety, was a standout during OTAs. The question for him is: where will Bill Belichick decide that he fits? New England does have a hole to fill at safety following Devin McCourty's retirement, and it appears that Kyle Dugger and Jabrill Peppers will be the main options there. Judon, Uche, and Ja'Whaun Bentley have pretty well-defined roles at the linebacker position.
But, if Mapu can keep making plays the way he has so far this summer, he may play his way into a couple different spots in the fall.
Chad Ryland
Postion: Kicker
The fit: Nick Folk made 86 percent of his field-goal attempts last season and set the NFL record for most consecutive field goals from inside the 50-yard line.
Based on those results, Ryland's most likely opportunity for playing time this season appears to be on kickoffs, which the Patriots struggled with last season as they let multiple players take a shot at it.
Sidy Sow
Position: Offensive guard
The fit: It's hard to envision Sow starting over Mike Onwenu or Cole Strange at the offensive guard position right away. The Patriots have bigger question marks at the tackle position, with newcomers Riley Reiff and Calvin Anderson joining the mix with Trent Brown, who tied for the league lead in penalties last season according to Pro Football Focus.
The 6-foot-5, 323-pound Sow has experience playing tackle and could perhaps be used in case of an injury or more struggles at the position.
Ameer Speed
Position: Defensive Back
The fit: At 6-foot-3, 210-pounds, Speed is a big defensive back. He made three starts as a member of Georgia's 2021 national title team before transferring to Michigan State where he started in 11 games in 2022. The Patriots have a number of corners, including Gonzalez, Jonathan Jones, Jack Jones, and Jalen Mills, ahead of him on the depth chart.
"Speed's tape and production don't stand out," his NFL.com scouting report reads. "However, his rare size and speed, along with his potential to star on special teams, could give him a chance to find an NFL home."
Keion White
Position: Defensive End
The fit: The Patriots are pretty solid at defensive end, with Deatrich Wise and Lawrence Guy returning. Linebackers Matthew Judon and Josh Uche, who also line up at end when it's called for, bring pressure off the edge too.
White has the size and athleticism to become an effective pass-rusher off the edge, and there could be some scenarios where the Patriots use him in spots, but this should be more of a developmental year for him.
Newsletter Signup
Stay up to date on all the latest news from Boston.com