Patriots
James White said Jack Jones can be a 'top corner' in the NFL and reminds him of a young J.C. Jackson
"Hopefully he keeps his head on his shoulders and makes smart decisions on and off the football field."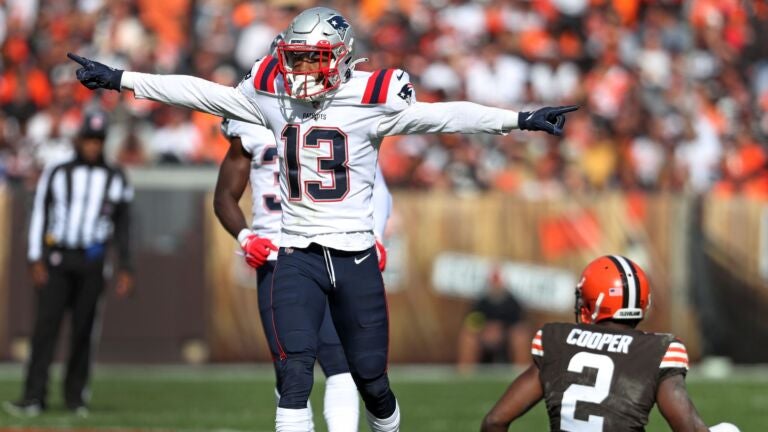 Jack Jones is awaiting a probable cause hearing that will take place on Aug. 18, the day before the Patriots are scheduled to play a preseason game against the Packers.
Authorities say they found a pair of guns in Jones's luggage last month. Jones was arrested at the airport, booked at the State Police Logan Airport Barracks, and released on bail after pleading not guilty to weapons charges.
The Patriots are set to begin training camp this week. Jones's case is not yet settled, and it is unclear how it will play out. Former Patriots captain James White offered his take on the situation during an interview on Sirius XM radio.
"He has all the potential in the world," White said during the radio appearance, as transcribed by ESPN's Mike Reiss. "Hopefully he keeps his head on his shoulders and makes smart decisions on and off the football field. He can be a top corner in this league [and] reminds me of a young J.C. Jackson."
Jones played in 13 games as a rookie last season, totaling 30 tackles, six passes defended, two interceptions, a forced fumble and a fumble recovery. If his legal status and the Patriots leadership allows him to play, Jones is expected to compete for a starting spot at cornerback.
Jackson, the cornerback who White referenced, made the Pro Bowl in 2021 while playing for New England and left the Patriots to sign a 5-year, $82.5 million deal with the Los Angeles Chargers.
The 25-year-old Jones is facing two counts of the following: possession of a concealed weapon in a secure area of the airport, possession of ammunition without a firearm identification card, unlawful possession of a firearm, carrying a loaded firearm, and possession of a large capacity feeding device.
According to Reiss, two of the counts Jones is facing have mandatory minimum prison sentences of 2 1/2 years. Ben Volin of The Boston Globe reported that Jones is facing more than 30 years in prison, according to the district attorney's office.
Jones was a five-star prospect in high school, and was one of the top 25 players in the nation for the Class of 2016 according to 247Sports.
He attended three different colleges, beginning his career at USC and spending a year at Moorpark Community College before landing at Arizona State.
Jones was dismissed from USC because of academic issues. After he left USC, Jones was arrested on felony burglary charges that were downgraded to misdemeanors. After successful stints at Moorpark and ASU, the Patriots drafted Jones in the fourth round of the 2022 NFL Draft.
Jones participated in OTAs and mandatory minicamp before his arrest. Training camp starts this week.
Sign up for Patriots updates🏈
Get breaking news and analysis delivered to your inbox during football season.