Patriots
Forget about last year and believe in Mac Jones as the Patriots' answer at quarterback
It was a rough year, sure, but it's far too early to give up on Mac Jones.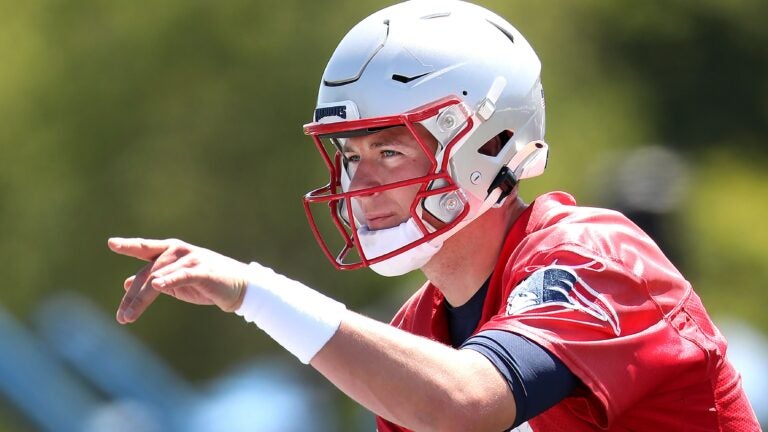 I'm going to say it right here and right now, because I believe it and many of you do not, and I want it on record for when this goes my way.
In his third NFL season, Mac Jones will prove beyond a doubt that he is the answer for the Patriots at quarterback.
No, he'll never match the highlight reels of Josh Allen or Joe Burrow, let alone Patrick Mahomes, and we're never going to marvel at his Madden ratings. He's decidedly in the middle of the quarterback pack in terms of pure physical ability. There are limitations, sure.
But it was so easy to forget during his lost second season — when he was inexplicable saddled with and undermined by an offensive coordinator who had no experience or, as it turned out, acumen in that role — that we know what it looks like when he plays well.
Think back to Jones's rookie year, how he confidently seized the job from Cam Newton in training camp, went toe-to-toe with Tom Brady in the most hyped regular-season game I can recall (save for maybe the undefeated Bears matchup with the Dolphins in 1985), and led the Patriots to a string of routs during a seven-game winning streak.
He played with enough command to have the Patriots at 9-4 going into the bye before … well, before something still unexplained happened during that bye week, and the Patriots stumbled into the playoffs with a 10-7 record before losing by 30 to the Bills in the wild-card round.
I know our perspective here is all out of whack after watching Brady work his magic for two decades, but a rookie quarterback winning 10 games while demonstrating full command of the offense was an impressive feat. Jones showed — beyond a doubt, really — that he can play quarterback at a high level in the NFL.
Of course, it's easy to overlook or even flat-out forget that now because his second season was such a debacle, very little of which was his fault. Any debates about the greatest coaches in NFL history must begin with who is in second place, because Bill Belichick is obviously the best. But this is also true: Belichick failed his young quarterback last season in a way that bordered on malpractice.
The most valuable asset in professional sports is a capable young quarterback on his rookie contract. When you have one, you're not only getting a bargain at the most essential and highest-paid position, but you also can use that savings to load up the roster in other areas. A quality quarterback on a rookie deal is a gift, and you have to do everything you can to make sure he has the tools to thrive.
So what did Belichick do last year? Is it too harsh to say he set up Jones to fail? Yes, it is. There's no way he would do such a thing deliberately. But Belichick himself failed Jones by appointing Matt Patricia offensive coordinator after Josh McDaniels left. (Hiring Joe Judge as quarterbacks coach was no genius move, either.)
Trusting Patricia, who made his bones as an NFL coach on defense, to lead the offense was curious. Training camp was not yet over when it already was clearly a debacle. Patricia, as abrasive as he can be, is extremely smart, and Belichick figured he'd zip through the learning curve. Instead, he crashed at the first turn, and kept crashing all season.
Patricia simply could not do the job, and in retrospect, putting a promising quarterback's future in the hands of a know-it-all coach who was a relative novice at coaching offense was Belichick's worst decision since benching Malcolm Butler in Super Bowl LII.
Of course Jones couldn't build on that promising rookie season. He had no chance. Jones did not always handle the circumstances well — his on-field anger and frustration often came across as petulance — but I'm not sure it's fair to have expected him to conduct himself with grace.
It was a ridiculous situation, exacerbated by the way Belichick jerked him around in a loss to the Bears upon a probably premature return from a calf injury. I cannot recall another circumstance where an outstanding head coach undermined his promising young quarterback in the ways Belichick did last season.
Last season should have been about building on that encouraging rookie season. Instead, it went so badly that a significant portion of fans — some of whom desperately bought into the mirage of backup Bailey Zappe — have forgotten what it looks like when Jones has a chance and plays well.
Entering his make-or-break third season, Jones has a chance again. Bill O'Brien is on board as offensive coordinator, and even if he is nothing more than competent, he will be a massive upgrade on Patricia. A scheme that plays to Jones's strengths (how about a lot more play-action?) will be a breath of fresh air compared with Patricia's let's-run-Rhamondre-Stevenson-into-the-ground scheme.
No young quarterback could have succeeded in last year's joke-without-a-punch-line circumstances. Presuming Jones isn't damaged by the experience — and he doesn't strike me as a Tony Eason type — I expect him to finally build on his rookie year this season and confirm beyond a doubt that he's the right quarterback for the Patriots.
As for last year, if he can forget about that mess, we can too.