Patriots
Patriots exhibition games will get twin coverage, in the form of an alternative broadcast by Devin and Jason McCourty
Modeled after the "ManningCast,'' the McCourtys will discuss each preseason game on "The McCourty TwinCast," which will stream on the Patriots' website during games.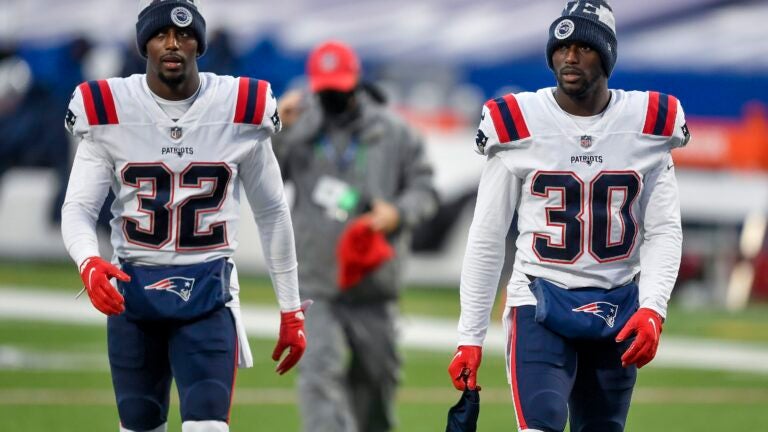 It wasn't long ago that Devin and Jason McCourty took off their pads for the final time after a combined 26 seasons in the NFL.
Jason, who spent three of his 13 seasons with the Patriots, called it a career after the 2021 season. Devin, who spent the entirety of his 13-year career with the Patriots and is a lock for a red jacket, is experiencing his first preseason as a former player after announcing his retirement in March.
It's a tribute to the twins' personability, knowledge, and accomplishment that both walked into high-profile broadcasting gigs practically as soon as they walked off the field for the final time.
Jason is a co-host on the NFL Network's excellent "Good Morning Football" program, and also will be a color analyst on some CBS game broadcasts this season.
Devin, meanwhile, immediately landed one of the most coveted roles in NFL broadcasting, as an analyst on NBC's "Football Night in America" studio program, which bookends the highest-rated program on fall television annually, "Sunday Night Football."
Even with their hectic schedules, they're still finding time to connect with Patriots fans via a new media venture that should be a lot of fun.
During Patriots preseason games, the twins will host an alternate broadcast, titled "The McCourty TwinCast." Obviously modeled after ESPN's highly successful "ManningCast,'' the McCourtys — and an assortment of guests —- will discuss the game and broader aspects of the Patriots together from Jason's house in New Jersey.
"The McCourty TwinCast" will stream on Patriots.com and WBZ.com for all three preseason games as a complement to the traditional broadcast on Channel 4. When the Patriots play the Packers in Green Bay on Aug. 19, the "McCourty TwinCast" will also air on Channel 38.
Anyone familiar with the McCourtys' banter on social media or their podcast, "Double Coverage,'' knows that beyond their insight and candor, they are absolute experts at good-naturedly needling each other.
In fact, Devin said he already has a dagger of a line queued up for their streaming debut.
"I'm going to tell him that he was probably in a lot of these preseason games at the end of the game,'' said Devin, referencing the time in a preseason game when longshots to make the roster get their chance. "I'm sure he's got something for me too.
"The main thing for us is just having fun with it and laughing and joking, something that we've done for a long time with the podcast, so this is another way to do the same thing. We'll have a lot of fun back and forth, and we'll be sitting next to each other so I think it will be a really good time.
In Devin's role with "Football Night in America,'' there's more rehearsal required than viewers might think. But with the "McCourty TwinCast,'' he said he and his brother will just go with the flow.
"We'll study some of the story lines for training camp, the roster, things like that,'' said Devin. "I won't say we'll come across like scouts, but as fans of football that have been through plenty of preseasons ourselves and have first-hand knowledge to share.
"We want it to be natural. When people watch it, we want them to feel like they're just watching it with their friends, with two of your friends that used to play. That's the atmosphere and vibe we want to create with it, rather than seeming rehearsed or saying, "OK, we're going to say this on first down, and this on second down and then …"
Matt Smith, the senior executive producer of Patriots preseason games, pitched the idea to the McCourtys, who were onboard immediately.
"I can't think of a better pairing for the NFL's first team-produced alternate programming than Devin and Jason,'' said Smith. "The two have literally spent their entire lives together. They played football together, hosted a podcast, they're great on social media, and funny, thoughtful people who have tremendous institutional knowledge about the Patriots. It makes all the sense in the world to do this."
Devin made his "Football Night in America" debut on Thursday before the Jets-Browns Hall of Fame game. He's always been comfortable on television, going back to his appearances as a player on NBC Sports Boston's "Quick Slants,'' but it was impressive how effortless he made it seem.
"I have been comfortable doing certain things, which has helped me a lot, has taken away some of that nervousness,'' said McCourty, who credited fellow analyst Jason Garrett in particular with helping him know what to expect.
"It feels pretty natural, but I have to say, it feels kind of weird right now,'' he added, talking with me on the phone after watching the Patriots' season ticket-holders practice Thursday night. "I'm back at the facility watching practice. I was just playing with a bunch of those guys last year, so sitting here and not playing with them, I think that aspect will be weird for a long time, being around the game but not as a player.
"Even [Thursday] night at the Hall of Fame game, I'm down on the field talking to guys and I'm thinking, 'Damn, I'll never be in another pregame.' You start to see things in that light. That will always be weird, I think.
But, overall, if you had asked me five to eight years ago, 'What is your post-playing transition going to be like?', I would have never guessed this. I would have never guessed that I would be content with my career and comfortable. I always thought when I walked away that it would be a really tough time of still wanting to play.
"Well, let me tell you, I'm done with practicing. I have no interest in trying to tackle anybody at this point. Even last night, I saw the first tackle and I thought, 'Hmmm. That looks painful.' I'm happy I don't do that anymore. So it's all been really good, and I'm looking forward to getting into it even more."
Sign up for Patriots updates🏈
Get breaking news and analysis delivered to your inbox during football season.