Patriots
Listen to Tom Brady's first conference call after getting drafted by the Patriots
"It's gonna be a great challenge, but I think I'm ready for it. Actually, I know I'm ready for it."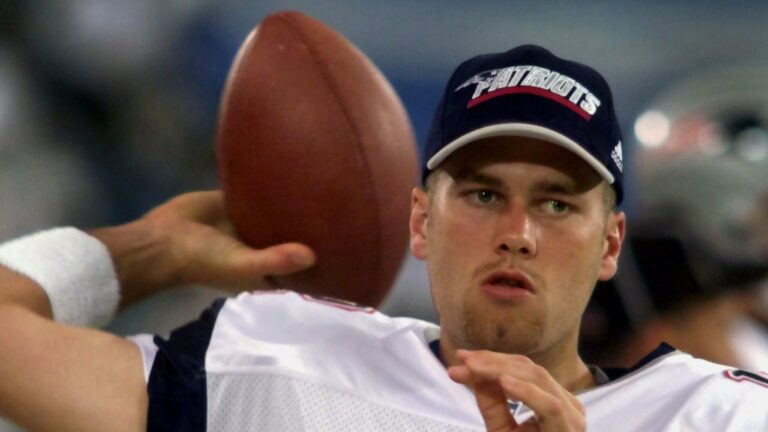 With Tom Brady set to make his anticipated return to Gillette Stadium for New England's season opener on Sept. 10, the Patriots dug deep into their archives and unearthed an interesting nugget from April 16, 2000.
Brady's status as a sixth-round draft pick and unheralded pro prospect has long been one of the defining labels during his 23-year career and eventual ascension as the greatest quarterback in NFL history.
That initial sentiment about Brady's long-shot odds of success in the NFL was put on full display during Brady's first conference call with the media, just after New England selected him with the 199th pick in the 2000 NFL Draft.
The Patriots released Brady's first meeting with the media on Thursday, with his initial comments about joining New England foreshadowing the competitive drive and on-field success that he'd eventually harness in due time.
You can listen to the conference call below:
As expected, the first question posed to the 22-year-old Brady didn't revolve around him. Rather, it focused more on what it'd be like to back up an established star (and former No. 1 overall pick) in Drew Bledsoe.
"Well it's certainly … all I was looking for was a place to get my foot in the door and try to be great for the team that picked me," Brady said. "And, you know, Drew Bledsoe is certainly one of the best quarterbacks in the NFL and it's gonna be great to learn under him and compete for a job with the Patriots."
It didn't take very long for Brady to express his desire to compete for what was largely thought as a set-in-stone roster spot for Bledsoe as QB1.
Brady only attempted three passes during his rookie year in 2000 as a backup to Bledsoe. But Jets linebacker Mo Lewis popped Bledsoe with a devastating hit on Sept. 23, 2001, and the rest is history.
It also didn't take very long for the line of questioning to turn to Brady's presumed fall down the draft board after a solid collegiate career at Michigan.
"I don't think disappointed is the word," Brady said of landing as a sixth-round selection. "I think, you know, I mean, the team that has drafted me, I'm just very comfortable with. And whether it be in the second round or the sixth round, I think everyone starts on the same, the same level. And it's just a great opportunity to head back to New England and play for the Patriots. It's certainly been a dream come true."
Given his largely underwhelming testing numbers and pro scouting reports, it was only fair to ask Brady about whether or not he'd be interested in other athletic pursuits beyond a career in the NFL, especially given his ties to baseball.
A versatile star athlete at Junipero Serra High in San Mateo, California, Tom Brady was drafted by the Montreal Expos as the 507th pick in the 18th round of the 1995 MLB Draft.
"Yeah, it's really not," Brady said when asked if baseball was still a potential pursuit. "I played catcher in high school and I got drafted by the Montreal Expos and I just decided I wanted to go back to Michigan and be the starting quarterback and play in front of 112,000 people. And certainly, this is a great step for me. It's gonna be a great challenge, but I think I'm ready for it. Actually, I know I'm ready for it."
Sign up for Patriots updates🏈
Get breaking news and analysis delivered to your inbox during football season.
Newsletter Signup
Stay up to date on all the latest news from Boston.com