Patriots
10 pressing questions facing the Patriots entering the 2023 season
Mac Jones's ability to bounce back in Bill O'Brien's offensive system could determine the Patriots' playoff hopes in 2023.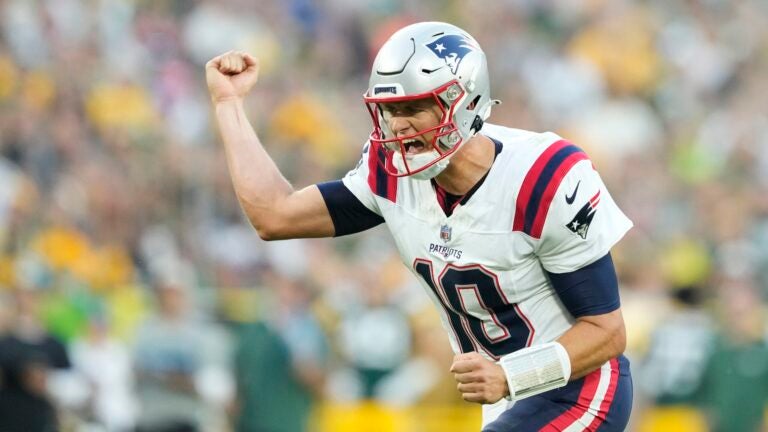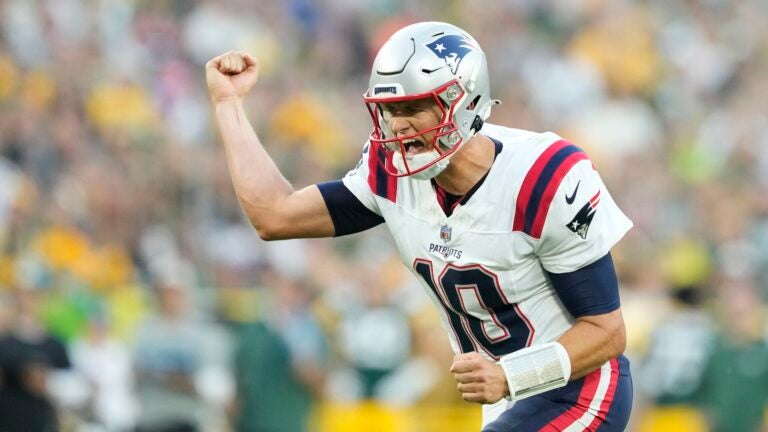 At long last, football season is back.
After over a month of sweltering training camp practices and preseason contests, Bill Belichick, Mac Jones and the Patriots will look to put a disappointing 2022 campaign in the rearview mirror and try to punch their ticket back to the postseason in 2023.
But even with some surprising developments amid the twists and turns of preseason action, there are plenty of things we still don't know about this Patriots squad.
With New England's season opener set for Sunday at Gillette Stadium, here are 10 questions facing the 2023 Patriots.
Can Bill O'Brien's offense revive Mac Jones?
Mac Jones caught some flack for his "Alabama Mac" comments earlier this preseason.
But Jones's call-back to his days back in Tuscaloosa wasn't a commentary on his play style or any untapped potential.
Rather, it revolved around a mindset that the third-year QB is looking to get back to, back when he operated with heaps of confidence — both in his own abilities and especially the system around him.
Even when he was playing at his best with the Crimson Tide, Jones was never a QB who diced up defenses due to a howitzer of an arm or some play-extending athleticism.
But when he's on his game, Jones is a poised, accurate passer who can execute in a versatile and layered offensive scheme, especially one that draws up plenty of RPOs (run-pass option), screens and short passes.
Yes, we've only seen Jones conduct three drives during preseason action this summer.
But it's evident that with Bill O'Brien given the keys to New England's offense, the Patriots' offensive personnel is making a concerted effort at playing to their QB's strengths (a novel concept after last year's debacle).
Whether it be more RPOs, heaps of pre-snap motion, and a variety of different personnel looks, it seems like O'Brien is leaving no stone unturned when it comes to bolstering an offense that was largely rudderless under Matt Patricia and Joe Judge's simplified schemes.
Given O'Brien's resume as an offensive play-caller and his experience with both New England and Alabama, the blueprint should be there for both Jones and the Patriots offense to bounce back in 2023.
But it'll fall on Jones to execute. The Patriots season will likely depend on it.
Can the offensive line hold up?
Jones's play under O'Brien might determine New England's ceiling this season.
But the Patriots' season may not even be able to get off the ground if Jones continues to be trucked into the turf on every single drive.
A banged-up offensive line labored throughout competitive team drills during camp. The preseason was even worse, with New England coughing up 11 sacks, 15 tackles for loss, 16 quarterback hits and four fumbles in three games against the Texans, Packers, and Titans.
You can pencil in both Trent Brown (left tackle) and David Andrews (C) in New England's starting group. Ideally, the interior of the Patriots' O-line is in good shape with Cole Strange (LG) and Mike Onwenu (RG) next to Andrews.
But New England is in a race against time as far as getting back to full strength, with both Onwenu and Strange very limited throughout the summer due to injuries. Getting both back for Week 1 will go a long way toward protecting Jones, but the vacancy at right tackle remains a concern.
Does Onwenu shift over to RT? Can Calvin Anderson get up to speed after missing almost all of camp/preseason due to a non-football illness (NFI)? Is a rookie like Sidy Sow ready for reps at tackle? Can recently acquired pickups in Vederian Lowe and Tyrone Wheatley Jr. get caught up to speed before Week 1?
Whatever the final configuration is, the Patriots need to get some clarity on their offensive line.
Because if Jones spends most of his snaps under duress, any gains made by O'Brien and Co. ultimately won't mean that much.
Will a No. 1 receiver emerge for New England?
No, the Patriots did not land DeAndre Hopkins in free agency this summer.
But the fact that New England closed out cut day with six receivers on their roster for the first time since 2019 is a testament to the depth that the Patriots believe they have in the passing game.
Even with Tyquan Thornton now on IR, Jones should have no shortage of options to turn to when he drops back for a pass.
DeVante Parker's ability to reel in contested catches makes him a useful asset on the outside, while JuJu Smith-Schuster could be utilized out of the slot, given his ability to eat up yards after the catch.
Along with a few promising rookies, a bounce-back year from Hunter Henry could help alleviate some of the red-zone woes that plagued New England in 2022.
But can anyone on New England's depth chart assert itself as Jones's go-to option through the air?
It might be asking a lot for any player on this roster to surpass 1,000 receiving yards (no Patriot has done it since Julian Edelman in 2019).
But a motivated Kendrick Bourne could be a player that thrives in O'Brien's system, given both his versatility and chemistry with Jones.
Does Ezekiel Elliott have anything left in the tank?
The Patriots already have a proven No. 1 option in the trenches in Rhamondre Stevenson.
But New England learned its lesson last season when it came to Stevenson's workload, with the all-purpose back only surpassing 55 rushing yards once over his final eight games of the 2022 season.
Stevenson will once again be a focal point of New England's offense, but they need another option in the run game to lighten Stevenson's reps.
The Patriots hope that they have that in Elliott, who is looking to right the ship after a down season with the Cowboys.
Granted, it's a testament to the high standards that Elliott set for himself in Dallas that a "down" season in 2022 still saw him rush for 12 touchdowns — equaling the number of rushing scores that the entire 2022 Patriots roster achieved.
If Elliott has more left in the tank, he should do far more than just make life easier for Stevenson. Elliott's short-yardage skills (seven of his 12 touchdowns last year came from the 1-yard line), pass-blocking talents and ability to reel in catches could make him a key cog in New England's offense.
Can Demario Douglas, Kayshon Boutte push up the depth chart?
It's to be expected for established veterans like Parker, Smith-Schuster, Bourne, and Henry to be the top targets for Jones when he scans the field this Sunday.
But after some impressive performances during training camp practices and preseason reps, can a pair of sixth-round rookies in Demario Douglas and Kayshon Boutte make an immediate impact this season?
Douglas, tabbed by Fox Sports and NFL Network's Peter Schrager as a potential "'Breakout Player of the Year," has regularly tormented defensive backs during camp thanks to his route-running and stop-and-start acceleration.
Given Douglas's limited snaps during preseason play, it sure feels like New England wanted to limit how much tape teams could compile of the rookie.
Once thought of as a roster-bubble fixture after a sluggish start to camp, Boutte got better and better as the preseason continued. He still has an uphill climb on New England's depth chart, but Boutte is a young player worth keeping around.
Boutte's 42-yard touchdown against the Packers back on Aug. 19 showcased the skillset that established the young wideout as a five-star recruit at LSU.
Any additional contributions from either rookie will be welcomed by Jones and Co. this season.
Can defensive rookies make an instant impact?
Rookies like Douglas and Boutte are not the only 2023 draftees poised to make an impact on New England's roster this season.
While both Douglas and Boutte will look to fight for reps out of the gate, fellow rookies like Christian Gonzalez are expected to slot into a featured role right from Week 1.
Gonzalez first earned looks as one of New England's starting boundary corners during minicamp, and he hasn't been bumped from his perch since then. Expect him to open the year opposite Jonathan Jones on the outside.
As much as New England's defensive unit is anchored by veterans and other familiar faces, both Keion White (2nd round, 46th overall), and Marte Mapu (3rd round, 76th overall) could emerge as steady contributors on the Patriots' front-seven personnel.
Can New England's secondary hold up without Devin McCourty?
There isn't one player that the Patriots can turn to that will fully replicate Devin McCourty's leadership, communication talents and play in the secondary.
But instead of just relying on one player to step into those cleats, the Patriots have embraced a rotation of players at safety throughout the preseason — leading to pretty positive results.
It's to be expected for Kyle Dugger to once again take a step forward in his third season in Foxborough. But if Jabrill Peppers and Jalen Mills can excel in larger roles in 2023, a position group that was once a question mark could suddenly be an area of strength this fall.
What is Jack Jones's status?
Even with a lackluster showing during New England's preseason finale against the Titans, a ball hawk like Jones should be a steady contributor on the Patriots' defense, especially as the next man up behind Gonzalez and Jonathan Jones on the boundary.
But it's still unclear what awaits Jones this season in the wake of his June arrest at Logan Airport and the gun charges that he's facing.
Jones's probable cause hearing in East Boston District Court was pushed back from August until Friday, Step. 15. Legal expert Michael McCann tweeted that Jones' court hearing being pushed back could signal that a plea deal is being hashed out.
But even if his legal woes do clear up, it remains to be seen if Jones faces any additional discipline from the NFL.
Is New England's defense ready for a tougher slate?
For all of the question marks surrounding Mac Jones, Bill O'Brien's offense and the O-line, people haven't fretted all that much over an established defensive unit that surrendered just 20.4 points per game in 2022.
But as Chris Gasper of The Boston Globe noted last month, New England's impressive numbers on the defensive side of the ball took a sharp dive whenever the Patriots faced top-flight opponents.
Per Gasper:
In eight wins last season, the Patriots allowed just a 54.9 percent completion percentage, six touchdowns vs. 11 interceptions, and a paltry 1,501 yards passing (187.6 per game) They yielded a 63.8 passer rating and notched 32 sacks. The passing yards allowed per game would've ranked fifth in the league for a full season.
But those eight wins came against these signal callers: Zach Wilson (twice), Mitch Trubisky, Jacoby Brissett, Goff, Sam Ehlinger, Colt McCoy, and Teddy Bridgewater/Skylar Thompson.
New England's nine losses last season came against QBs in Tua Tagovailoa, Lamar Jackson, Aaron Rodgers, Justin Fields, Kirk Cousins, Josh Allen (twice), Derek Carr, and Joe Burrow.
This season's slate of opposing QBs is even more daunting, with New England set to battle:
Jalen Hurts
Tua Tagovailoa (twice)
Aaron Rodgers (twice)
Josh Allen (twice)
Dak Prescott
Justin Herbert
Patrick Mahomes
Ooof.
New England's defense might be an area of strength on this roster. But they'll have to prove it against some of the best QBs in the game.
The 2023 Patriots should be much better than their 2022 counterparts. But a daunting schedule may offset any of those gains made.
Can rookies execute on special teams?
Matthew Slater, 37, might still be the elder statesman on the Patriots' roster, but New England's special-teams unit will turn to two rookies in some high-pressure, pivotal roles in 2023.
2023 sixth-round Bryce Baringer claimed the starting punter spot after averaging 51.1 yards during 11 preseason punts, including a 69-yard bomb against the Titans on Aug. 25.
Much like Baringer, 2023 fourth-round kicker Chad Ryland holds a high ceiling thanks to his leg and ability to boot the ball. But the case could have been made that veteran incumbent Nick Folk was more consistent, especially within the 40-yard-line.
Both Baringer and Ryland have plenty of potential. But expect a few rookie miscues and growing pains along the way.
Sign up for Patriots updates🏈
Get breaking news and analysis delivered to your inbox during football season.