Patriots
Details are scant on Tom Brady's return to Foxborough. Here's what we know.
Patriots owner Robert Kraft said Thursday only that Brady will be honored at halftime and could be on the field before the game.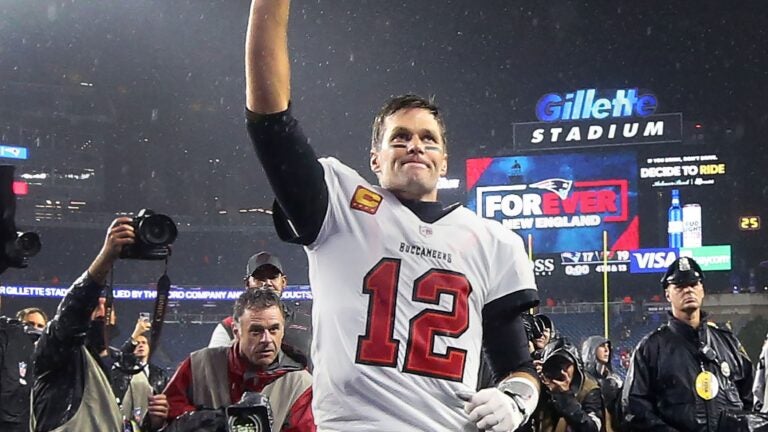 The Patriots are scheduled to honor legendary quarterback Tom Brady during Sunday's season-opening game against the Eagles at Gillette Stadium.
Details are slim on what the celebration might entail, but here's what we know.
How will the Patriots honor Tom Brady?
Will No. 12 be retired? Will a statue go up in Brady's honor at Patriot Place? We shall see.
Patriots owner Robert Kraft said Thursday only that Brady will be honored at halftime and could be on the field before the game.
"He's really excited and I'm excited, because our fans never really got a chance to say goodbye in a proper way. And we're going to do something special and unique with him," Kraft said Thursday.
Kraft also said Brady has "20 members of his family" coming, including his parents and sisters.
"We're honored to be hosting all of them," Kraft said.
Brady's father, Tom Brady Sr., told the Globe recently that there was no need for any reconciliation between the Patriots and Brady after Brady's sticky departure in 2020.
"Tommy has a deep appreciation and affection for Robert Kraft," Brady Sr. told Christopher L. Gasper. "This is very nice that Mr. Kraft wants to recognize Tommy's accomplishments with the Patriots."
How to watch Tom Brady's return to New England
The only place where the ceremony will be available live and in its entirety is a live stream on Patriots.com.
Ch. 4, which has the television broadcast of the 4:25 p.m. game, had been hoping to show the Brady tribute in full and had put in a request with CBS in New York to do so, but it could not be arranged. CBS is expected to show highlights of the event during its national halftime show.
The league does not permit network affiliates to stream live, either, so Ch. 4 also cannot show it as it happens on its website. Sister channel TV38 was granted permission Sunday to air the ceremony in its entirety on "Patriots 5th Quarter" following the game.
What has Tom Brady said about returning?
Speaking on his "Let's Go!" podcast with Jim Gray, Brady reflected on what this trip back to Gillette Stadium means after playing 20 seasons in New England.
"Mr. [Robert] Kraft has been very welcoming to me, so I'm going to have a lot of great friends there," Brady said. "I've had so many people text me and say that they're excited to see me come back. So it'll be really a special reunion and I'm excited to get there.
"I haven't been back much, just by the way things work out. Your life kind of takes you in different directions."
And what emotions will he be feeling?
"A lot of gratitude," Brady said. "I had two decades of incredible, life-changing, altering experiences. I have so many memories from my time there. Memories with people there.
"I'm creating a new memory with people there. To go back to that stadium and bring my kids and my family in a different way. I've not been to that stadium in this way ever. I went there as a player. I went there once as a competitor. And now I'm going to go there really as a fan and then I'm going to be there in the future as a broadcaster.
"I think there's a lot of cool things happening. Again, I think part of life is growing in different ways, expanding in different ways, trying new things and getting outside of your comfort zone. It's OK. Even the expectations I have for myself.
"I'm going to work really hard in this part of my career, knowing that the first time you try something you're not very good at it. The first time I threw a football, I was not very good at it. The first time that I tried a math equation, I wasn't very good at it.
"In different ways, the first time you try anything, it's not going to be the easiest way, and you're going to have to keep working at it.
"I don't think it's going to be hard to be a fan, though. I love the sport, and I love the Patriots. So going up there to see a lot of my friends and family is going to be a great experience."
What has Bill Belichick said about Brady's return?
Coach Bill Belichick offered plenty of praise for Brady this week.
"It'll be great to see Tom," Belichick said Monday. "Tom's meant so much to this team, organization, me personally. It was a tremendous experience to be able to coach him and for us to share the things we shared together.
"Certainly recognizing him for all his great achievements here is more than appropriate. Look forward to seeing him and glad that he's getting a lot of recognition and appreciation for that because he certainly deserves it."
When was Tom Brady last (publicly) at Gillette Stadium?
Brady has returned once to Foxborough since leaving the Patriots in free agency in March 2020, playing a game against them as a member of the Buccaneers on Oct. 3, 2021.
The Patriots lost, 19-17. Since then, Brady has retired — twice.
Sign up for Patriots updates🏈
Get breaking news and analysis delivered to your inbox during football season.