Patriots
'That was tough': Bill Belichick discussed which fourth down call he 'might've punted' instead
"This is a business, and I understand that part of it," Belichick replied when asked if he regrets Tom Brady's free agent departure.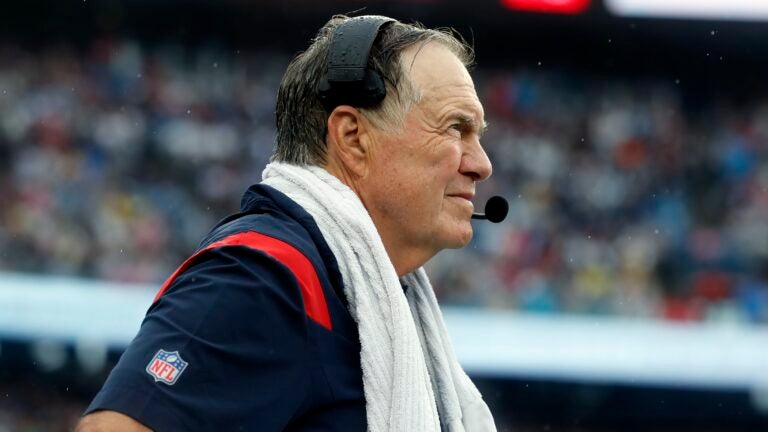 A day after the Patriots' season-opening 25-20 loss to the Eagles, Bill Belichick was asked again about his team's decision to go for it on fourth down.
Immediately following the game on Sunday, Belichick said he thought it was "the best decision for the team" to try to convert a fourth and three in the fourth quarter at the Eagles' 17-yard line (instead of kicking a field goal). He later added that, "If we kicked, I'm sure you'd be asking why we didn't go for it."
On Monday, Belichick offered a slightly more nuanced response.
"Well, fourth and three down by eight, I mean, I don't have any regrets on that one," Belichick said during his weekly interview on WEEI's "The Greg Hill Show."
He did appear to express some regret about another fourth down decision. Following the Patriots' failed attempt on fourth and three, New England went for it again later in the quarter. Facing what was initially a fourth and 12 (and later fourth and 17 at Philadelphia's 48-yard line after a delay of game penalty), Mac Jones's pass fell incomplete with just over two minutes remaining in the game.
"Fourth and 17, looking back on it, we had three timeouts, might've punted that one," Belichick admitted. "I mean, I don't know how much field position we would've gained, but fourth and 17 after the delay, that was tough."
In the end, Belichick also offered a reminder that penalties hurt the Patriots as much as failed fourth downs.
"We had our chances at the end there," Belichick explained. "The penalty makes it a three point game, so we'd be playing for a field goal at the end, but the two-point conversion was nullified, so then it's a touchdown game. So obviously we had to play for a touchdown there at the end."
It fit into the larger narrative the Patriots' coach attributed to his team's defeat.
"We certainly did enough things to make it competitive," he said when asked if there were positive takeaways despite the loss. "We just weren't able to make enough plays to win. So we just need to make a few more better plays, not just at the end, but there were multiple opportunities all the way along the line. We just all have to do a better job."
Sunday's opener was also a special occasion, with Tom Brady honored during a halftime ceremony.
Considering that Brady enjoyed success after leaving New England — winning an additional Super Bowl — Belichick was asked if he had any "regrets" on how Brady's exit from the Patriots went in 2019-2020.
"Well, no," he replied. "This is a business, and I understand that part of it."
"But I certainly appreciated the opportunity to coach Tom," Belichick added. "I had a great conversation with him yesterday. It was good catch up. He set the standard for what a great player is. There's nobody better than him and I'm so fortunate to have had the opportunity to draft him, coach him, and learn from him, so I look back at those 20 years with a great deal of fondness and affection for Tom and what he did for me and for our football team."
Sign up for Patriots updates🏈
Get breaking news and analysis delivered to your inbox during football season.