Patriots
We all learned one important thing from the Patriots' Week 1 loss, and it's that Mac Jones is not broken
"It was clear in the Patriots' frustrating but quasi-encouraging 25-20 loss to the Eagles that the third-year quarterback suffered no lasting damage."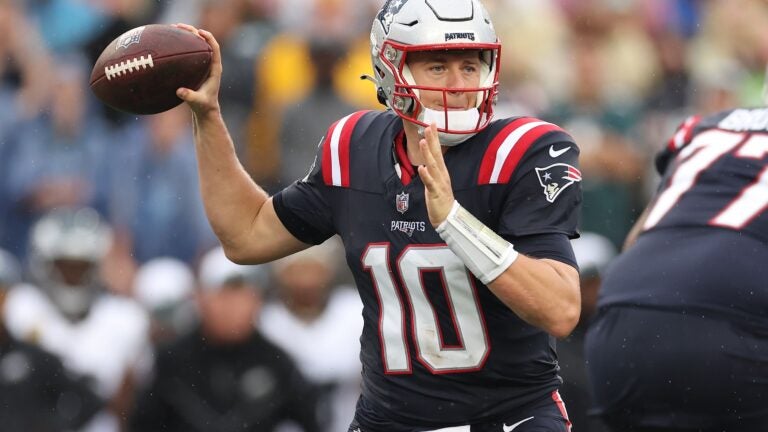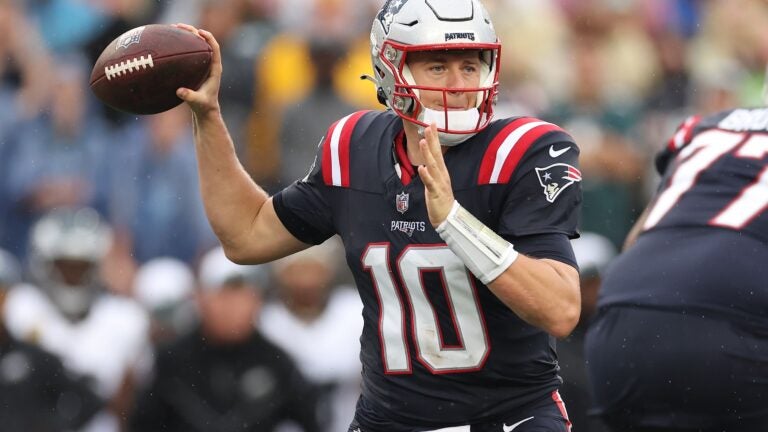 Welcome to the Unconventional Review, an instant reaction to standouts, stats, and story lines from the Patriots' most recent game …
One game into the 2023 Patriots season, this much we know: Mac Jones is not broken.
Last season's debacle may have left a dull scar or two, but it was clear in the Patriots' frustrating but quasi-encouraging 25-20 loss to the Eagles that the third-year quarterback suffered no lasting damage.
Jones looked Sunday like he did at his best as a rookie, and if that seems like faint praise, hey, it's praise nonetheless. With the running game often stuck in neutral, two rookie guards starting on the offensive line, and the need to dig out of a quick 16-0 deficit, more of the burden fell on Jones than might have been expected.
He handled it well, most of the time, completing 35 of 54 passes for 316 yards, with three touchdowns and a Darius Slay Sr. pick-6, which helped create that early deficit. When the Patriots came to life in the second quarter, he completed 11 straight passes at one point. He orchestrated Bill O'Brien's fun offense with deftness and command, though too often his passes in the flat had a dangerously late arrival time.
With Tom Brady looking on, it would have been a fitting tribute for Jones and the Patriots to pull off a late comeback. But like in those encouraging performances against the Buccaneers and Cowboys in his rookie season, the job went unfinished.
That's the next step, and it needs to happen soon. But at least he's not broken. We know that. Now it's time to go about finding out what he is.
Some further thoughts, upon immediate review …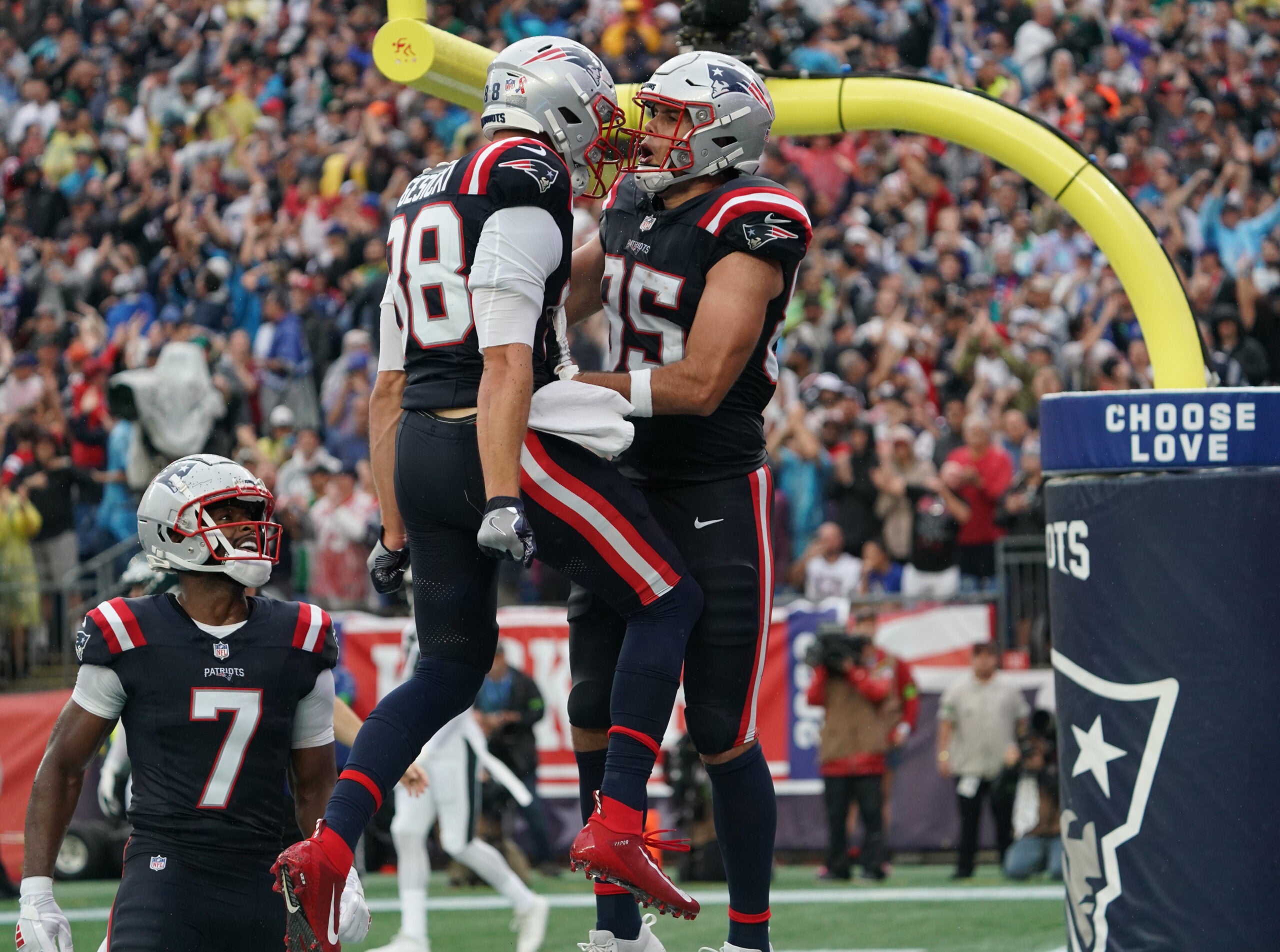 Three players who were worth watching
Players suggested in the Unconventional Preview: Christian Gonzalez, Ezekiel Elliott, Trent Brown.
Hunter Henry: Of all the Patriots offensive skill players last season, Henry might have been the one whose skill was marginalized the most by Matt Patricia's fulfilled quest to prove that coaching offense is indeed harder than rocket science. The tight end built a strong rapport with Jones in 2021, catching nine touchdown passes, but had just two last year while making 41 receptions, his lowest total since his rookie season in 2016. So it was encouraging, if hardly surprising now that competence reigns again, to see him resume his role as an important part of the passing game Sunday. Henry collected five catches for 56 yards, including a 9-yard snag for the Patriots' first touchdown in the second quarter and a spectacular one-handed, 12-yard grab on fourth and 8 early in the fourth quarter. Not that he ever left, but it sure is good to have him back, you know?
Kendrick Bourne: Might as well stick with the theme of misused Patriots finding some redemption in the new season. The wide receiver tied running back Rhamondre Stevenson for the Patriots lead in receptions (6) and receiving yards (64), and two of his catches resulted in touchdowns. Bourne was on the receiving end of one of the best throws Jones has ever made, resulting in a 19-yard touchdown to cut the Eagles lead to 16-14 in the second quarter, and he added a second score from 11 yards out with 3:37 left in the game. I should have said it before the game, and I'm going to say it now: Bourne will be the Patriots' best receiver this season. If it's not too much to ask, maybe he could take a minute to teach Kayshon Boutte how to get two feet down along the sideline.
Christian Gonzalez: A.J. Brown, the Eagles' star receiver — well, one of their star receivers — finished with 7 receptions for 79 yards. But don't you come away from this game enthused about Gonzalez, the rookie cornerback who in his debut often was tasked with covering Brown? Gonzalez picked up his first career sack on a wholly unexpected corner blitz. Later, with the Eagles going for it on fourth and 2 from the Patriots' 44 with 1:57 left, he made a Pro Bowl-level pass breakup on a short pass to that other star receiver, DeVonta Smith, giving the Patriots one last shot at winning the game. Given the opponent and the degree of difficulty of the assignment, it was an excellent debut for the kid corner.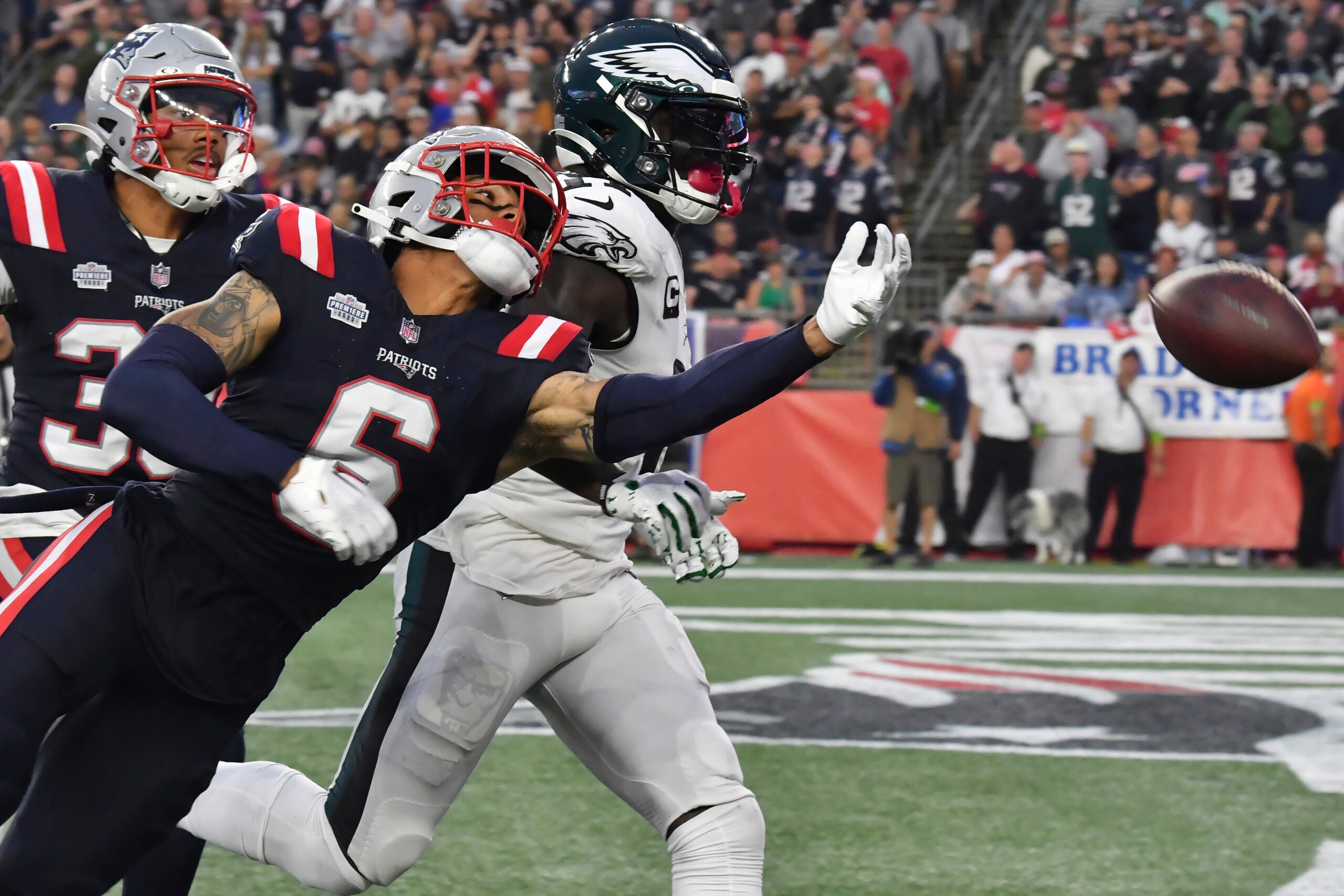 Grievance of the game
Bill Belichick's Patriots must get back into that old habit of being the smarter, more disciplined team. There were still way too many mistakes Sunday, from defensive end Deatrich Wise Jr.'s encroachment penalty on the second play from scrimmage to the more costly ones that soon followed — Slay's pick-6 and then, on the Patriots' next play, running back Ezekiel Elliott lost fumble at their own 26. A 5-yard Smith touchdown catch later, and the Eagles had their 16-0 lead.
The Patriots can't afford to give breaks to talented opponents. Tell me if the Patriots will eliminate these barnacle-brained mistakes, and I'll tell you how hopeful to be about what's ahead.
Three notes scribbled in the margins
Predicted score: Eagles 30, Patriots 24
Final score: Eagles 25, Patriots 20
I know, I know, I should have used much more real estate here to salute the Patriots defense, which held the Eagles to nine points in the second half, allowed just 4 of 13 third downs to be converted over the entire game, and held Jalen Hurts and that diverse offense to 251 total yards. A fantastic performance, especially considering the early hints that it might be a rout. Best play? Safety Jabrill Peppers's hit on Hurts to force a fumble with 3:28 left. It looked like something Rodney Harrison would have done to Donovan McNabb back in Phase 1 of the dynasty … Between noting that doghouse dweller Bourne "came on last year," and saying a play was, "big for New England, just for the momentum aspect, right?," before blurting, "I mean Philly!," any hopes for a bounce-back year from Tony Romo in CBS's No. 1 analyst seat aren't off to a good start … The coolest part of the well-done Tom Brady ceremony was seeing the assortment of former teammates that showed up for the festivities. And you know what? I bet Brady recognized every one of them, even though he probably hasn't seen some of them for a decade.
Read more Patriots coverage:
Sign up for Patriots updates🏈
Get breaking news and analysis delivered to your inbox during football season.