Patriots
The Patriots' opener was something to build on, but it doesn't get easier Sunday night against the Dolphins
The Patriots we saw last Sunday against the Eagles — even with the mistakes, even in defeat — were so much more appealing than at any point a season ago.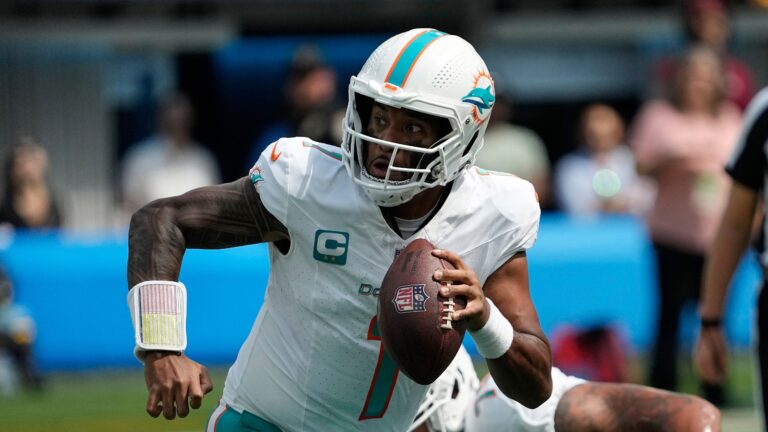 Welcome to Season 12, Episode 2 of the Unconventional Preview, a serious yet lighthearted, nostalgia-tinted look at the Patriots' weekly matchup . . .
In their season-opening 25-20 loss to the defending NFC champion Philadelphia Eagles last Sunday, the Patriots made a couple of inexcusable mistakes — a Darius Slay pick-6 of a Mac Jones pass, followed by an Ezekiel Elliott fumble — that led to lost opportunities, sleepless nights, and excruciating film sessions.
The Patriots made the kind of instantly regrettable, how-can-that-happen mistakes in their opener last year, too. In a 20-7 road loss to the Dolphins, a strip-sack that led to a Melvin Ingram fumble recovery for a touchdown and a 42-yard touchdown catch-and-run by Jaylen Waddle on fourth down just before halftime left the Patriots looking somewhere between unprepared and inept.
But you know what? This is not a parallel, or the frustrations and failures of one season bleeding into the next. It's a coincidence, and nothing more. Because the Patriots we saw last Sunday against the Eagles — even with the mistakes, even in defeat — were so much more appealing than at any point a season ago.
The defense was fast and fluid, at times bewildering Eagles do-it-all quarterback Jalen Hurts. The offense? We would have settled for competent after last season's debacle, but it was more than that. It was creative and unpredictable under new offensive coordinator Bill O'Brien, back for his second stint with the Patriots. Jones got the ball out in a hurry. The open receiver got the ball. Players' strengths were emphasized. You know, those obvious, fundamental things that we appreciate so much more now.
This is epitomized by Kendrick Bourne. In the doghouse last year in part because he was one of the first to acknowledge that Matt Patricia's offense had problems, he did not play in the 2022 opener until the fourth quarter. He promptly came in, made a 41-yard catch, and returned to the sideline as a bystander. It was dumbfounding and counterproductive, which happened to be the pillars of Patricia's philosophy.
In this year's opener, Bourne was utilized, correctly and quite often, tying for the team lead with six catches for 64 yards, and hauling in a pair of aesthetically awesome touchdown catches. It looked so right that we could almost forget how he was done wrong.
No, Jones, Bourne, and the rest of the offense couldn't make the play it needed at the end of the game. But at the very least, it was something both hopeful and real to build on.
It doesn't get much easier this week against a potent Dolphins team coming off a thrilling 36-34 win over the Chargers in which quarterback Tua Tagovailoa — he of the career 4-0 record against the Patriots — threw for 466 yards and three touchdowns.
Kick it off, Ryland, and let's get this one started . . .
Three players to watch other than the quarterbacks
Tyreek Hill: First thought when watching the former Chiefs dynamo, now in his second season with the Dolphins, catch 11 passes for 215 yards and two touchdowns against the Chargers: I wonder if Patrick Mahomes, who might have the modern equivalent of the 2006 Patriots receiving corps with him in Kansas City, is watching this.
Second thought: It's remarkable that the Patriots have handled Hill relatively well over the years considering that he makes every other breathtakingly fast athlete on the field with him look like they are running with 25-pound dumbbells tied to their ankles. In six career regular-season games against the Patriots, Hill has averaged six catches for 92 yards, with a total of five receiving touchdowns. That's productive, but considering that he averages more than 100 yards per game against 10 teams, it could be much, much worse.
(In Hill's one playoff matchup with the Patriots — a 37-31 New England win in the 2018 AFC Championship game — he had one catch for 42 yards.)
The Patriots did more than a decent job on him last season. In the opener, with the Dolphins trying to force-feed Hill the ball, he made eight catches for 94 yards, with his biggest play a 26-yard grab late in the first half when he outfought Jack Jones for the ball. The Patriots did an even better job on Hill in the second meeting, with Jonathan Jones and, yes, Myles Bryant holding him to four catches for 55 yards.
The Dolphins, with a healthy and confident Tagovailoa,were operating on another level offensively against the Chargers. And even when Hill isn't making dynamic plays, the threat of him doing so is always present. The Patriots defensive backs would benefit greatly from a relentless pass rush. The Chargers didn't sack Tagovailoa once.
Rhamondre Stevenson: Know what's crazy? Stevenson has played just 30 career games, and yet he's only about 3,700 yards away from being the Patriots' all-time leading rusher.
That tells us a few things: That Sam Cunningham and Jim Nance's legends still endure (they are 1-2 on the list, and the only Patriots backs to clear 5,000 yards) . . . that it will always be infuriating that Curtis Martin is foremost associated with the Jets . . . that promising running backs in this organization have often had a short shelf life (where have you gone, Horace Ivory?) . . . and that Stevenson is off to a darn good start to his career.
His start to this season could have gone better — he ran 12 times for just 25 against the Eagles, in part because of the early 16-0 hole and in part because Elliott picked up seven carries. Stevenson did contribute in the passing game, tying Bourne with six catches for 64 yards.
The Patriots' best chance to slow the Dolphins' offense Sunday night might be to prevent them from possessing the football, which means the running game has to be productive. And it should be against acclaimed defensive coordinator Vic Fangio's work-in-progress run defense, which allowed the Chargers' Austin Ekeler and Joshua Kelly to combine for 208 rushing yards. This should be a week in which Stevenson climbs 100 or so more yards up that list.
Keion White: It's tough to gauge how much the second-round pick out of Georgia Tech will play against the Dolphins, given the Patriots' depth and versatility among their defensive linemen and pass rushers. White played just 23 (or 35 percent) of the Patriots' defensive snaps against the Eagles. Yet he managed four hurries of Hurts, and his speed and athleticism popped off the screen against arguably the best offensive line in the NFL. I cannot wait to see more of White, and here's hoping those reps begin a rapid increase this week.
Grievance of the week
JuJu Smith-Schuster's Patriots debut wasn't exactly inspiring. Against the Eagles, the veteran receiver caught just 4 of 7 targets (Mac Jones threw him a sinking changeup on one bad drop, but hey, gotta catch it if it hits the mitts) for 33 yards, played a mere 54 percent of the snaps, and had a sweet view from the sideline during the offense's failed attempt to win the game in the final two minutes. But I'm not quite sure who to be annoyed with — Smith-Schuster for not taking advantage of plays that were there to be made, some fans and media who are leaning toward writing him off already, or the Patriots for giving a receiver still recovering from a knee injury three years and $33 million as a free agent. Let's call this a grievance-in-progress, since I'm not sure with whom to be annoyed quite yet. Maybe everyone.
The flashback
The Patriots are dressing for the occasion Sunday, breaking out the sharpest-looking uniforms they have ever worn — helmets with the Pat Patriot logo, red jersey, and white pants from their sartorially awesome 1984-92 era — for their prime-time appearance.
Though the Patriots were the road team and wore their white jerseys for the moment I'm about to reference, the opponent and the retro wardrobe this week jostled a welcome flashback to a particular game in 1986.
In the regular-season finale, the Patriots traveled to Miami with simple guidelines: Win, and they'd be the AFC East champions for just the second time since the AFL/NFL merger. Lose, and the season was over.
The Orange Bowl had long been a stadium of sadness for the Patriots, who finally had ended an 18-game losing streak at the facility with a 31-14 win in the 1985 AFC Championship game. This one started out well enough, with the Patriots jumping to a 10-0 lead. But at the start of the fourth the Dolphins had come all the way back and seized a 27-20 lead on Dan Marino's third touchdown pass of the game.
Tony Collins tied the game with a 12-yard touchdown catch from Steve Grogan — who had come in for Tony Eason, injured in the first half trying to recover a fumble. Then with 44 seconds left, Grogan found Stanley Morgan down the right sideline for a winning 30-yard touchdown catch, his second score of the game.
"It's fitting and proper that it's Morgan," said Frank Gifford on the ABC telecast. "He's been responsible for so many of the Pats' wins this season."
It was the final Dolphins game ever played at the Orange Bowl. The point here is two-fold. Most ghosts do get exorcised. And Stanley Morgan belongs in the Hall of Fame.
Prediction, or which Mark was better, Duper or Clayton?
You couldn't blame Mac Jones if he has a bad case of weapons envy of Tagovailoa, his friend and former teammate at Alabama. Tagovailoa has Hill and Waddle — also a former Crimson Tide stalwart — at his disposal, and it has to be the quickest receiver tandem in the league. Jones has . . . a lot of good players, even some underrated ones such as like Bourne and tight end Hunter Henry, but no sure-thing No. 1 target.
He had one of the finest statistical games of his career against the Eagles, with 35 completions and 316 yards. But he also left points on the field, and I'm not quite sure what to expect out of him Sunday against a Dolphins defense that held the Chargers' Justin Herbert to 228 passing yards last week. I know this: Jones needs to be a little more accurate than he was a week ago, since that is supposed to be one of his strengths.
Yardage should be there for the taking underneath, but I'm not ready to believe that the Patriots can outscore these Dolphins. Maybe a ball-control offensive game plan and this talented Patriots defense have a surprise in store. But I need to see it to believe. Dolphins 26, Patriots 23.
Sign up for Patriots updates🏈
Get breaking news and analysis delivered to your inbox during football season.