Patriots
Social media gets a kick out of Bill Belichick's challenge flag toss in Dolphins-Patriots
Belichick didn't appear too happy with a ruling during the third quarter.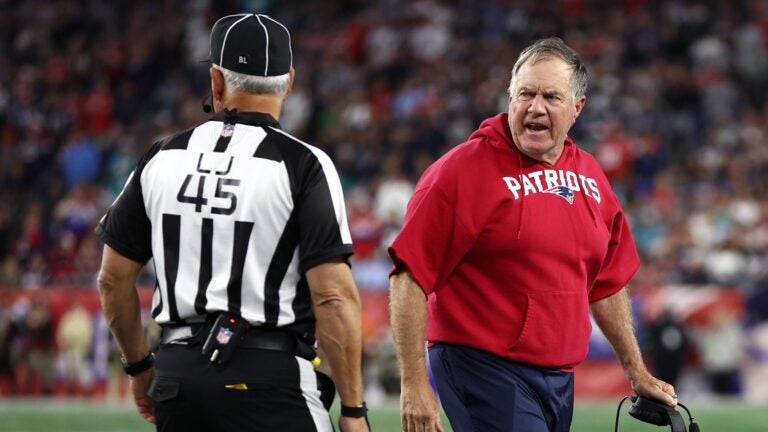 Bill Belichick has inadvertently delivered viral moments over the years that have turned into jokes and memes for the internet to enjoy.
The Patriots coach added another one of those moments Sunday night. In the third quarter of their primetime game against the Dolphins, the Patriots fell just short of picking up the first down on a third-and-1 run, appearing that they might have gotten the first down on Rhamondre Stevenson's carry.
Belichick deliberated for a few moments on whether or not to challenge the play. He lifted up his pant leg, revealing that the challenge flag was deep down his sock. After a few more seconds, he reached to get it out of his sock, held it in his hand, and spiked it into the turf in front of one of the referees along the sideline. He appeared to give the official a look of disgust as he tossed it down, too.
During NBC's broadcast, Mike Tirico and Cris Collinsworth joked about the ferocity with which Belichick spiked the challenge flag.
"Shaq would have been proud of that dunk," Collinsworth said.
"The disgusted challenge flag thrown by Bill," Tirico added.
Belichick didn't win the challenge, but he seemed to win a lot of fans on social media, with everyone almost getting an enjoyment out of his challenge flag toss.
Sign up for Patriots updates🏈
Get breaking news and analysis delivered to your inbox during football season.