Patriots
Patriots fall to Dolphins, 24-17: Quick observations from Week 2 loss
The Patriots were unable to complete another fourth-quarter comeback this season.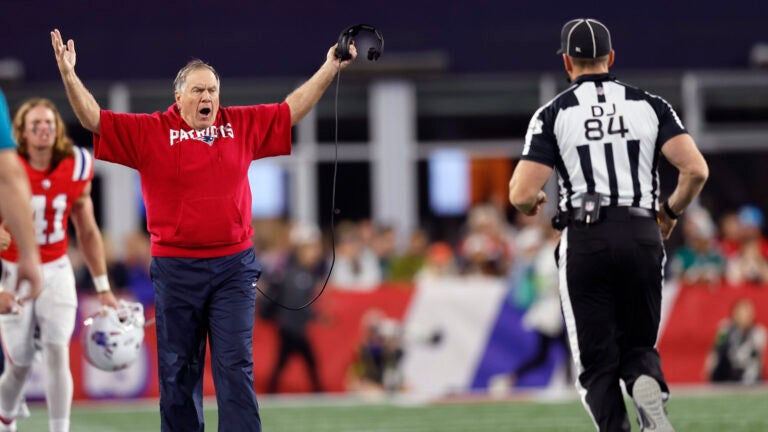 For the second straight week, the Patriots fell into an early hole and could not recover en route to a frustrating defeat.
Costly turnovers and momentum-sapping miscues on offense once again plagued New England on Sunday night in what was a 24-17 loss against the Dolphins.
Here are some quick takeaways from Sunday's Week 2 loss:
Another frustrating result
Even though the Patriots fell to the Eagles in Week 1, there were some silver linings to glean from a spirited comeback that came up just short against the reigning NFC champions.
Mac Jones and the Patriots' offense showed signs of life in Bill O'Brien's revamped system. A banged-up offensive line still managed to keep their QB clean for most of the night. A talented defense only relinquished one touchdown to a talented Eagles offense.
But there were no moral victories to glean from what was a frustrating showing against an AFC East rival on Sunday night.
Some of the issues that dismantled New England against the Eagles (slow starts, turnovers, O-line play) once again were front and center against the Dolphins.
But whether it be New England's defense getting shredded on the ground early by Miami's high-octane offense, the run game continuing to stumble, or Mac Jones falling into some of the same bad habits that hindered him in 2022, this was a step back from some of the promise showcased in Week 1.
To see yet another fourth-quarter rally come up short further twisted the knife.
Even with two fourth-quarter scores, New England's offense has been far too inconsistent. Their first gain of more than 12 yards came off a DeVante Parker reception … with 7:20 left in the game.
Another slow start
Another game, another dreadful start for the Patriots.
After trailing 16-0 at the end of the first quarter in Week 1 against the Eagles, the Patriots entered halftime against the Dolphins mired in a 17-3 deficit.
Much like Week 1, Mac Jones and the Patriots offense opened the game with a few promising drives featuring plenty of varying formations and schemes. But their first drive stalled after a costly sack for a loss of nine yards, and the second was undone by a fumble from rookie Demario Douglas that was recovered by Miami.
The Dolphins orchestrated an 11-play, 73-yard scoring drive after Douglas' fumble that handed Miami a 10-0 advantage in the second quarter.
A 49-yard kick from rookie Chad Ryland put New England on the board late in the second quarter, but Tua Tagovailoa and the Dolphins then reeled off a 75-yard touchdown drive in just 1:38 to extend their lead to 14 points.
As noted by ESPN Stats and Info, this marks the first time that a Patriots team coached by Bill Belichick has been down by at least 10 points in each of the first two games of the season.
O-line woes and costly turnovers have continued to plague this team through the early going this season.
Run-game woes continue
If there was any matchup that the Patriots were poised to exploit in this one, it was sending in Rhamondre Stevenson and Ezekiel Elliott against Miami's porous run defense.
Not only was a talented backfield of Stevenson-Elliott poised for a bounceback performance after averaging 3.5 yards per carry against the Eagles, but Miami was coming off a Week 1 performance where it relinquished 233 yards on the ground to the Chargers.
But even with Mike Onwenu and Cole Strange back in the lineup up front, New England's run game was stuck in the mud against the Dolphins.
Whether it be a banged-up O-line struggling to open up holes or both Stevenson/Elliott failing to execute, New England's offense struggled to gain critical short yardage and also keep Tagovailoa off the field.
New England finished Sunday's loss with just 88 rushing yards, including just 30 yards on 13 carriers in the first half.
Mac Jones (31-for-42, 231 yards, 1 TD, 1 INT) and the Patriots' passing game once again had to stick with short-yardage gains for most of the evening, but were able to move the ball efficiently for most of the evening — at least until that Xavien Howard pick in the third quarter.
But New England won't be able to move the chains with regularity if this run game — expected to be one of the strengths of this roster — doesn't start to deliver.
O-line reinforcements don't help
The good news? The Patriots received some help on their beleaguered offensive line in Week 2, with guards Cole Strange and Mike Onwenu slotting back into the lineup.
The bad news? New England didn't have Trent Brown in place at left tackle, and its overall O-line play continued to labor in Week 2. Even with Onwenu and Strange anchoring the interior, New England's run game still couldn't create much on the ground.
After getting sacked twice against the Eagles, Jones was sacked four times on Sunday — with two of those takedowns killing two critical drives in the first and fourth quarters.
Brendan Schooler, Christian Gonzalez spark Patriots in the second half
New England was unable to completely claw back in Sunday's game, but give credit to the Patriots' special-teams unit and defense for trying to generate some momentum amid some sustained lulls.
Brendan Schooler's blocked field goal in the closing minutes of the third period took points off the board for the Dolphins and set up New England on Miami's 49-yard line.
But New England could not capitalize, with Jones ending the drive on Miami's 22 off of his interception on a pass intended for DeVante Parker.
Later in the fourth quarter, rookie Christian Gonzalez reeled in his first career interception, hauling in a deep ball from Tagovailoa.
But once again, New England did little to carry that momentum forward, with a costly sack eventually leading to a 3-and-out.
Yet another comeback … that falls short
Give credit where it's due, the Patriots continue to hang around in these games.
But once again, the Patriots offense was unable to push across the game-winning score in crunch time — with Mike Gesicki's lateral to Cole Strange coming up just short on a critical fourth down.
Give Jones and Co. credit for punching back with two late touchdowns, but that elusive game-winning rally continues to elude them.
Odds and ends
The Patriots cornerback depth took another hit on Sunday. Already without Jack Jones (IR) and now Jonathan Jones (ankle), New England lost Marcus Jones to a shoulder injury with 11:00 in the half. The second-year DB appeared to hurt himself while trying to wrap up Dolphins WR Jaylen Waddle.
The Patriots are 17-5 all-time at Gillette Stadium against Miami.
———
Follow along here for live updates from Sunday's AFC East matchup, and check back once the game wraps for some early observations.
LIVE UPDATES
11:20: The ol' Gesicki to Strange play ends short. Miami will win this one.
11:12: Kick is no good. Patriots will get the ball with over 2 minutes to go.
11:08: Unnecessary roughness on Mapu — that's a back-breaker.
11:01: Stevenson runs it in. Once again, this is a 7-point game.
24-17.
10:51: Might be the knockout punch. 43-yard touchdown on the ground for Miami. 24-10 game.
10:48: And New England can't do anything with it. Another sack — and a punt for the Patriots.
10:45: Christian Gonzalez — playmaker.
First pick for the rookie.
10:39: Jones to Henry. TOUCHDOWN.
17-10 game with 11:21 to go.
10:37: Looks like Onwenu has been replaced by Atonio Mafi.
10:31: Here comes the fourth quarter.
10:26: Mac Jones interception. Brutal. Dolphins take over.
10:24: Ruling stands. 4th and 1 for New England.
10:23: Sure feels like that was a first down. Belichick challenges.
10:17: Brenden Schooler comes up clutch. He blocks the FG attempt and Dugger recovers. Some momentum for the Patriots?
10:13: Not limping anymore. What a grab by the wideout.
10:11: Jaylen Waddle is limping to the sideline.
10:05: New England's run game has been dreadful tonight. Very surprising, especially after the Chargers gained over 230 yards on the ground against Miami in Week 1.
9:59: Matt Judon with the sack.
9:56: Second half is underway.
9:41: Halftime: Patriots trail, 17-3.
9:40: Tua to Tyreek. Touchdown. 17-3 Dolphins. Miami will also get the ball coming out of the half.
9:29: Parker can't reel in the catch — but Chad Ryland connects from 49 yards.
10-3 game.
9:24: Patriots offense is still humming along with the short game. But a holding call by Strange sets them back.
9:20: Kind of an important drive for the Patriots offense.
9:16: Patriots defense responds. Dolphins go 3-and-out.
9:13: Miami challenges to see if that was a fumble, but the call stands.
9:12: Marcus Jones is questionable to return with a shoulder injury.
9:11: Man, Mac Jones was obliterated on that play. Calvin Anderson beat clean. Patriots are punting.
9:05: Patriots D have looked to limit explosive plays tonight, but the Dolphins have responded by dicing them up in the run game and YAC.
9:03: Mostert runs it into the end zone on an eight-yard rush. 10-0 Dolphins with 9:39 left in the half.
9:00: Jones to the blue medical tent. Seems like he hurt his arm while trying to grab Waddle.
8:59: Marcus Jones is down again.
8:58: Jaylen Waddle is just as dangerous as Tyreek Hill. He picks up 27 yards and makes a number of Patriots defenders miss.
8:56: Former Patriot Isaiah Wynn with an illegal block in the back. 10-yard penalty for Miami.
8:53: A learning lesson for the rookie.
8:51: For the second straight game, ball security is stalling some of New England's drives.
8:49: End First: Dolphins lead, 3-0. They start on their own 27.
8:48: Brutal. Another promising drive for New England, but it ends when Demario Douglas fumbles. Dolphins recover.
8:46: DeVante Parker gets the first down with Apple in coverage.
8:41: Patriots D bends but doesn't break. 3-0 Dolphins.
8:40: Seems like Tua just slipped there. 4th down.
8:39: 3rd and 5 for the Dolphins. Tackle for loss for New England.
8:38: 1st and goal for the Dolphins.
8:36: Marcus Jones is back. Might have been an equipment issue.
8:34: Marcus Jones is hurting. He makes his way off the field.
8:33: Looks like Gonzalez and Marcus Jones will both get looks at trying to slow down Hill.
8:29: Marte Mapu joins Christian Gonzalez as a rookie starter on New England's defensive unit.
8:27: O-zone woes show up there. A -2 run for Stevenson, followed by a sack. There goes New England's first drive.
8:26: Nice play on the bubble screen for Douglas. He's fast.
8:24: Stevenson gets the first down. We'll see if the Patriots can get the run game going with Strange and Onwenu bac up front.
8:21: Miami wins the coin toss and defers. Mac Jones and the Patriots up first.
8:15: We're about to get underway.
7:52: Looks like Marcus Jones will be the other boundary corner next to Christian Gonzalez.
7:48: Based on warmups, this looks like it's gonna be New England's starting O-line.
LT Lowe
LG Strange
C Andrews
RG Onwenu
RT Anderson
7:45: Can … Lucic play tackle?
7:34: Just make these the new home jerseys, please.
7:30: More on the Patriots' inactives here:
7:26: However, New England's running game should benefit from having Strange and Onwenu back up front. DeVante Parker's return also gives another deep threat on the outside.
7:25: Can't understate how much the loss of Jonthan Jones hurts New England.
Jones has matched up against Hill six times in his career. In those games, Hill has seven catches on 16 targets for 88 yards against Jones. Opposing QBs have a 35.4 passer rating when targeting Hill with the Patriots' defensive back in coverage.
7:08: Patriots inactives.
LT Trent Brown
CB Jonathan Jones
OL Sidy Sow
OLB Anfernee Jennings
WR Kayshon Boutte
DT Sam Roberts
DB Ameer Speed
6:51: Some significant losses for Miami on their inactive list:
Terron Armstead is Miami's starting LT, while Phillips is one of the best pass rushers in the NFL over the last few years. That's good news for New England's own banged-up O-line.
6:42: A Wes Welker sighting in Foxboro:
6:30: No sign of Jonathan Jones yet. That could be a devastating loss, given Jones' strong play against Tyreek Hill.
6:29: Mike Onwenu is also taking part in warmups. More help on the inside for New England's O-line.
6:23: From one Patriots safety to another:
6:20: Cole Strange is out here for early warmups. A good sign for him.
5:54: Plenty to keep tabs on as we await the inactives list. Beyond the state of the Patriots' O-line, New England will be in big trouble if Jonathan Jones misses tonight's game — given his strong track record against Tyreek Hill.
5:41: Greetings from a picture-perfect evening at Gillette Stadium.
Newsletter Signup
Stay up to date on all the latest news from Boston.com