Patriots
What Bill Belichick said when asked about Demario Douglas being benched after fumbling
Belichick also discussed the Patriots' defense and Brenden Schooler's block.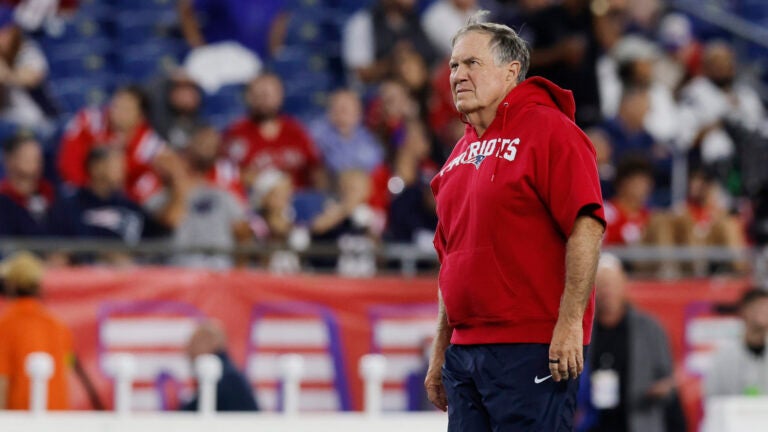 Bill Belichick kept his remarks brief following the Patriots' 24-17 defeat to the Dolphins on Sunday night.
The loss dropped New England to 0-2.
"Not too much to say after that one," Belichick said after walking to the podium. "Tough loss but you've got to learn from it, and keep working harder and move on."
The Patriots trailed by 14 points for much of the night, and fell short on a late bid to tie the score in the final minute.
Asked what lessons his team could take from the game, Belichick initially kept it general, noting that, "You learn from every game."
Eventually, when questioned about the second slow start in as many games, he had a definitive takeaway.
"Can't turn the ball over," he said.
One specific topic that came up in the press conference was the conspicuous lack of playing time given to wide receiver Demario Douglas following his fumble in the first quarter.
"We played all of our skill players," Belichick initially said when asked about Douglas's diminished role.
"We had a lot of production on offense," he added, listing other Patriots receivers. "Lot of good players. Can't play everybody."
Later in the press conference, Belichick was again asked about Douglas not returning to the offense again after his fumble.
"We could talk about this every week," the Patriots coach said. "There will be somebody who played less than somebody else. We've got a lot of good skill players."
The Patriots' defense was able to achieve a measure of success in slowing down the Dolphins. After Miami posted 536 yards of total offense in Week 1 (466 through the air), New England held Tua Tagovailoa and Miami to 244 yards passing.
Wide receiver Tyreek Hill still managed to find the end zone, but was limited to 40 yards receiving on five catches.
"We could've done a better job on some of those. They hit a few of them," Belichick said of the defense, even with the success at preventing big plays. The Patriots' coach acknowledged that his time gave up some "possession passes" in its attempt keep Tagovailoa from going downfield.
As for the unorthodox field goal block from special teams ace Brenden Schooler, Belichick kept his praise to a minimum, but still credited his player for making an impact.
"He timed it up and hit well," Belichick said of Schooler. "Made a really good play on it."
Sign up for Patriots updates🏈
Get breaking news and analysis delivered to your inbox during football season.