Patriots
Patriots' rookie Demario Douglas on benching after fumble: 'I believe I could have made a difference'
"This is something to learn from. Whenever I get back in there, I'm going to make it count."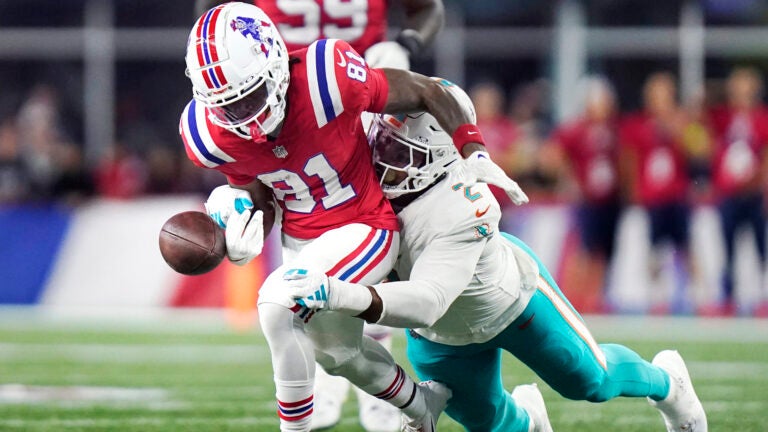 Demario Douglas is used to drawing a crowd of microphones and cameras during his short time so far in Foxborough.
The 2023 sixth-round pick out of Liberty has seen his stock soar since stepping onto the practice fields behind Gillette Stadium, going from an early roster-bubble candidate to a useful cog in Bill O'Brien's reworked offensive scheme.
Little has deterred Douglas's meteoric rise up the depth chart over the last few months.
But Sunday's media scrum took on a different tone for the affable and talented rookie.
For the first time in his brief NFL career, Douglas had to face the music after a costly play — one that planted him on the sidelines for the remainder of Sunday's 24-17 loss to the Dolphins.
Douglas was featured regularly during New England's first two drives of the night, with the rookie targeted twice by Mac Jones on his six snaps against Miami.
But his last play ended in disaster.
On a third-and-8 sequence on Miami's 39-yard-line, Douglas reeled in a catch from Jones for the first down. But the shifty wideout — seeing extra yardage in front of him — made a quick cut and reset himself for a rush up the gridiron.
But as Douglas saw a potential first NFL touchdown in front of him, Dolphins linebacker Bradley Chubb ran up behind him and punched the pigskin from his grasp. Miami recovered the fumble and ultimately scored on the ensuing possession to give the visitors a 10-0 lead in the second quarter.
"When I turned to go to the right, I saw the end zone and I kind of got excited," Douglas said postgame. "I forgot about the people coming from behind and just pulled my arm and let the ball go."
It was a painful lesson for the rookie, one that every young player learns at some point as they navigate their way through the pro ranks.
Making it back to the sidelines, Douglas sat on the bench and clutched a football given to him by veteran Ty Montgomery — a sign of both atonement and desire to put the miscue in the rearview mirror.
"I just got to go ahead and play the next play," Douglas said. "Had that mindset already. … Just the vets coming and tell me, 'Play the next play, it's all going to be good.' That was definitely comforting."
Ultimately, no next play was available for Douglas for the remainder of the night.
Despite fielding a few punts in place of an injured Marcus Jones, Douglas did not log another offensive snap in New England's frustrating loss to Miami.
Douglas acknowledged that he was not informed that his offensive snaps were done for the rest of the night.
"Offense was coming back," Douglas said of sitting on the outside looking in at reps. "I can't … it's time for me to just be on the sideline and raise everybody else up."
Douglas noted that ball security remains the "No. 1" focus in the wake of Sunday's loss, and was the clear reason behind his sudden drop in plays on offense.
Still, given New England's extended lulls on offense until a spirited fourth-quarter comeback, the absence of an effective route-runner and explosive talent like Douglas does loom over New England's now-winless start to the 2023 campaign.
"For sure. Most definitely," Douglas said of wanting to get back in the game. "To come back in … I believe I could have made a difference. But the offense did a good job, they were moving that ball."
Bill Belichick did not offer much in terms of his decision to lessen Douglas's snaps following his costly fumble.
"Look, we had a lot of production on offense," Belichick said. "[DeVante] Parker had a good day. [Mike] Gesicki had a good day. Hunter [Henry] had a good day, JuJu [Smith-Schuster], KB [Kendrick Bourne]. So, you know, a lot of good players. Can't play everybody."
The 5-foot-8 wideout might have a challenge in front of him when it comes to getting out of Belichick's doghouse and regaining some of the trust he forged during the summer.
But Douglas knows full well what he needs to do to start that climb.
"For me, ball security. I feel like this will definitely help me," Douglas said. "Just know the speed of the game, everybody is coming to that ball. So I know, for me, I just need to make sure my awareness is high."
The rookie added: "We're going to see. I practice hard. This is something to learn from. Whenever I get back in there, I'm going to make it count."
Sign up for Patriots updates🏈
Get breaking news and analysis delivered to your inbox during football season.