Patriots
Mac Jones sums up Patriots' poor start: 'I think we're 20 yards away from being 2-0'
"Just trying to close the gap on close, right? The only way to do that is work harder, work smarter."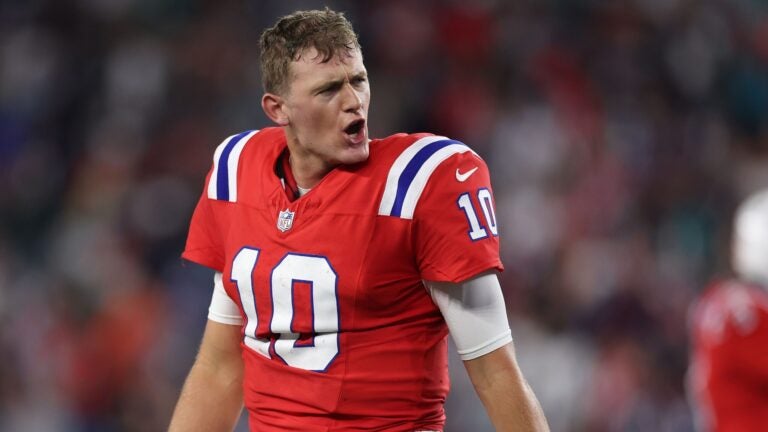 For the first time since 2001, the Patriots have opened a new NFL season with an 0-2 record.
It's been a frustrating start for Mac Jones and the rest of the Patriots, who have yet to land in the win column despite orchestrating two fourth-quarter rallies against the Eagles and Dolphins.
New England trailed the Eagles, 16-0, at the end of the first quarter in Week 1, but a chance to win the game in the closing minutes of the fourth quarter ultimately ended with a failed fourth-down conversion.
Against Miami, New England trailed 10-0 at one point and exited the field to boos at halftime following a 17-3 deficit.
Once again, the Patriots had a chance to orchestrate another game-tying drive with a little over two minutes left in regulation. But it ended with another turnover on downs after Cole Strange came up just short following an impromptu lateral toss from Mike Gesicki.
The Patriots 'offense has been plagued by inconsistent stretches through the first two weeks of the 2023 season, especially when it comes to the run game and pass protection.
But even with some of the positive gains made by Jones and Co. in crunch time, the Patriots' QB admitted that there are no silver linings to draw from games where New England ultimately comes up short.
"I just gotta get better at those and continue to grow," Jones said on WEEI's "Jones and Mego" show on Monday evening. "I think we're 20 yards away from being 2-0, but at the same time, that's the NFL."
"I think it's just execution," Jones added when asked about New England's stalled comebacks. "Just simple football. For me, footwork, timing and all that stuff. Trying to get it to the right guy. It applies differently to different guys. Definitely the execution, going through the plays and gotta be better."
New England's struggles on critical drives in the fourth quarter could be negated if the Patriots avoid falling into sizable deficits moving forward — with most of their early woes self-inflicted.
Over their two losses, the Patriots have relinquished 33 points in the first half, with 20 of those points coming off of turnovers.
"You guys keep talking about how close it is," Jones said of the Patriots' results. "Just trying to close the gap on close, right? The only way to do that is work harder, work smarter. Longer days. Whatever you can do to bring everybody along. We just have to do that."
The Patriots still have 15 games left on their 2023 docket. But the odds don't exactly favor New England's playoff odds following their 0-2 start. Since the 1990 season, just 11.5% of teams who start 0-2 have gone on to clinch a playoff spot.
Jones and the Patriots will look to right the ship in a pivotal road matchup against Zach Wilson and the Jets on Sunday afternoon. New England has little to show for their collective play so far this season, but Jones believes that the team's confidence hasn't wavered amid two weeks of setbacks.
"Definitely a lot of football left to play, and [Matthew] Slater is definitely a good person to lean on," Jones said of New England's veterans. "He's seen a lot, been on a lot of good teams, so just trying to learn from him, David [Andrews], all the older guys.
"And for me, just try and think back to even 2021 when we didn't have a great start and just kept pushing and that's really all you can do. So just looking forward to the challenge. Definitely got a big one this week and just gotta go out there and focus on us. Really that's what it starts."
Sign up for Patriots updates🏈
Get breaking news and analysis delivered to your inbox during football season.
Newsletter Signup
Stay up to date on all the latest news from Boston.com